Terrorism: Exercises v. the Real Thing
June, 2015

a
major inter-agency exercise,
Operation Strong Tower
, saw hundreds of officers respond to a simulated terror threat in a disused London Underground station. Clearly it would have been planned well in advance of this. This was just five days after 30 Britons were killed when a gunman attacked holidaymakers on a beach in Tunisia. Were the two in any way related?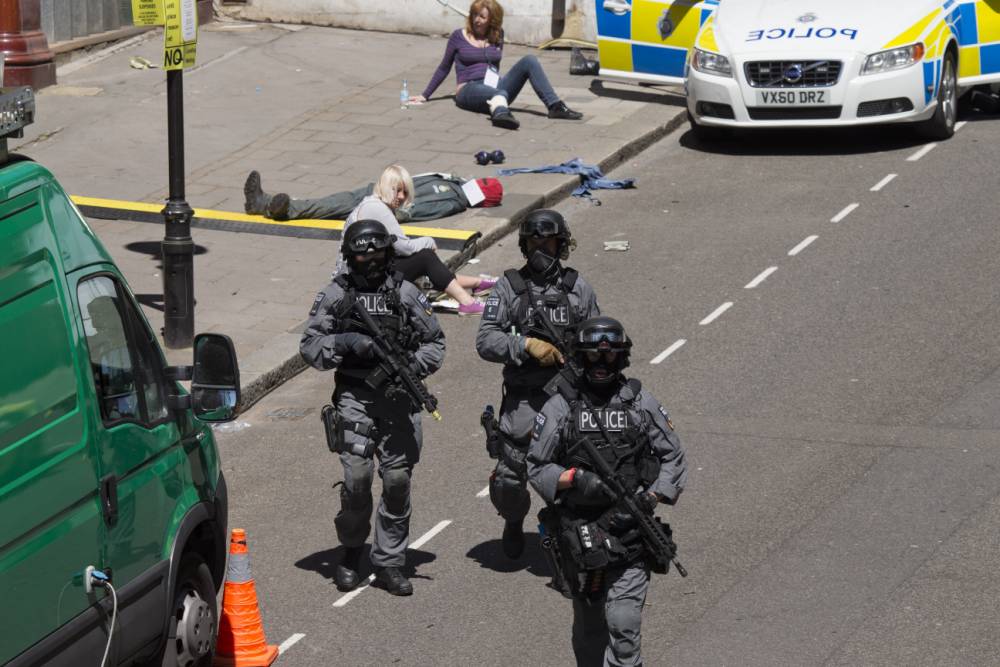 https://twitter.com/MetroUK/status/615856361323261952/photo/1 ref_src=twsrc%5Etfw&ref_url=http%3A%2F%2Fwww.shortlist.com%2Fnews%2Fthe-craziest-images-from-londons-terror-attack-training-drill
11am on Sunday 19th March, 2017
The scene of a fierce mock gun battle between hundreds of armed officers and police posing as terrorists shortly after 11am on Sunday 19th March on the Thames.
At least one "body", played by a volunteer, was thrown overboard from the River Cruises boat "Eltham".
http://www.telegraph.co.uk/news/2017/03/19/armed-anti-terror-police-terrifyingly-realistic-thames-pleasure/
CREDIT:

GARETH FULLER/PA
"Commander BJ Harrington, head of the Met's public order command, said the exercise was not in response to any specific intelligence about an impending marine attack. But he noted that recent terrorist incidents in the rest of Europe showed how would-be attackers have found varied ways to inflict harm.
"He said: "It's important to point out that the exercise has not been designed in response to any specific threat. There's no information that we have that we're preparing for.
"Of course, we have seen a number of incidents abroad in the past few years:
Nice, Berlin – we have seen different methodologies developing, and, of course, the river runs right through London, so why wouldn't we prepare for that."
" https://www.theguardian.com/uk-news/2017/mar/19/massive-anti-terrorism-drill-on-thames-cruise-ship
See:
https://www.youtube.com/watch?v=1N_nq5gNLLg
Only three days later!
Wednesday 22nd March, 2017.
The unfortunate victim,
Andreea Cristea, 29.
http://www.dailymail.co.uk/news/article-4341874/Woman-plunged-Thames-Romanian-tourist.html
Terrorist attack on Westminster. A Romanian woman thrown into Thames and rescued by river boat. Is this the woman? And the fire rescue boat on hand? Lucky. Note the same River Cruise company but different boat - 'Millenium Diamond' - is involved in both exercises.
http://www.dailymail.co.uk/news/article-4341874/Woman-plunged-Thames-Romanian-tourist.html