**Guardian Headline: "Michael Fallon right to apologise for hand-on-knee incident, says PM."
https://www.thesun.co.uk/wp-content/uploads/2017/03/nintchdbpict000310968646.jpg?strip=all&w=960
My guess is that some Jiggery-pokery involved here.


Julia Hartley-Brewer is the person to reveal that Michael Fallon repeatedly touched her knee in 2002.


It is reported that the Prime Minister thinks it right that he has admitted the incident and apologised, though she singularly failed - the BBC reported - to give fulsome backing to the Minister's position, technically in the the gift of Her Majesty the Queen but on the recommendation of the PM.


Fallon may or may not be on borrowed time, especially if similar incidents were to emerge?
Hartley-Brewer has been a chat show host and journalist perhaps best, and most ironically remembered for her programme "Every Prime Minister Needs a Willie". (An examination of the relationship between Margaret Thatcher and Willie Whitelaw of course!)


She considers herself to be "an atheist and staunch and long-standing republican", besides of course a self publicist of some stature, who I have noticed finds it very difficult to remain silent when someone else is talking; presumably because she regards her own opinion to be so much better.


Wikipedia recounts all the media outlets she has starred in besides her own regular "Talk Radio" slot. Here are some of them:

Have I Got News for You; BBC One's Question Time; Radio 4's Any Questions; Sky News; BBC News Channel; BBC One's The One Show; ITV's Tonight show; Lorraine on ITV; This Morning on ITV; The Agenda on ITV; Sunday Politics on BBC1; BBC Radio 5 Live; BBC Radio 4's Today and PM programmes; Pointless Celebrities; LBC.
https://www.google.co.uk/search?q=julia+hartley+brewer+images&rlz=1C1ARAB_enGB463GB464&tbm=isch&tbo=u&source=univ&sa=X&ved=0ahUKEwi1rt67-JvXAhVBbVAKHfBZDisQ7AkIQQ&biw=1280&bih=893#imgrc=poFAKNRNh9-0OM

:
Such universal access to the media makes me rather nervous, not to say suspicious, as it demands something more than talent and expertise to be so widely used - as the rest of the population willing to share their opinions may have discovered.


What that ingredient is, is hard to pin down - shall we call it, for want of a better word, celebrity? A combination of good looks and charisma? Or is it possible more questionable facilitation is at work?


It would appear belatedly, she feels it necessary on a wave of opprobrium for inappropriate sexual behaviour - Harvey Weinstein, Kevin Spacey and apparently no less than "forty" MP's now in the firing line - to reveal how she was propositioned by the current Minister of Defence Michael Fallon some fifteen years ago.


We all know the practical consequences of such revelations for Weinstein and Spacey, not to mention previous notables in the world of politics and entertainment, and must wonder if the same will follow for Fallon?


Given Hartley-Brewer's profile, she can hardly claim naivety as to what the consequences might be, which rather raises the question, was she put up to it? Was she in fact used for some darker strategic purpose of dislodging Fallon from his role?


If she is in fact naive, informed opinion isn't, particularly in the light of revelations that foreign agencies, let alone domestic ones, are up to such tricks all the time. Examples in Trump's administration have recently come thick and fast. Mrs Clinton claims it was the Russian dirty tricks that did it for her, though others might think differently.
https://www.alaraby.co.uk/english/file/getimagebyid/c31d6a22-5b17-4f3c-a3cf-8db5ab069cf9/56ca7428-1612-41d8-b809-c6e9ff8fe855/Image/560/313

In Britain we had the notorious case of Mossad agent Shai Masot aiming to 'take down' British Foreign Office Minister, Alan Duncan MP so similar in the case of Fallon is not implausible. Indeed no less than Mrs May was reported to have thrown herself on the mercy of her counterparts in Europe on the grounds she was surrounded by potentially fatal intrigue.


In passing it was said to be Michael Fallon's personal protection officers who fortuitously appeared just at the right moment to deliver the fatal shots to Khalid Masood - the "terror maniac" as one paper called him - this despite issues of being dressed differently and questions of why they were in the location they were at just the right moment.


Of course the hero of the hour on that occasion was MP Tobias Ellwood, who's military experience took precedence over ambulance crews and doctors in the resuscitation efforts applied to PC Keith Palmer. Subsequently and quite properly he was appointed Parliamentary Under-Secretary of State for Defence People and Veterans.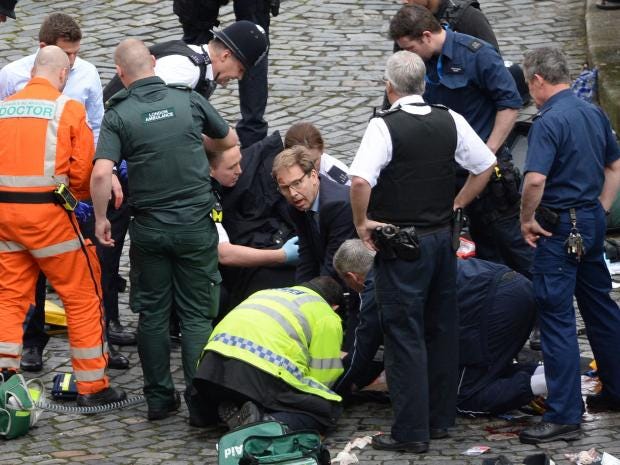 https://static.independent.co.uk/s3fs-public/styles/article_small/public/thumbnails/image/2017/03/22/17/tobias-ellwood.jpg

At the same time we have been assailed by grievous warnings of terrorist threats, particularly from those returning from Syria and related areas of conflict, from no less than Sue Hemming, head of the Crown Prosecution Service's (CPS) counter-terror division AND Andrew Parker, the director general of MI5. Such warnings can only be taken seriously.


Meanwhile, Rory Stewart, an international development minister a former Chair of the House of Commons Defence Select Committee, has been widely quoted as saying, "the only way of dealing with British ISIS fighters in Syria "in almost every case" is to kill them," it must be assumed without trial or any due process. Yet if the Question Time audience is anything to go by (on the 26th October, 2017) with hardly a whimper of dissent!


Incidentally, it may not be widely known, that Stewart's father was second-most senior officer in the British Secret Intelligence Service who died in 2015, after a long and distinguished career in the Diplomatic Service. Rory's 'apple' has not fallen far from the tree.


So to come full circle, can we treat Hartley-Brewer's delicate revelation at face, or is it indicative of something deeper and darker?
http://i.telegraph.co.uk/multimedia/archive/01514/Rory-Stewart-2_1514230c.jpg
If I was a betting man - which I hasten to add I am not - I might be prepared to put a fiver on a Cabinet re-shuffle in the not too far far distant future, in which Mr Fallon is found a more suitable position, and we discover that a certain Mssrs Elwood or Stewart become available to take his place.
Meanwhile "Dame Julia Hartley-Brewer" has a certain ring to it - for services to journalism of course.


We shall have to wait and see.