"Telepathic sexual harassment": the next new thing to come out of Israel?
From: https://theuglytruth.wordpress.com/2017/10/24/israeli-jew-stabs-well-known-moscow-journalist-in-the-neck/#respond
"Israeli stabs well-known Moscow journalist in the neck, accusing her of sexually harassing him 'telepathically'."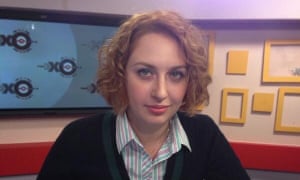 YNET –
Boris Grits, a 49-year-old Israeli citizen

, stabbed a journalist in a Moscow radio station Monday afternoon, seriously wounding her. Grits said the journalist "telepathically sexually harassed him" over the past few months and will undergo a psychiatric evaluation.
Grits, a Georgia native, broke into the
Ekho Moskvy radio station
after spraying tear gas in the face of a security guard at the entrance on the ground floor. He then went up to the 14th floor, where the station's studios are.
The assailant then broke into the Ekho Moskvy offices and stabbed
deputy editor Tatyana Felgenhauer
in the neck, editor-in-chief Alexei Venediktov said. She is best known for co-hosting a popular morning radio show and also serves as deputy editor.
A security guard was able to subdue Grits, who tried to escape but was beaten by the guard. The guard took Grits's knife and handed him over to arriving police officers.
Felgenhauer, 32, underwent surgery at a hospital and was put in medically-induced coma as doctors determine the best course of treatment, Venediktov said. He added her life was not in danger.
Grits is a former mathematics and physics teacher. The Investigative Committee, the top state investigative agency that deals with high-profile crimes, said
Grits left for Israel in 2003 and came back to Moscow a month ago.
While Ekho Moskvy is majority-owned by a media arm of the state-controlled Gazprom natural gas giant, its programs have often been critical of the government, irking many in Russian political and business circles. Its hosts and journalists have previously reported death threats.
From the Guardian here:
https://www.theguardian.com/media/2017/oct/23/russian-radio-journalist-tatyana-felgenhauer-stabbed-in-neck-at-her-moscow-office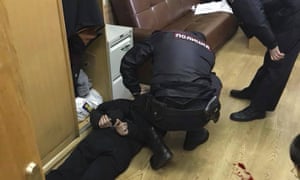 Police officers detain a man, later named as 48-year-old Boris Grits, at the offices of Ekho Moskvy. Photograph: Vitaly Ruvinsky/AP
'Nobody defends us': Russian journalists respond to knife attack
"Russian authorities named the attacker as Boris Grits, a 48-year-old with dual Russian and Israeli citizenship. Venediktov said an Israeli driving licence in that name had been found on the assailant's person. A blog apparently belonging to Grits contained several entries about Felgenhauer, in which he complained the radio host was "following" him in his mind.
"Russian media also showed leaked footage, apparently from the interrogation of Grits, in which he said he had never met Felgenhauer but she had made telepathic contact with him over the past five years.
"Venediktov, however, said it was too early to write the attack off as the work of an unstable person acting alone. "He knew things he shouldn't have known. How did he know Tanya would still be here? By the time of the attack, she would normally have left. There are many questions.""