Las Vegas Shooting. A few Initial Observations
(Be warned! Includes shocking images)
Far away shots and close up shots recorded by this on-scene taxi driver. Proof I would say of more than one gun man and more than one gun position! Listen for yourself. More than five minutes of intermittant fire. https://www.youtube.com/watch?v=WNiRr763gJA

Multiple shooting locations = multiple shooters. Recorded police communications here: https://www.youtube.com/watch?v=UwD2pypWu-E&feature=youtu.be

Here's evidence of at least one shooter NOT on the 32nd floor: https://www.facebook.com/mrskellyguy/posts/10155780117754850
Now the video here and witness statement purport to show a man dressed as a security guard assuming a kneeling position and shooting directly into the crowd from the perimeter. This is corroborative of the referenced videos above. http://www.neon-nettle.com/news/2873-las-vegas-shooting-video-shows-security-guard-gunman-shoot-into-crowd
Channel 8 News has this including an alleged audio recording of their entry into the room: (http://wfla.com/2017/10/02/audio-police-breech-stephen-paddocks-mandalay-bay-hotel-room/)
"
Police released the audio from the moments leading up to the explosive breach of his hotel room. They didn't know what they would find inside; how many people or how many weapons.
They have since said that Paddock killed himself before they entered. They did find a cache of weapons inside. Police said at least 10 rifles were found, along with several dozen magazines and an arsenal of ammunition.
"What happened was is that the officers that were actually at that concert could actually hear where the rounds were coming from. It's very difficult for them to pinpoint that because it was up on the 32nd floor," said Undersheriff Kevin McMahill with the Las Vegas Police.
"They could see that the rounds were coming from that particular location as heavy fire, automatic fire at times. And so they were corralling all of the people that were actually at the concert into … behind a block wall. And so a number of other officers as the information came out then went immediately to the Mandalay Bay and began to ascend up to that 32nd floor. What we know is that once we arrived up there we had isolated this individual to the two rooms and then our SWAT team used the explosive breaching to go in and confront the individual."
"Police told Paddock's brother, Eric, who lives in Orlando, that they found his identification in his wallet. Eric told NBC that he often went to Las Vegas and was familiar with the big hotels there. Police said he had been staying at the hotel since Thursday Sept. 28. He likely had a large suite or more than one room. Two windows were seen blow out of the hotel."
In fact when you listen to the recording it provides very little information and in fact is suspect. Why? Because there appears to be no background noise at all, of the sort one would expect from multiple men and a forced entry with explosives. Nothing of this is included. All that remains is the calm voice of the officer and the controller receiving and confirming the message that, "One suspect is down." Really?
There is no doubt that there are many parallels between the events in Las Vegas and which occurred at the Bataclan, in Paris in 13th December, 2015. The question is, do these similarities indicate a common plan and mind or are they purely coincidental?
The most obvious is that in both these were youth orientated music concerts. There is a spookily parallel video of the artist playing whilst the sound of automatic fire can be heard, and the music comes to an end. There are identical witness reports indicating that the shots were mistaken for "firecrackers" despite it hardly being a French expression. Both happen at the weekend (Friday and Saturday respectively) at approximately the same time with about half an hour of each other (9:45 and 10:10 pm respectively) Shooter(s) die - now it seem the Las Vegas shooter "shot himself".
Very similar panic images and stories of hiding. Close parallels in how the story is handled by all main news outlets. Unconvincing biographical details of claimed shooter(s). Contradictory and inexplicable elements to the police response. Extraordinary speed with which the alleged perpatrators were identified. The likely way in which the event will handled politically. In both cases ISIS claimed responsibility, even more incredulously in the latter case.
Convincing image?
https://www.facebook.com/photo.php?fbid=10211862697255991&set=p.10211862697255991&type=3&theater&ifg=1
Certainly amazing likenesses if not.
22:08
Monday
, Pacific Time (PT) is
05:08
Tuesday
, Greenwich Mean Time (GMT)
BST 06:08
by
2 OCTOBER 2017 • 1:44PM Danny Boyle's
article for the Telegraph appears on its web page here:
http://www.telegraph.co.uk/news/2017/10/02/las-vegas-strip-shooting-multiple-casualties-reported-near-mandalay/
Also by 12.45 BST the main facts have appeared on a Wikipedia page here:
https://en.wikipedia.org/wiki/2017_Las_Vegas_Strip_shooting
The Jerusalem Post article here:
http://www.jpost.com/International/IN-PICTURES-Shooting-kills-at-least-20-injures-over-100-in-Las-Vegas-506505
is time stamped
OCTOBER 2, 2017 13:16
13:16
Monday
, Israel (GMT+3) is
03:16
Monday
, Pacific Time (PT)
So it took the Jerusalem post just five hours and eight minutes to be supplied with all the photographs and significant incident details and have them published on its web page.
FIG. 2.
Las Vegas police stand guard along the streets of Las Vegas after a mass shooting (DAVID BECKER / GETTY IMAGES / AFP) As published by Jerusalem Post
That indicates an incredible level of speed and efficiency on the part of the Las Vegas police and Jerusalem Post journalists.
the shooting starting and continuing;

the police being called and units arriving;

locating where the shots were coming from and the actual room;

getting officers to the hotel and coordinating a plan;

finding the room and gaining access with explosives; engaging the gunman;

identifying him as part of a crime scene investigation; confirming his identity and that he was the shooter, confident enough of this and that no one else was involved ("a 'lone wolf' with no connections to any radical group")

to release this information to the press, so that it could all be published five hours later on the other side of the earth.
Oh the wonders of police speed and efficiency and modern communication!
See also: https://www.youtube.com/watch?v=rBWhXce5mms (this is copy. the original was banned by you Tube as breaching
Not only was this the worst killing spree in America, it also appears to have been the quickest solved ever (excluding perhaps that of JFK which has long been proved to be a fraud, a conspiracy and a miscarriage of justice) Following on from Orlando, you may appreciate why everyone should retain a certain degree of caution when reacting to official accounts.
So posed! What is it with feet and shoes in incidents of this sort, leaving aside the issues of how and why they were abandoned.
Fig. 3a. PR alarm bells ringing?
(Image discovered 6.10.17)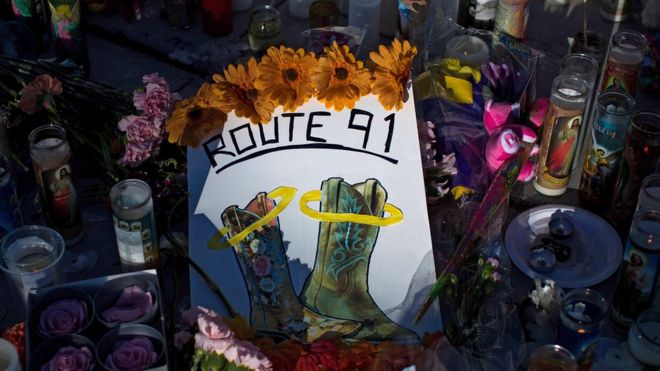 https://ichef-1.bbci.co.uk/news/660/cpsprodpb/43FB/production/_98130471_mediaitem98130470.jpg
It contains all of the following information:
the number killed and injured (50+ and 200+)

who did the shooting (

64-year-old Stephen Paddock of Mesquite Nevada

)

from where (a room on the 32nd floor of the Mandalay Bay Hotel

what happened to him (shot by police)

the event (

2017 Route 91 Harvest festival was a three day country music festival held from September 29 to October 1, 2017, at Las Vegas Village, a 15-acre (6.1 ha) lot on the

Las Vegas Strip[6][1]

across from the Luxor and Mandalay Bay

hotels)

Who was performing (Jason Aldean

,

Eric Church

and

Sam Hunt

,

with Aldean as the closing act)
Further the Jerusalem posted as part of the artical referred to this video Mandalay Bay Las Vegas Shooting October 1, 2017
416K views https://www.youtube.com/watch?v=B7ixInjs0C47 hours ago at 3 pm BST - that would have been 8 am BST. Note that is less than two hours after the actual event taking place.



We do not know who "yx0ify 3,365 subscribers"

is but he appears to get around and is particularly interested in social disorder events and hurricanes.
Although attending the event and being able to film it, he does not appear to get hit or injured.
The other rather interesting detail is that although facing the Mandalay Bay Hotel from where the alleged gun fire is said to have originated, there is no sign of a light source commensurate with a firing machine gun or automatic weapon.
Yet the police have been reported as saying this is how they located the room. See for yourself by watching the video confidently promoted by the the Jerusalem Post and probably other outlets. (Since writing this the two images below (FIGS. 4 & 5) purporting to indicate the two broken windows where the shots came from.) There is no indication on video or stills that this where the gun was fired from.
On FIG. 2 t
here is a strange source of light at the top of the tower in the middle of the two wings with something looking remarkably like sparks cascading down the front of the building. Not evidence of the shooter surely? If so it is clearly in a completely different location to that identified as the gunman's room.
Another rather strange feature of FIG. 2 shown above is that although firing is said to have been located at the Mandalay Bay Hotel, note how only one of the four policemen shown are facing in that direction, and two casually dressed men appear to be on their phones quite unconcerned. Nor do the police appear to be worried about them.
Now compare that video with these recent images:
CREDIT:

DAVID BECKER/GETTY
CREDIT:

DAVID BECKER/GETTY Published by the telegraph
It can be seen that TWO windows appear smashed with interior curtains flapping outside them. This raises the important question as to why more than one room was involved and whether Paddock did in fact have access to both of them? Even if he did, why would he want to smash two?
Police say that they discovered a hammer with him to do the job not realy a very easy matter particularly for a 64 year old. We need to know more about the type of glass employed. Presumably double glazed and toughened? We need to know how easy it is to breach with a hammer, not once but twice so that a large area of glass is removed.
Then there is the slight problem of why these two 'smashing' events did not attract some attention on their own both audibly and visually? Given the fact that the first might have been missed, it would be less likely with the second - rather akin to the two planes at the Twin Towers! Yet the circulated video is completely absent on this point or in showing any sign of gun fire light from either of those particular windows. This needs to be explained.
See video below:
http://www.telegraph.co.uk/news/2017/10/02/las-vegas-strip-shooting-multiple-casualties-reported-near-mandalay/
I have many more thoughts if time and opportunity permits....
Occult and other coincidences
Anyone familiar with Ole Dammegard will be aware of his life's work to investigate high profile violent events and his conclusion that the media seldom uncover the true nature of them. It appears the more notorious the event, the more likely it is to be partially or wholly fraudulent and fabricated. Of course we must pose that question about this latest event in Las Vegas, because we can be sure the main news media will not.
Dammegard has spent a good deal of his time drawing attention to the less obvious occult and other signs that are usually embedded in the event as hidden indicator as to their origins and purpose, which he suggests is the Hegelian dialectical one of Problem; Reaction; Solution. In other words, those behind the event create it and blame it on some other party to facilitate the policy it has planned but which would not be possible without it.
Such events are also called 'False Flags', and many have been documented and attributed to various governments, the United Sates of America being a notable one. Pearl Harbour, the Kennedy Assassination and the events of 9/11 almost certainly fall within this category.
So we must ask does the Las Vegas shooting display any of these characteristics, above and beyond the more prosaic ones relating to the person and method?
The killer has been named as 64 year old Stephen Paddock who appears to have had a relatively blameless life certainly as far as his local police are concerned. His family are totally shocked by his alleged action which they are convinced is completely out of character. Somehow he managed to collect and carry into the hotel no less tha TEN guns, some of large size and calliber.
The account of his death appears to have changed somewhat. First that the police that entered the room shot him dead. Then that he had killed (shot) himself before they entered. The most recent I have read in the Telegraph is that he shot himself as they entered.
"
P
olice confirmed the attacker shot himself dead just as a police SWAT team burst into the hotel room from where he sprayed rapid fire on the crowd for several minutes."
http://www.telegraph.co.uk/news/2017/10/02/las-vegas-strip-shooting-multiple-casualties-reported-near-mandalay/
Given the time that must have elapsed before specialist SWAT team had located the room, arrived and forced entry, it begs the question why in fact he stopped shooting, if indeed he committed suicide as they entered?
There will be mush forensic work to be done to connect Mr Paddock to the weapons and the weapons to the bullets fired before it can be established beyond doubt that he was in fact the killer, rather than being just the person set up to take the blame as per the infamous Lee Harvey Oswald.
Fig. 6 Stephen Paddock (64)
On the face of it at least, Mr Paddock seems a most unlikely killer, more so since apparently 'defeated' ISIS claims, rather preposterously I would say, that he worked for them. Far less preposterous is the scenario that Paddock was set up and murdered prior to the event by the people that actually fired the weapon from that room or another vantage point. I hope we can rely on the Las Vegas homicide officers to be thorough and not just jump to conclusions.
Dammegard has highlighted the frequency of certain locations for these fraudulent attacks, music venues being one of them. I have already drawn attention to the weird similarities to the Bataclan attack, that was itself full of unresolved and puzzling issues. One small detail that is repeated here is the frequency that the location includes a MacDonalds Restaurant as occurred in both Paris and Berlin. This is pointed out in other articles of mine dealing with those episodes. The following image illustrates the point in Las Vegas. The famous "M" appears also in other images of the scene.
Fig. 7. The big 'M'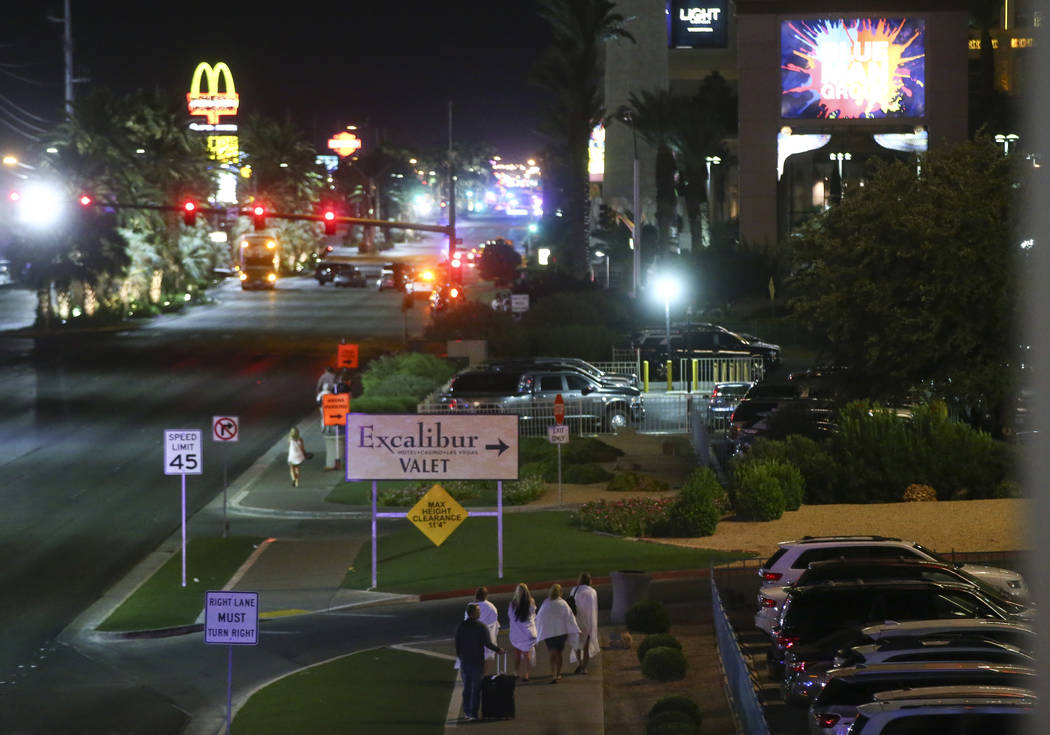 https://www.reviewjournal.com/local/the-strip/nations-deadliest-mass-shooting-stuns-las-vegas-photos/
Also prominently in this video: https://www.youtube.com/watch?v=o1EgHRgJ42E&t=23
Pyramids and obelisks often appear large in these events. They are occult symbols adopted from the ancient Egyptian Empire. The next picture illustrates the point and might not even be noticed. However the pyramid outline and obeliske to the Luxor Hotel can be seen. Even more subtle, the light at the pinnacle which represents the all-seeing eye.
Fig. 8.
Pyramid and Obelisk.
http://www.express.co.uk/news/world/861549/las-vegas-shooting-stephen-paddock-Mandalay-Bay-state-of-emergecy-nevada-brian-sandoval
It is repeated in the foreground of this image. Note the replicated hierglyphs. The words "One" and "light" or 'one light' might well be thought provoking. Here's one manifestation:
Fig. 9. Symbolism
h
ttp://1.bp.blogspot.com/-mHZbk2Cay1U/VZmR0G9CflI/AAAAAAAADUU/FVkYbjxwcxA/s1600/One%2BLight.jpg
Or this:
Fig. 10. Anyone seen a coffin around here?
https://www.videomaker.com/sites/videomaker.com/files/styles/vm_image_token_lightbox/public/articles/18640/353-C03-Lighting-primary.png?itok=9IJKXk4e "
Videomaker 5 Considerations for One-Light Setups"
Fig. 11. Note words in signs (or signs in words?)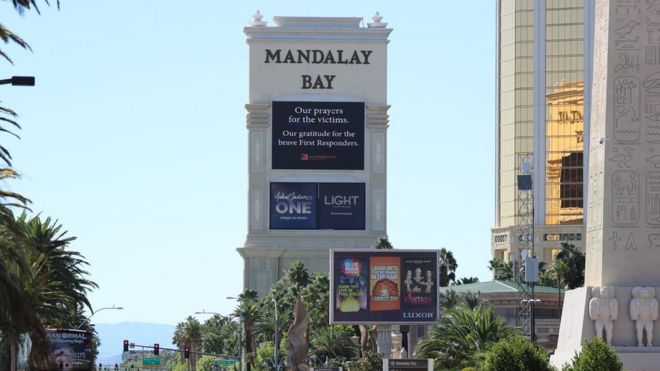 http://www.bbc.co.uk/news/world-us-canada-41466859
Now take a look at this image. I have already referred to its strange and contradictory elements almost as if it were a staged photograph, but what is not so obvious is the iconic image in the bottom left hand corner - the well known hand gesture depicting the devil. I have reproduced a blown up version below if you are unfamiliar with it - a small detail that is easily overlooked. It appears to be next to the vacated stage.
Fig. 12. Direction of fire? And why are cops far more frightened than the other two guys?
http://www.express.co.uk/news/world/861549/las-vegas-shooting-stephen-paddock-Mandalay-Bay-state-of-emergecy-nevada-brian-sandoval
Fig. 13. Bottom left hand corner of Fig. 12!
https://previews.123rf.com/images/pasiphae/pasiphae1203/pasiphae120300090/12900673-a-red-devil-hand-with-black-nails-Stock-Photo-nails.jpg
Of numbers and stuff.
and as far as Route 91 is concerned, 91 happens to be a square pyramidal number, being the sum of the squares of the first six integers!
Occult Allusions Elucidated?
https://www.youtube.com/watch?v=EA5_4_qcXdw
Amazingly he refers to the "One Light" and there it is in plain sight on the billboard in Fig.
Fig. 14. A less than comfortable Sheriff?
Governor Brian Sandoval thanks Police Chief Joe Lambardoe as press conference following the event
Images from inside the hotel room
Fig. 15. A similar room though note no pillar so not identical.
Note it is reported Mr Paddock hired TWO rooms, both with broken windows, but these were not connected. If he fired from both - and there is no reliable evidence that he did - then he would have had to have moved between them via the landing. What evidence of shooting is there in the second room. If none, why smash the window?
Fig. 16. Rifles and ammunition lying around on floor. The work of a methodical man?
CREDIT:

@MIKETOKES/TWITTER
http://www.telegraph.co.uk/news/2017/10/03/dramatic-images-emerge-inside-las-vegas-gunmans-hotel-room-police/
Semi automatic weapons strewn over the floor? "
Investigators sweeping the room found no fewer than 23 guns, including a Kalashnikov and AR-15 assault rifles, and a vast stockpile of of military grade .223 calibre ammunition."
Note: the Telegraph video is ' bookended' by advert for David Gilmour "Live in Pompei". Good taste or bad taste?
"
31 May 2017 -
David
Gilmour's
'
Live
at
Pompeii
' movie is scheduled for a one-night-only theatrical screening on September 13, 2017."
"
1 Jun 2017 -
Over 2000 cinemas across the globe will be showing the concert film David
Gilmour Live
At
Pompeii
this September."
Fig. 17. Smashed window behind curtain. Paddock's legs.
http://www.dailymail.co.uk/news/article-4944234/Two-23-rifles-inside-Stephen-Paddock-s-room.html
A glaring anomaly here is that his left leg is under the tripod mounted automatic rifle. If he shot himself in the head with an hand gun he could not have been holding the rifle. How then is it possible that the rifle has ended up on top of his leg? This would certainly suggest to me that it was placed there after he had died and that would have to involve someone else in the room interfering with the evidence.
Further if that was the open window through which he fire an issue is raised by the cartriges scattered in the immediate vicinity. Automatic weapons eject their used cartridges with force and speed. Is it reasonable to assume that they would land up where they are shown or much further distant from the firing location? Is it possible that these were scattered for effect?
For an impression of how cartridges fly from the chamber, see:
https://www.youtube.com/watch?v=BSizVpfqFtw then imagine that in a domestic room.
Note also a hammer (top left) conveniently placed. There appears to be a note (under ash tray) and pen on table to the right. He wears a black glove on his left hand with another rifle under him.
Fig. 18. 'Blown' entrance door to apartment
http://www.dailymail.co.uk/news/article-4944234/Two-23-rifles-inside-Stephen-Paddock-s-room.html
This image is also hard to figure. Presumably we are looking at a double door to the apartment, with one of the doors placed on its side on the floor across the opening. This door appears to have bullet holes in it. When and by whom were they made? Remember on the alleged audio tape at top of article, at no stage is there any evidence of gun fire! The second strange feature is that allegedly the door was "blown" not manually forced open, yet the remaining door shows no evidence of damage at all. How could this be possible in such close proximity? Are those bullet casings on the floor? If so from whom?
Fig. 19. A grim image allegedly of the gunman, Stephen Paddock
https://www.google.co.uk/search?q=dead+stephen+paddock+images&rlz=1C1ARAB_enGB463GB464&tbm=isch&source=iu&pf=m&ictx=1&fir=1A2Yj8bkjnwFGM%253A%252CFW7L1PKW6j_HEM%252C_&usg=__yBasKBeqYgzSOr0F27hOC63Su0g%3D&sa=X&ved=0ahUKEwipjbvov9nWAhVGJVAKHS3YCy0Q9QEIUDAK#imgrc=1A2Yj8bkjnwFGM:
A number of observations and questions emerge in my mind in relation to this image of allegedly the suicided Mr Paddock (RIP). The blood staining appears to be of two distinct phases. More strangely the bullet casings appear pristine and not blood splattered. But perhaps most curious, why the gun, which we must presume was the weapon used, is so far from the body and still not in his hand? There also appears to be some (blood?) staining on the front of his shirt. If so, how caused? And if he shot himself whilst standing up (rather unusual I would suggest) the splatter would also be elsewhere than in the immediate vicinity of his head on the floor. There is no evidence of that in the circulated photographs, although that of course does not prove there was none.
One final question. By whom were these photographs taken and how did they come into the public domain? They are obviously selective because many more than these few would have been taken.
Fig. 20. "Morning after the night before."
The question I would pose is: "With 50 dead and 500 injured from gunshot wounds, wouldn't you expect at least a modicum of blood staining on the ground?" All I can see is litter.
https://cdn20.patch.com/users/22940811/20171002/044048/styles/T800x600/public/processed_images/ap17275656825149-1506976727-9225.jpg
Fig.21. An earlier shooting incident. This normal Las Vegas police response?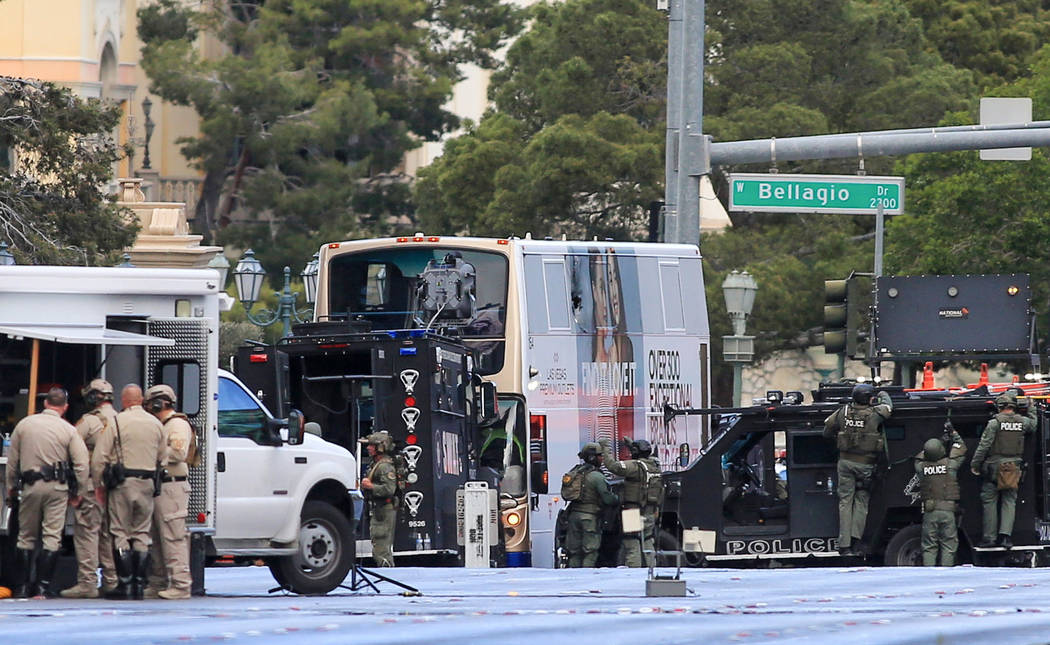 https://www.reviewjournal.com/wp-content/uploads/2017/03/8243322_web1_version2_cosmoincident_032517bl_225.jpg