Damascus bomb kills seventy innocents. Was this US/Israeli terrorism?
http://i.dailymail.co.uk/i/pix/2016/01/31/16/30C2490E00000578-3425296-The_first_blast_was_caused_by_a_car_bomb_that_went_off_at_a_bus_-a-56_1454257602516.jpg
On Wednesday 15th March, 2017, the Damascus Palace of Justice, located near the famous and crowded Hamidiyeh market, was the latest target for the Israeli-backed and murderous, bomb blasts.

The BBC reports that a
t least 31 people have been killed in the suicide attack and that later, another suicide bomber attacked a Rabweh
restaurant
, injuring more than 20 people.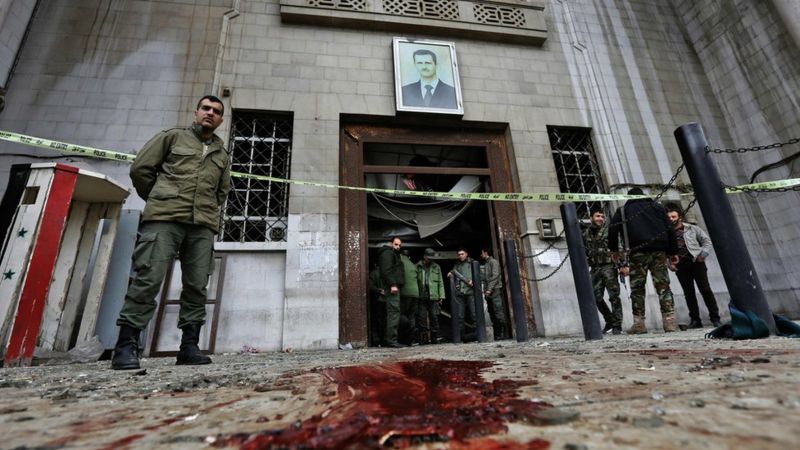 The government-held city of Homs has also been similarly attacked in the past few weeks.
This followed an attack on Saturday 11th March 2017, targeted
Shi'ite Pilgrims c
lose to the Bab al-Saghir cemetery in central Damascus.
The dead include 54 civilians and 20 security personnel it was claimed.
It was again caused by a roadside bomb followed by a suicide bomber who blew himself up in a crowd of visitors.
-See more at: http://www.skynews.com.au/news/top-stories/2017/03/12/bombing-in-damascus-kills-at-least-40.html#sthash.bMoz7yYz.dpuf
Israel planes attack Homs also
Two days later (at 2.30 am on the 17th March) Israeli military jets struck at
an Army position near Palmyra in Homs eastern countryside the Syrian Army's General Command has claimed, one of which was shot down. Clearly forces acting on behalf of Israel are deeply implicated in this anti-Assad terrorist activity.
Why does the BBC play down or not report these terrible events?
This series of Israeli-backed massacres (ostensibly ISIS affiliated anti-Assad groups) and military attacks hardly impinge on the main BBC News broadcasts.
Today's (17.3.2017) lunchtime news considered GCHQ's denial of covertly interfering with Trump's campaign; Teresa May's spat with Nicola Sturgeon over another referendum; George Osborne's appointment to the Evening Standard; and a few other relatively trivial domestic stories, are considered much more news-worthy than hundreds being blown up in Syria - or who is behind them. It is proof that the BBC has squandered its reputation as a reliable and unbiased news source.
Attitude to terrorism taken by Western Governments in international forums.
Now it is no surprise then that in international forums such as the UN it appears that the United States of America takes a nuanced and partisan view of murderous terrorist activity. It is very much dependent it would appear on who carries it out and against whom. Apparently suicide bombers and car bombs are less morally troublesome if they are carried out by anti-Assad groups and aimed at destabilising his control of the country. This lays bare the duplicitous and immoral USA/Israeli position backed by Britain, and the BBC's collusion in refusing to report it.
Russian Position
Needless to say it hasn't reported the Russian Foreign Ministry's reaction to a refusal by the US and its allies to condemn the attacks either. So I will take that opportunity below:
"It is regrettable that the Security Council does not always find a common denominator on the Syrian issue. For example, the biased position held by a number of its Western members prevented it from reaching a consensus on a Russia-proposed draft press statement denouncing the bloody terrorist attack in Damascus on March 11, which claimed 70 lives, according to the latest reports.
"Implementing their well-known political directives, they attempted to unjustifiably modify the thrust of the document by including provisions reading as accusations of the Syrian authorities and justification of the terrorists' actions

. In consequence, we had to withdraw the draft.
"Moreover, during the debate on the text, our Western colleagues made it clear that they had a "different [operating] standard" with regard to Syria, which did not imply an unqualified denunciation of terrorism. The consequences of this approach may prove most unfortunate. At the same time, we believe it is crucial that the crime in Damascus was resolutely condemned by the UN Secretary-General."
Comment @ http://russia-insider.com/en/politics/west-rejects-moscows-condemnation-damascus-bomb-attacks-unfair-suicide-bombers/ri19210
"