Examples of Mossad covert activity in France and Britain. Just the tip of an Iceberg?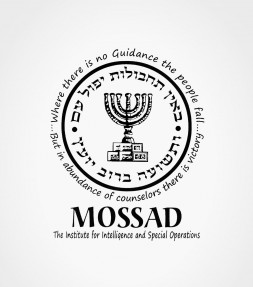 http://www.israeli-t.com/46841-home_default/israel-mossad-hebrew-shirt.jpg
Motto: "By way of deception thou shalt do war"
"
It is out of love for Israel as a free and just country that I am laying my life on the line by so doing, facing up to those who took it upon themselves to turn the Zionist dream into the present-day nightmare.
The Mossad, being the intelligence body entrusted with the responsibility of plotting the course for the leaders at the helm of the nation, has betrayed that trust. Plotting on its own behalf, and for petty, self-serving reasons, it has set the nation on a collision course with all-out war"
Excerpt from ex-Mossad agent Victor Ostrovsky's, "By way of deception". See:
http://www.whatreallyhappened.com/WRHARTICLES/deception.html
The attempt by a Mossad agent to "take down" a British Minister of the Crown and other political figures critical of Israel has been well publicised (see: http://aanirfan.blogspot.co.uk/2017/01/israeli-plot-to-take-down-uk-minister.html) but this is probably just the tip of an iceberg of infiltration and cooperation between Western and Israeli Intelligence services.
Where 'friendly cooperation' has strayed into active 'infiltration' by compromising or recruiting Secret Service agents of European States to actually work for Israel primarily, is illustrated in a recent French case.
We can take it for granted that most of this activity never reaches the public arena but we may well be seeing its practical results in what is called "ISIS Terrorism" and the in the shaping of both domestic and foreign policy.
Perhaps in the light of just these two recent events in France and Britain the public, Parliament, Government and its agencies should be far more aware that behind the scenes, Israel is actively attempting to subvert and influence domestic events to influence public opinion and government policies.
Some might take the view that it has been very effective in its aim, with disastrous consequences for our constitution and way of conducting ourselves. Somehow people must learn that the anti-Russian propaganda may actually be a ploy to distract from the real enemies of the State.
See also:
http://freedom-articles.toolsforfreedom.com/israeli-brussels-connection-made-in-israel/
FRANCE – Mossad tried to infiltrate French intelligence services
From "The Ugly Truth" here: https://theuglytruth.wordpress.com/2017/03/27/france-mossad-tried-to-infiltrate-french-intelligence-services/#more-170414
YNET – The Israeli Mossad allegedly tried to infiltrate the French intelligence services by trying to recruit double agents during a joint operation to learn more about Syria's chemical weapons program, French newspaper

Le Monde reported on Sunday.
According to the paper, from 2010 to 2012, Israeli and French intelligence agencies carried out a joint operation codenamed "Ratafia."
Several Mossad agents operating under false names were reportedly sent to Paris in an effort to recruit a Syrian engineer with vital information about Syrian President Bashar Assad's chemical weapons arsenal.
According to Le Monde, Mossad succeeded in recruiting the Syrian engineer. He reportedly provided Israel with the information it needed to prove that the Syrians were exploiting their scientific cooperation with the European Union to further develop their chemical weapons. This led the EU in 2011 to cancel its cooperation agreement with Syria.
The Ratafia operation was led by the head of the Mossad station in Paris, identified in the Le Monde report only by the initials D.K.
The French General Directorate for Internal Security (DGSI) claimed that D.K. took advantage of his daily contact with French agents to form closer ties with them, with one French agent being photographed arriving at D.K.'s home for Shabbat dinner.
The same agent told his superiors he was going to Dubai with his family on vacation, but instead went to Israel to meet with Mossad agents in Jerusalem.
Suspicions also arose that the French agent received gifts and cash during that time in violation of the agency's internal rules.
The French intelligence agencies saw this as a red line that was crossed between friendship among colleagues and an illegitimate attempt to recruit agents.
The heads of the French intelligence agencies filed a complaint with their counterparts in Mossad, resulting in the Mossad station chief D.K. and another Israeli diplomat being sent back to Israel. They have since left the Mossad and are now in the private sector.
Le Monde reported that several of the French agents who participated in the Ratafia operation are expected to lose their security clearance and be transferred to another agency.
The Mossad's alleged recruiting efforts were discovered when another French agency, entrusted with information security, photographed the French agents with their Israeli counterparts.
The information about this top secret operation was made public as part of an ongoing judicial investigation against Bernard Squarcini, who at the time headed the internal French intelligence agency DGSI.
Squarcini said in his questioning that he was informed by French security services that a "service provider was fraternizing too closely with former French agents who were part of a joint operation with the Mossad. This was likely an attempt by the Mossad to infiltrate French intelligence services."
According to Squarcini, he came across the two Israelis suspected of trying to recruit the French agents again "by chance" when they returned to France on business.
French authorities are now seeking to question the two former Mossad agents.
Report suggests Israel behind attempt to hack into French communication network
From: https://theuglytruth.wordpress.com/2013/10/26/report-suggests-israel-behind-attempt-to-hack-into-french-communication-network/
U.S. officials deny involvement in May 2012 cyber attack on Elysee Palace, hinting that Mossad was responsible for attempt, according to leaked document published by Le Monde.
Haaretz
The Mossad may have been involved in an attempt to hack into the former French president's communications network, AFP reported on Friday, citing a leaked U.S. intelligence document obtained by the French daily Le Monde.
According to the report, France believed that the U.S. was behind the May 2012 cyber attack on the Élysée Palace. But the U.S. National Security Agency denied having anything to do with the hacking, hinting instead that the Israeli intelligence agency may have been responsible for it.
The statements were detailed in the latest note to emerge from the documents leaked by former NSA contractor Edward Snowden. Parts of the note were published by Le Monde.
According to the report, the document was prepared earlier this year to brief NSA officials who were set to meet with senior French intelligence figures to discuss the attempt to breach the Elysee's communication system.
The document reportedly said that the NSA branch which handles cyber attacks, Tailored Access Operations (TAO), denied carrying out the attack. The U.S.' closest allies – Australia, Britain, Canada and New Zealand – also said they were not involved.
The note went on to say: "TAO intentionally did not ask either Mossad or [Israel's cyber intelligence unit] ISNU whether they were involved as France is not an approved target for joint discussions."
The Le Monde report viewed this sentence as an ironic reference to the likelihood that Mossad was responsible for the hacking.
The attempted breach took place in the final weeks of Nicolas Sarkozy's term as president.
The leak comes amid a flurry of allegations that U.S. intelligence spied on governments of various countries.
German Chancellor Angela Merkel demanded on Thursday that the United States strike a "no-spying" agreement with Berlin and Paris by the end of the year, saying alleged espionage against two of Washington's closest EU allies had to be stopped.
Speaking after talks with EU leaders that were dominated by allegations that the NSA had accessed tens of thousands of French phone records and monitored Merkel's private mobile phone, the chancellor said she wanted action from U.S. President Barack Obama, not just apologetic words.
The United States has a "no-spying" deal with Britain, Australia, New Zealand and Canada, an alliance known as "Five Eyes" that was struck in the aftermath of World War Two.
Israel Flagged as Top Spy Threat to U.S. in New Snowden/NSA Document
From: https://theuglytruth.wordpress.com/2014/08/05/israel-flagged-as-top-spy-threat-to-u-s-in-new-snowdennsa-document/
Israel was singled out in 2007 as a top espionage threat against the U.S. government, including its intelligence services, in a newly published National Security Agency (NSA) document obtained by fugitive leaker Edward Snowden, according to a news report Monday.
The document also identified Israel, along with North Korea, Cuba and India, as a "leading threat" to the infrastructure of U.S. financial and banking institutions.
The threats were listed in the NSA's 2007 Strategic Mission List, according to the document obtained by journalist/activist Glenn Greenwald, a founding editor of The Intercept, an online magazine that has a close relationship with Snowden, a former NSA and CIA contractor who fled the U.S. with thousands of top-secret documents last year.
In this new document, Israel was identified by the NSA as a security threat in several areas, including "the threat of development of weapons of mass destruction" and "delivery methods (particularly ballistic and nuclear-capable cruise missiles)." The NSA also flagged Israel's "WMD and missile proliferation activities" and "cruise missiles" as threats.
In a section of the document headed "Foreign Intelligence, Counterintelligence; Denial & Deception Activities: Countering Foreign Intelligence Threats," Israel was listed as a leading perpetrator of "espionage/intelligence collection operations and manipulation/influence operations…against U.S. government, military, science & technology and Intelligence Community" organs.
The term "manipulation/influence operations" refers to covert attempts by Israel to sway U.S. public opinion in its favor. In this, Israel has dubious company, according to the NSA: Other leading threats were listed as China, Russia, Cuba, Iran, Pakistan, North Korea, France, Venezuela and South Korea.
Israel has similar company in threats against U.S. infrastructure, according to the NSA document. Under a section headed "Mastering Cyberspace and Preventing an Attack on U.S. Critical Information Systems," Israel, India, North Korea and Cuba are identified as "FIS [financial/banking system] threats." Israel also appears on the list of countries believed by the NSA to be "enabling" electronic warfare "producers/proliferators."
The new document again underscores the schizoid relationship between the U.S. and Israel, which cooperate closely in military and intelligence operations but also aggressively spy on each other. A previously released Snowden document said that "one of NSA's biggest threats is actually from friendly intelligence services, like Israel." Another revealed that a U.S. National Intelligence Estimate ranked Israel as "the third most aggressive intelligence service against the U.S.," behind only China and Russia.
In a series of articles last May,Newsweek reported that "Israel has been caught carrying out aggressive espionage operations against American targets for decades," an allegation vociferously denied by Israeli officials, who insisted that Jerusalem stopped spying on the U.S. after the late 1980s arrest and conviction of its secret agent Jonathan Pollard, a U.S. Naval Intelligence analyst. Over the weekend, the German magazine Der Spiegelreported that Israel eavesdropped on Secretary of State John Kerry's cellphone conversations during Middle East peace talks in 2013. (According to a July 20, 2014, piece in The New Republic, "The Kerry team spoke more carefully over cell phones, believing the Israelis might be listening.")
The State Department had no comment on the Der Spiegel allegations.
Washington's protective relationship toward Israel is heavily influenced by its close cooperation in intelligence operations against common Middle Eastern threats, such as Iran, Syria, terrorist groups and the Palestinians.
Citing NSA documents, Greenwald's piece in The Intercept says, "The relationship has, on at least one occasion, entailed the covert payment of a large amount of cash to Israeli operatives." The NSA and its British counterpart also "rely on U.S.-supported Arab regimes, including the Jordanian monarchy and even the Palestinian Authority Security Forces, to provide vital spying services regarding Palestinian targets.
"Over the last decade," Greenwald added, "the NSA has significantly increased the surveillance assistance it provides to its Israeli counterpart, the Israeli SIGINT National Unit (ISNU; also known as Unit 8200), including data used to monitor and target Palestinians. In many cases, the NSA and ISNU work cooperatively with the British and Canadian spy agencies, the GCHQ and CSEC."
Zygier 'discussed plea bargain with mother hours before his suicide'
From: https://theuglytruth.wordpress.com/2013/04/05/zygier-discussed-plea-bargain-with-mother-hours-before-his-suicide/
"It is not known precisely what was said" in the call, the report in Yedioth Ahronoth noted, adding that Zygier's parents had been kept fully informed on the circumstances of their son's arrest and had been shown "the grave indictment which had been served against him." Zygier knew that if he did not agree to the plea bargain, he would likely be jailed "for a lot longer" than 10 years, the report said.
The Yedioth report traced Zygier's service in the Mossad, noting that he applied for a post with the intelligence service in a faxed application in response to a Mossad "wanted" advertisement. It said the intelligence organization's failure to recognize that he was not an appropriate recruit constituted "a crushing failure" of the Mossad's evaluation process. That process was now being urgently reviewed by the Mossad, the report said, in order "to learn the necessary lessons" to prevent repeat occurrences.
The lengthy Yedioth report Friday mirrored parts of news stories from late last month in the Sydney Morning Herald which detailed Zygier's years of frustration and failure in the Mossad, culminating in what was described as "one of the most serious security breaches in Israeli history": He failed to make headway obtaining information from European companies trading with Iran. He spoke indiscreetly about his Mossad service while studying for a Master's degree while on a leave of absence in Australia in 2009. And, most critically, in an effort to prove his usefulness, he broke regulations and initiated a rogue operation in which tried to recruit a man linked to Hezbollah as a double agent.
After his arrest in early 2010, the Sydney newspaper reported on March 25, "Zygier broke down and admitted that sometime in 2008, before he took his leave of absence and moved to Australia, he had flown to eastern Europe to meet with a man he knew to have close links with Hezbollah with the intention of turning that person into a double agent. Instead, the man reported the recruitment attempt to Beirut, and himself began playing the same game as Zygier, except in reverse. Without Zygier's knowledge, the man was reporting every detail of his contact with Zygier back to the Hezbollah leadership in Beirut. Israeli officials believe that even [Hezbollah chief Sheikh Hassan] Nasrallah himself was being kept informed."
When this man asked Zygier for proof that he was a real Mossad agent, "Zygier readily complied and began supplying him with real intelligence from Tel Aviv, including the names of Ziad al-Homsi and Mustafa Ali Awadeh, Mossad's two top informants in Lebanon." The two were reportedly arrested by Hezbollah and sentenced to 15 years in jail for spying for Israel.
"When Zygier was arrested, he was also found carrying a compact disc with additional classified information" which Israeli officials "believe he was also preparing to hand over to the other side," last month's report said.
At some point, an Israeli official told the Sydney newspaper, "Zygier crossed a red line and went to the dark side… Israeli informants have certainly changed sides in the past. But a regular Mossad employee has never done what Zygier did. It is a bitter defeat for Mossad, but for Hezbollah it is one of the rare instances in which an Arab intelligence service prevailed over its Jewish counterpart."
The Zygier affair made international headlines in February, when details of his clandestine incarceration and later suicide finally emerged, over two years after he took his own life in an isolated cell in Israel. Before that, there were rumors in the Israel media regarding a mysterious "Prisoner X," who was being held under absolute secrecy in the Ayalon prison.
According to a Der Spiegel report last month, Zygier was sent to Europe in 2005 to infiltrate companies that were dealing directly with Iran. Zygier's mission was to try to gain access to potential informants in Iran and Syria. However, after two years, during which he was employed in the accounting division of a company, Zygier was recalled to Israel without having achieved substantial results.
Zygier, disappointed, was assigned a desk job but still hoped to find his way back into the field, Der Spiegel reported. Acting on his own initiative, he began trying to recruit informants in Lebanon to spy on Hezbollah. The affiliate of the group who turned the tables on him was based in a Balkan state.
From: https://www.reddit.com/r/conspiracy/comments/4u5oem/what_are_the_odds_same_guy_that_filmed_france/
German journalist Richard Gutjahr, 42, who filmed the scene unfold, said: 'I stood on the balcony, right on the Promenade des Anglais, and saw how people celebrated there, and how suddenly a truck drove through the crowd,' he told AFP on Friday.
Local reporter Richard Gutjahr described the scene at the shopping center as something "out of a bad movie," with the shopping center completely surrounded by police, a helicopter overhead, and police carrying semi-automatic rifles. Gutjahr was not able to confirm reports of deaths or injuries.
Richard Gutjahr who filmed the Nice France Bastille Day Staged attack is married to Mossad agent and Knesset member Einat Wilf. To quote Mossad agent Richard Gutjahr this video is like something "out of a bad movie"
Brussels Terror Attack and Mossad Connection
From: https://www.richardsilverstein.com/2014/05/26/brussels-terror-attack-and-mossad-connection/
Yesterday, I
broke the story
that the Rivas, an Israeli couple murdered in the Brussels Jewish museum terror attack, worked for agencies with connections to Israeli intelligence. Miriam worked for the Mossad and Emanuel for Nativ, a unit that encourages aliyah from Eastern European countries (including Russia). Thanks to reader Bluebird, who discovered that the
Israeli embassy website
in Germany lists Miriam Riva as an "attache" who worked there since 2007. My Israeli source informed me that they were both accountants.
Brussels Airport Panic
Terror
Evacuation filmed by Israeli 'Journalist'
See:
http://veaterecosan.blogspot.co.uk/search?q=brussels
Excerpt: "
Please note I am only referring to item of I-phone evidence, but you will see it widely used over and over again in all the media outlets. It is of crowds running in panic away from the Brussels Airport complex. It is very typical of 'terror inducing' footage recorded previously.
The 'YouTube' footage is 11 seconds worth from 0.22 - 33 seconds only (and this too is very typical of such material) at
https://www.youtube.com/watch?v=y-PS_UjCQBg
However there is enough there to see it is filmed from what appears to be a multi-storie car park, so of course we must pose the usual questions who filmed it, why were they in that particular location at the time, and how did it so quickly, in a matter of mere hours, go viral throughout the media?
What we discover is that this was not just an ordinary 'member of the public' who just happened to manage to capture a dramatic scene, but a very specialized person who apparently works for the Israeli online news channel @i24news_EN - a Ms Anna Ahronheim!
Now how unlikely is that to happen by pure chance?
Not only so the said person, who makes no secret of her authorship on her twitter feed (below) has also been an outspoken pro-Jewish/anti-Muslim activist in French Canada for the organisation "
B'nai B'rith"!
"B'nai B'rith International
(
"Children of the Covenant"
)
is the oldest Jewish
service organization in the world. B'nai B'rith states that it is committed to the security and continuity of the Jewish People
and the State of Israel
and combating
anti semitism and bigotry." Source: WIKI. All confirmatory details below come from her own public sources.
So we may conclude an active and committed propagandist and agent of an Israeli news organisation, just happened to be in a critical location, just at the moment that terrified crowds fled from the scene of the Brussels airport bombing and was able to capture just eleven seconds of panic before turning it off and sending it all round the world with her name on.
Now given all the possible imponderables, how likely would that be unless she was positioned and ready for the event to take place? Perhaps Ms Ahronheim would like to tell us?
Threats to Jewish Institutions around the world actually originated in Israel
From:
https://theuglytruth.wordpress.com/2017/03/27/jcc-bomb-threat-suspect-said-behind-over-1000-calls/#more-170402
The Israeli-American teenager suspected of being behind the recent bomb threats to JCCs and other American Jewish institutions reportedly made more than 1,000 threatening phone calls over the past two years.
Israeli police only managed to zero in on the suspect after US President Donald Trump sent a team of 12 FBI agents to Israel in recent weeks, Haaretz reported. The report did not specify what the FBI agents managed to do that their local counterparts could not.
The suspect, who lives in the southern Israeli city of Ashkelon, is refusing to talk to authorities and police have still not managed to access his computers.
While the youth had apparently been making bomb threats for over two years, the urgency in apprehending him increased following a spate of threats to Jewish community centers in the US.
Police sources told Haaretz that that was in part because the suspect would monitor media reports after he'd call in a threat — to gauge the scale of its impact. If he noticed that it was receiving considerable media attention, he would continue making threats in that same location.
Several of the JCCs and Jewish organizations received multiple threats. However, police believe that the number of bomb threats he phoned in was much greater than was known to the public, as many went unreported.