Thank God for Miracles!
Press 22
Background


I am sure I was not the only one to be shocked by the news that a toddler had fallen from the sixth floor of an Irish hotel. His mother has expressed the view that his survival was "nothing short of a miracle", and who could disagree with her. After less than five weeks, it appears he is almost fully recovered "without a mark on him". So his recovery and absence of serious injury has been described as 'miraculous' also. Who could not be amazed and delighted in equal measure?
The little boy is called Neil Shanahan and he is two and a half years old. On Saturday 2nd July 2016 at The Strand Hotel in Limerick, just before 2 pm, he fell more than sixty feet from the sixth floor balcony onto the terrace below, where apparently his mother discovered him 'lying on his back'. It now appears he was resussitated with the assistance of an American nurse, called Julie Genova, on holiday in the area, who has been hailed as a heroine.
It is claimed that the toddler made his own way to the top floor via the lift, where somehow he managed not only to get onto the balcony, but clamber over it.
A witness called
Hayden Dillon
has said that he saw him actually clinging onto the large "Strand" sign before plummeting to the ground.
From the Irish Mirror we learn "
Limerick native Hayden Dillon wrote a chilling account of seeing the boy clinging to the hotel's sign for dear life, before falling to the ground.
Mr Dillon wrote on Facebook: "Fuc**** hell. The child was hanging off the Strand sign and couldn't hold on.
(He) fell about 20 metres in front of me,"
It adds:
"The boy was still breathing when a local doctor, who was nearby, ran to his aid.
Well-known Limerick hair stylist Niall Colgan - who runs a hair salon underneath the Stand (sic) - described the incident as "very upsetting".
"Fair play to my client who shot out of my chair to tend to the little man until the ambulance arrived," Mr Colgan said."She is well known and respected doctor who may have been instrumental in those few minutes," he added.
(Source:
http://www.irishmirror.ie/news/irish-news/eyewitness-describes-horror-limerick-toddlers-8335857 - 2.7.2016)
'Breaking News ie Ireland' reports: "A source said Ms Shanahan/ had been "preparing to leave the hotel" when she looked for her son but he was nowhere to be seen.
"She was just preparing to leave, and she ran outside looking for him, and someone said they had seen him go up in the lift," the source said.
"
It all happened in the space of seconds, one minute he was there, and the next, he was gone. It's horrendous."
Rather confusingly,
e
lsewhere she is referred to as Martina Collins. We must assume Shanahan is the natural father's name. Mr Shanahan was apparently elsewhere in the hotel with his eldest and disabled, son. (See:
http://www.irishtimes.com/news/ireland/irish-news/boy-2-who-fell-six-floors-from-limerick-hotel-in-stable-condition-1.2713551)
.
The same paper has this about the circumstances:
"The Shanahan family had been attending a parish coffee morning organised by the Farranshone Resident's Association in the Strand Hotel when Neil, the second youngest of three children, wandered off. The community gathering was held on the ground floor of the hotel. However unknown to those involved in the search for the toddler - which was initially concentrated in the immediate vicinity - the two year old had made his way into a lift and managed to travel to the sixth floor of the hotel from where he climbed out onto a balcony and fell 20 metres."
It is not clear how long the 'coffee morning' lasted but presumably roughly up until nearly two when the accident happened as we are told Mrs Shanahan/Collins was about to leave when she first noticed Neil was missing.
Superintendent Derek Smart, Henry Street Garda Station, said while gardaí were "treating it as a tragic accident", the circumstances which led to how the boy accessed the rooftop balcony were still being probed.
"The hotel is working very closely with us, as to the circumstances surrounding what happened," Supt Smart said.
He added: "We have been in contact with the HSA (Health and Safety Authority), because of the circumstances involved, but (Gardai) are maintaining the lead in the investigation, while continuing to liaise with the HSA." (Source: http://www.breakingnews.ie/ireland/gardai-continue-investigation-into-how-toddler-fell-from-sixth-floor-of-limerick-hotel-743150.html)
Questions
So whilst empathising with the family both over the circumstances of the accident itself and the pleasure at the toddler's remarkable survival and recovery, certain questions still hang in the air and have yet to be answered.
How much time elapsed before it was noticed the toddler had wandered off and a search was initiated for him?

What time did the 'coffee morning' start and finish given that the alarm was raised when Mrs Shanahan was leaving.

When did Mr Shanahan, apparently elsewhere in the hotel with his disabled elder son, become aware of the accident?

How did toddler Neil negotiate the lift, not least to reach the button for the top floor presumably? Or was it being called to the top by someone waiting there, in which case how was he allowed to continue alone?

It is reported someone saw him enter the lift alone. If so why did they not act themselves or inform management or the residents group? Who would watch a toddler enter a lift alone and not do something about it?

Once on the top floor there is a big question over how he accessed the balcony? The advertisement appears to suggest this is available only to the 'Penthouse Suite' but the statement infers a function area also has access to it. This should be clarified.

In any event, logic tells us that there are likely to be at least two doors before the balcony could be accessed. Normally in hotels these are kept locked except for guests and/or staff with keys, so what was the position that day?

Even if unlocked it would be quite a task to open a door with a self closing mechanism - as required for fire prevention purposes - or the sliding glazed panels from the suite. (See photo below) How did a toddler of only 2.5 yrs do it?

Once on the balcony there is the question of how (and why?) he was able to surmount the 1.2 m balcony barrier and then get onto the 'Strand' sign without falling first? This would be both tricky and frightening for even a fit adult let alone a thirty month child.

How was it possible for him to fall fifty or sixty feet onto a hard unforgiving surface, without any broken bones apparently, although the papers reported "multiple injuries" and that he had been resuscitated when not breathing with no pulse?

Amazingly no one speaks of the child bleeding, nor does there appear to be any evidence of it. How could this be?

Garden furniture - a table- is said to have 'broken his fall'. Why is no mention made of it by the witnesses? In any event wouldn't a table present its own very specific hazards and injuries?

How can the later state of health be reconciled with the report of 'multiple injuries', the fact that he was in intensive care for three days and in a 'full body cast'?

What has resulted from the Police and Health and Safety Authority investigation, particularly as regards the CCTV footage that must answer many of the questions posed above?
From where did he fall?
Unfortunately none of the reports indicate where precisely the toddler fell but indirectly, if the witness is reliable, and he fell from the Hotel Sign, only two locations are possible. See the general views below: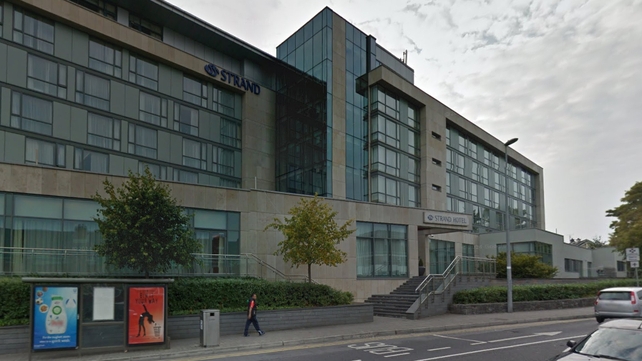 It appears the lower one is more likely as the Limerick Post has this:
"Eyewitnesses say that they saw the toddler hanging from the sign on the hotel's riverside facade before falling on to patio furniture 20 metres below narrowly avoiding an impact with the concrete paving." (
http://www.limerickpost.ie/2016/07/07/limerick-toddler-expected-to-make-miraculous-recovery/)
The side elevation shown below involves a bigger drop than the elevation shown above, on to what appears to be a first floor exterior terrace, about "twenty metres" below. So it is this sign from which fell. If so, his survival with relatively few injuries is even more remarkable, given that the surface he would have hit is perhaps 12/14 feet lower than the other.
Google Earth is not particularly helpful in deciding the issue either as its aerial view is too distant and the street view too low to show the two exterior balcony areas on the first and second floors. I was particularly looking for tables and chairs, identified as 'breaking the child's fall". I could find any images of exterior furniture items from any of the sources, though of course that does not absolutely rule out the possibility that they were there on the day of the incident.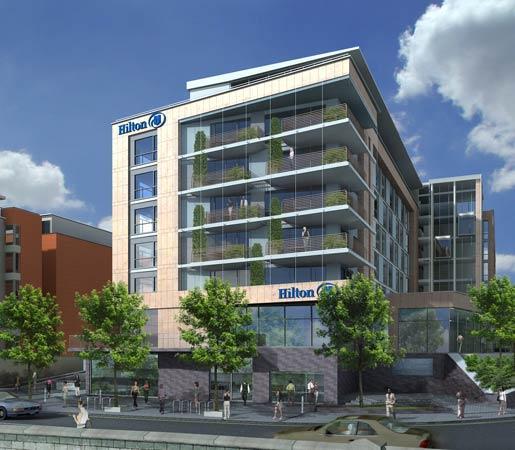 http://photos.wikimapia.org/p/00/00/08/90/47_big.jpg
Further, perhaps it is worth noting the incredible degree of difficulty that must have been entailed for a small child to surmount the parapet and cling to the signage! The precise nature of the parapet fencing is demonstrated in the photo image below:
http://www.independent.ie/life/travel/travel-news/article31135309.ece/ALTERNATES/h342/2015-04-12_lif_8428233_I1.JPG
The difficulty, let alone the psychological barrier, to a small child is clear to see. Somehow, not only would he have to have the inclination, motivation and skill to climb over the rail, but then somehow get over the edge and get onto the sign some feet below it!
The access route onto the balcony is obviously an important factor in how the toddler got there in the first place. None of the sources explains what these were or which one he chose, or how access was possible, prefering to dwell on the 'miracle' of the event and the heroism of an American nurse who apparently saved his life.
Clearly, however how he got to the top floor on his own, when he could hardly have reached the lift buttons and then accessed the balcony, besides getting onto the exterior signage is crucial to understanding what happened. We are told the police were looking into this although there is no indication they have shared what they discovered.
So the question remains, did he gain access from a function room, or the penthouse flat or via some other route? No doubt the investigators also found out whether the penthouse was occupied and by whom, at the time and all the other adults and/or staff that were in the vicinity.
Below is one of the possible routes that may have been used from the penthouse. (Note sliding doors onto the balcony which would presumably ordinarily have been kept closed and been virtually impossible to open by a child of that age):
Journalistic Inconsistences and Contradictions
All the main media outlets have basically the same story. However what is intriguing and rather worrying, are the important inconsistencies - contradictions even - in the journalistic reporting. I realise that standardised reports, can contain inaccuracies and mistakes but by the same token in uncorrected, they raise doubts about what actually happened. I haven't seen any of the official sources point these out or explain them so I will list them below.
There appears to be some confusion for example over how little Neil was discovered and by whom. Also, who actually played a critical role in providing the life-saving first aid - a role accorded solely to the 'heroic' American nurse, Julie Genova. Rather surprisingly in none of the reporting I have read, is the role of the Ambulance Crew/Paramedics who presumably attended, mentioned. Nor is there any suggestion of bleeding or blood in the accounts, only absence of consciousness, breathing and heartbeat, which again is quite remarkable.
Were the parents there or not?
An RTE report the very next day (3.7.2016) stated
"
It is understood the boy's family
were not guests at the hotel
." (See below) How can this be reconciled with other reports that the mother in desperation was searching for her child when she found him missing and was one of the first at the scene when and where he fell? In addition it is also stated elsewhere, that the father was also on the premises elsewhere with the eldest and disabled sibling. So how could RTE have got it so wrong on both counts?
How and by whom was the fallen boy discovered and treated?
The Irish Mirror on the 18th July, 2016 concentrated on the 'heroic' efforts of the American nurse Julie Genova. This account goes as follows: "
they
slept in and enjoyed a late breakfast at the Strand Hotel when they happened upon Neil.
"He was just laying on his back
on the terrace.
He was not breathing, and it was difficult to ascertain a pulse."
The same report also places the mother at the scene immediately he was discovered 'almost by chance' it would seem.
"Martina [Neil's mother] did not know what had happened to him:
She found him like that. We did not know at the time he had fallen from the top of the building,
" said Julie."
This suggests the child's mother 'finding him' and therefore by inference, being first on the scene.
Pre-dating this article by a week (11.7.2016)
irishcentral.com/news has a different slant on the story. In this one the American nurse was actually present when and where he fell. I quote: "Julie
happened to be standing at the site of Neil's fall when the incident occurred
, and she resuscitated the child." This is obviously inconsistent with the mother being first on the scene or Julie 'happening' upon the accident scene, or for that matter being ignorant as to what had happened, for she claims in this report that initially no-one knew what had happened.
Then there is another big problem, these reports and others like them leave out completely the doctor who apparently attended the scene!
Who intitially treated him and thereby saved his life?
The RTE article quoted above states: "He was
initially cared for at the scene by
a doctor
who happened to
be in a nearby hair salon."
This is confirmed in the following article (
http://www.limerickpost.ie/2016/07/07/limerick-toddler-expected-to-make-miraculous-recovery/)
as follows:
"
Well known hairdresser Niall Colgan, who runs a salon underneath the Strand Hotel, took to Facebook to say it had been a "very upsetting afternoon in O'Callaghan Strand".
He praised a client of his for coming to the child's aid while waiting on an ambulance.
"She is a well-known and respected doctor who may have been instrumental in those few minutes," he wrote." He doesn't say who she is.
This claim that it was a well-known local doctor that rushed to the scene from the hair salon is repeaded in numerous sources, though not identified or praised by the mother who only proclaims the virtues of the American nurse. This is very strange.
For example the Irish Mirror (here: http://www.irishmirror.ie/news/irish-news/toddler-seriously-injured-fall-limerick-8338891) on the same day had this:
"The toddler was treated by a local doctor before being rushed by ambulance to University Hospital. He was transferred to Temple Street Children's University Hospital in Dublin hours later, on Saturday.The boy was still breathing when a local doctor, who was nearby, ran to his aid. Another eyewitness said: "Was in the hotel when it happened earlier. He was still breathing when the ambulance hit there."
In later editions, t
he local doctor appears to have been written out of the story completely, to be replaced by the American heroine Julie Genova,
despite being more highly qualified
and presumably having a bigger part to play in the child's survival. And even stranger, American nurse Julie makes no mention at all of the doctor and claims all the credit for herself. This is quite amazing isn't it, particularly from a nursing professional with her qualifications and experience?
Someone needs to qualify these contrasting accounts and clarify who actually discovered poor little Neil, and who took charge of the first aid - the nurse or the doctor? This of course before the emergency services arrived on scene.
Clearly of course it would have taken time for the news to reach the doctor in the hair salon and for her to get to the scene up a floor to the terrace, so the mum and Julie (probably with others) were there before her, but how to explain the variation in story?
In the case of mum and Julie no mention of a doctor arriving at all and claiming only the nurse saved his life. In the case of hairdresser witness in contrast it was all down to the doctor and no mention of an American nurse!
From
http://www.niallcolganhairdressing.ie/about.html:
"In 2009 Niall opened his own salon, Niall Colgan Hairdressing. As 2012 "Limerick Salon of the Year" it is located in a 1500 sq. ft. retail Unit 2, O'Callaghan Strand. The salon is decorated and fitted out to world class standards. Niall currently employs fourteen staff including educators and stylists with high level,internationally recognized qualifications."
From:
https://www.facebook.com/photo.php?fbid=499651166895160&set=ms.c.eJxdUMmNAwEI62iFzen~_GwvKKkOUr~%3BEJDEmWWXR1QfzDIpggOT5vJKRKoGqUKHszmFpBBvHRhKccWPEH4dgkS~%3BP4uo8q1v2SpBwv1nFMyzDa~_YBbbQ~%3BHaSOzOx4OdoDSYr59bDSm89kY7QCcqnLQtuGPKrXDOHOI0Wsf8NuncZ3p2bl7L53l2GH~%3B~%3B3kBKiVHqQ~-~-.bps.&type=1&theater
Newspaper Reports
From: http://www.limerickleader.ie/news/home/210396/toddler-fights-for-life-after-limerick.html
Toddler fights for life after Limerick hotel fall
PRAYERS AS TWO-YEAR-OLD BOY MOVED TO TEMPLE ST HOSPITAL
PRAYERS were said at Masses in Limerick this Sunday for toddler
Neil Shanahan
, who is in a critical condition in hospital after falling from the
top floor of the Strand Hotel
.
Neil, who is
two-and-a-half years of age
, fell from the
sixth floor balcony
while a
fundraising coffee morning
for the
Farranshone community
was taking place.
His parents
Martina and Tommy, who live in Glenview Avenue
are maintaining a vigil by his side in Temple Street Children's Hospital in Dublin.
The incident, which took place on Saturday afternoon, has been described as "very traumatic for everybody" by local TD Maurice Quinlivan.
"Everyone is praying he makes a full recovery," he added.
The Leader understands Neil – who has two siblings –
wandered away from his parents in the restaurant on the ground floor. In a tragic sequence of events, it is understood he was able to board the lift which took him to the top floor. Then he walked out onto a table on the balcony, before falling.
Sources have indicated the child
fell onto garden furniture
which broke his fall.
Gardai and ambulances were immediately called to the scene, and while the toddler was initially treated in University Hospital Limerick, he was transferred to Dublin on Sunday.
One man at the coffee morning, said: "This little chap is very adventurous, he has so much energy, you don't like to curb it. His parents and grandparents are so upset – I called there yesterday. Six floors is horrendous for anybody, but particularly a small two-and-a-half year old."
A Strand Hotel spokesperson said: "All we are concerned about is that the child gets better. Our thoughts and prayers are with his family."
Home from hospital 'without a mark on him': Toddler who fell from a sixth-floor hotel balcony five weeks ago makes a 'miracle' recovery
Neil Shanahan plummeted from a balcony at Strand Hotel in Limerick
Toddler spent five weeks in hospital and three days in intensive care
He is now back with his family without a scratch on him from accident
His mother has praised the 'angel' American nurse who resuscitated him
Neil Shanahan, aged two-and-a-half, was at a coffee morning with his family at the Stand Hotel in Limerick, Ireland, when he walked into a lift and somehow made it onto the roof.
A witness then claims to have seen the toddler hanging off the lettering of the hotel before he plummeted to the ground.
The tot was whisked away to hospital and spent three days in intensive care and five weeks receiving treatment before he could be released into the loving arms of his family.
He spent time in a full body cast while he was treated by doctors but, a month later, bares little scars.
Neil sustained damage to one of his legs and is receiving physiotherapy to get him properly back on his feet.
Hayden Dillon, who said he saw the boy clinging to the hotel's signage just beneath the balcony, described the incident as 'terrible'. He said: 'I saw it with my own eyes. It was terrible, never forget it.' Mr Dillon, from Limerick city, then described the horrific moment the boy fell.
He wrote on Facebook: 'The child was hanging off the Strand sign and couldn't hold on. [He] fell about 20 metres in front of me.'
From:
http://www.rte.ie/news/2016/0703/799864-limerick-toddler-hotel-fall/
03 July 2016 22.09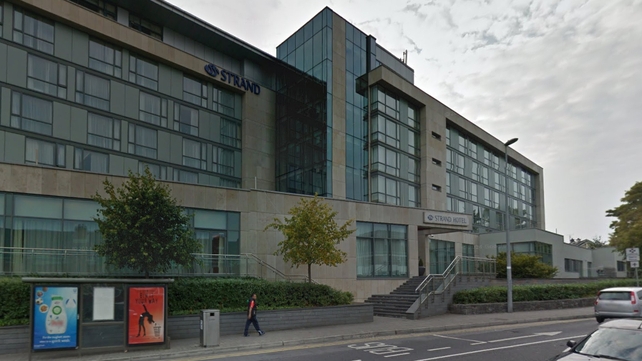 The boy fell from the sixth floor of the Strand Hotel in Limerick (Pic: Google Maps)
A two-year-old boy critically injured after falling from the sixth floor of a hotel in Limerick has been transferred to Temple Street Children's Hospital in Dublin.
The boy suffered
multiple injuries
after he fell from a balcony on the top floor of The Strand Hotel, on the Ennis Road, shortly before 2pm yesterday.
The child, who is from Limerick city, was initially cared for at the scene by a doctor who happened to be in a nearby hair salon.
It is understood the boy's family
were not guests at the hotel
.
August 11,2016
An American nurse who was on a
tour of Ireland
happened to be standing at the site of Neil's fall when the incident occurred
, and she resuscitated the child.
"I just saw her breathe life back into him," Martina said. "When he coughed and when he moaned, I just knew he wasn't dead. It was an amazing thing that she was there, and that she was on site at that moment. I just feel so thankful to her."
Hotel Information
From: https://www.itlg.org/events/2010-limerick/event-travel-info.php
The 'Penthouse Suite' which we must assume is the blue lit top floor in the above photo is illustrated here: http://www.strandhotellimerick.ie/penthouse-suite.html Clearly no expense has been spared to ensure it is luxuriously appointed. It would seem likely that the only access on to the balcony is through the suite unless a separate service access is provided.
For anyone looking for that extra indulgent stay or to mark a special occasion The Penthouse at the Limerick Strand Hotel offering spectacular views of the city and River Shannon is a must. Featuring a light, airy and
bright space with separate King Size bedroom and separate living area with enclosed balconies.
Unique glass façades create individual winter gardens allowing you to enjoy panoramic views of city skyline stretching from King John's Castle onwards! Experience the ultimate treat in luxurious surroundings.
Features:
King Size Pillow Top Extra Comfort Bed
1001 sq f

Goosedown Duvets and Pillows ( Foam available)
200 Thread Count Egyptian Cotton Linen
Nespresso Coffee Machine
Separate Living Room with Dining Table and Separate Visitor WC
Complimentary 200 mb WIFI Internet Access
Complimentary Mineral Water
Complimentary Access to the Executive Lounge
Bathroom with Separate Power Shower and Deep Bath Tub
Two 32" Multi Channel Plasma Televisions with 54 TV & Radio Channel
Fluffy Bathrobes and Slippers
Laptop Compatible Safe
Self Controlled Air Conditioning
Tea/Coffee making facilities
Mini Cooler
Salon Hairdryer, Iron/Ironing Board and Shaving Mirror
Working desk and ergonomic chair
Alarm Radio
24 Hour Room service
Black Out Curtains
Glass enclosed balconies with Seating Area
Ice Machine on each floor
Ice Bucket in each room
Upgraded Paul Costello Bathroom Amenities
One of the only hotels with a swimming pool (20m) offering complimentary access to hotel guests.
All guests of the Limerick Strand Hotel enjoy access to Energize Health Club
A 10% discount at Niall Colgan Hairdressing


The Heroic First Aider Julie Genova
From:
http://www.irishmirror.ie/news/irish-news/heroic-nurse-speaks-out-after-8660591
"Heroic nurse speaks out after helping to save Limerick youngster's life
The

American nurse

saved the life of a two-year-old who fell from a balcony in Limerick
A heroic American nurse who breathed life into a toddler after he fell from the rooftop of a hotel has spoken for the first time.
Two-year-old Neil Shanahan has made a miraculous recovery after he survived a fall from the sixth floor of the Strand Hotel in
Limerick
on July 2, and is back at home with his family after five weeks in Temple Street Children's Hospital.
Press 22
She administered CPR on Neil for around five minutes, helping bring him back to life.
Speaking from the USA, Julie said: "It was a horrible situation. This little baby was lying there, not breathing.
"I gave him CPR for about four to five minutes, and he started to cough and come back to us.
"He was looking at his mom, he was moving his extremities, and moving on his own."
Neil was then rushed by ambulance to University Hospital Limerick, before being transferred to Temple Street.
Julie, who works as a nurse in a private boys' school, was on a surprise trip to Ireland organised by her husband David while her three children Justin, 16, Jonathan, 15 and Jacqueline, 11, were at summer camp.
Having arrived in Limerick late the night before the accident on Saturday, July 2, they slept in and enjoyed a late breakfast at the Strand Hotel when they happened upon Neil.
"He was just laying on his back on the terrace. He was not breathing, and it was difficult to ascertain a pulse.
"Martina [Neil's mother] did not know what had happened to him: She found him like that. We did not know at the time he had fallen from the top of the building," said Julie, a nurse since 1994.
It was then that her instincts kicked into action, administering CPR, a practice she teaches to students in the USA.
"You just do what you are trained to do in the moment," she said.
Off the back of this, Neil's mother Martina - who paid a special tribute to the nurse - says she is planning to learn CPR in case she faces a similar situation, saying: "What goes around comes around. I want to be in a position to be able to help someone."
Having taken in Derry, Belfast and the west of Ireland, Julie and David spent two days in Limerick, a city she says she "fell in love with".
The pair went to the south of the country, before ending their trip in Dublin, where they stayed in the Temple Bar Hotel.
Upon hearing they were in the hotel near Temple Street Children's Hospital, where Neil was in intensive care, his parents visited the hotel to say thank you to the nurse.
Martina said: "We were shy about intruding on her. But we were there, so we asked if we could have her room number. We rang the room, and came tumbling down the stairs.
She was just so delighted. There was a huge hug, a mutual embrace, and I feel I have made a new friend."
Struggling to hold back tears, Julie said: "It was at that moment we were basking in this miracle. They were elated. You could tell that they were so thankful to everyone who had taken care of him."
Although she is back in
Massachusetts
, Julie wants to return to Limerick as soon as possible.
"I cannot wait to see them again, and give that little one a really big hug, and give them all a big hug. It sounds like he is making amazing progress," she said.
Meanwhile, the miracle toddler - who bears no physical scars from his dramatic fall, and is receiving physiotherapy to get him properly back on his feet - will have a special treat to look forward to this Christmas.
He has been invited by Mayor Kieran O'Hanlon to switch on Limerick's festive lights.
Addressing the youngster's family, the mayor said: "The two of us are going to switch on the Christmas lights this year.
"It is a big occasion in Limerick. We will switch on those lights together, and Christmas will be a very happy time for you."
Published biographical details
From: http://www.fenn.org/page.cfm?p=574&newsid=231
Meet Julie Genova
Posted 07/14/2015 09:41AM
Meet Julie Genova, our administrator of health services; the Health Center is in the W.W.F. building.
Q. What drew you to Fenn?
A. I was drawn to the age of the students and the single sex population. I was thankful to be given the opportunity four years ago to use my prior hospital, nurse case management, and school nurse experience to become Fenn's health administrator. What's more, I am a Concord resident and knew that Fenn has a wonderful reputation for academics and for care of its students.
Q. What is the primary goal of the Health Office?
A. To facilitate the student's ability to learn. Whether his ailment is physical or emotional, it is my hope that a boy's time in the office will enable him to fully participate in the classroom experience.
Q. What are your days like in the Health Office?
A. A boy visits the Health Office for one of many reasons on any given day. Illness and injury are common causes for most visits, but boys with psychosocial needs and cases of injury prevention education are other reasons for student visits. I incorporate holistic wellness education into every visit during the day. My hope is to teach the boys not only how to treat illness and injury appropriately, but more important, how to prevent illness and injury in the future. Our athletic trainer Jennifer Geller is another wonderful resource for our boys and she incorporates a very similar philosophy to mine into her practice.
Q. What else are you involved in at Fenn that relates to your responsibilities as Health Administrator?
A. I am a participating member of the Safety Committee and of the Student Life Committee. Representing the Health Office on these committees offers time for good collegiate dialogue. We continue to review our safety practices and the wellness of our students, faculty, staff, and visitors to our wonderful school.
Q. What are the rewards of your work with boys?
A. Hearing the words "Thank you" and seeing a boy smile after visiting the Health Office are so encouraging. They confirm in so many ways that the work being done by the Health Office is making a difference in the lives of boys here at Fenn.
Q. What are your passions or interests outside of teaching?
A. I enjoy being outdoors year round and particularly love hiking, skiing, running, tennis, biking, boating, and gardening. I love exploring the many trail systems that we are lucky to have in Concord and in surrounding towns. A lot of what we do involves our three children, two boys and a girl ranging from fourth to ninth grade. My husband and I, who met when we were students at Waltham High School, are lucky to have extended family living close by.
From: https://www.linkedin.com/in/julie-genova-879605b
Summary
Fifteen years of clinical and managerial experience in case management, acute care, acute care rehabilitation, long term care and in occupational health settings.

Proven history of increasing company profitability, improving inpatient utilization performance and improving patient and family outcomes.

Specialties: Case Management
Acute Care Clinical Nursing
Community Health