Syria! Enough to make you cry. (2)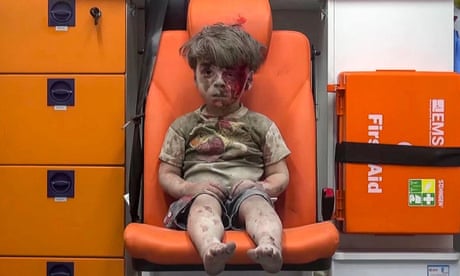 https://i.guim.co.uk/img/media/47d2f23308c8583e81d441d9969737fee2b068cc/40_0_1187_712/1187.jpg?w=460&q=55&auto=format&usm=12&fit=max&s=612a49108b93194b226d3fa47a96b81c
CNN's Kate Bolduan sheds overcome while reporting little boy who survived bomb in Syria.
Here:
https://www.youtube.com/watch?v=piqR5EA2Z9A
Why this? Why now?
The London Times quotes the Chicago-based Syrian-American surgeon Samer Attar as saying, ""The attitude of the doctors in Aleppo is ' We see this every day. Why arn't people paying attention? Why now are you caring?' They have been screaming and pleading with the world. They are truly abandoned."
The picture from Aleppo (above) has gone viral in the media. It has been actively promoted by virtually all world outlets, often accompanied as did CNN by announcer tears. There is no doubt it is a powerful image of the disastrous humanitarian consequences of warfare and its weapons. It is impossible not to feel sympathy for the child, despair for Syria and even hatred for those that cause it.
In this case (rather conveniently some might think) the accusative finger is being pointed at the Russians that everyone seems to agree have been very effective at crushing the Sunni ISIS extremists. The complication arises from the fact that in this area, the West prefers to regard them as
"moderate freedom fighters from the tyrannical reign of Bashad Assad"
(see below)
Herein lies part of the problem, the people of the West are not told the truth regarding the conflict in Syria. Indeed they are positively kept in the dark. I would suggest that those who truly understand the Syrian conflict could be counted on the fingers of the hand and I am not one of them. This and the previous experience of clearly unreliable video, must make us wary of the true purpose of this latest output.
This unemotional and objective approach should not lessen by one iota, our concern and sympathy for the innocent civilians, including innumerable children such as Omran, caught up in this horrendous conflict. However, nor should we be easily manipulated by those with a specific agenda.
The Image of Omran Daqneesh
From the Guardian here:
https://www.theguardian.com/world/2016/aug/18/i-filmed-the-syrian-boy-pulled-from-the-rubble-his-wasnt-a-rare-case
Omran Daqneesh
"
the five-year-old had been rescued from the rubble of his home in the rebel-held Aleppo neighbourhood of Qaterji after a government airstrike. His emergence from the debris was captured by local journalists who filmed the rescue, and the ordeal of the boy and his family. The pictures were broadcast around the world on Thursday as a symbol of the unrelenting, indiscriminate suffering of Syria's civilians."
"I've seen so many children rescued out of the rubble, but this child, with his innocence, he had no clue what was going on," said Mustafa al-Sarout, an Aleppo-based journalist who filmed the video that has now gone viral on social media.
"He put his hand on his face and saw blood. He didn't know even what happened to him. I've photographed a lot of airstrikes in Aleppo, but there was so much there in his face, the blood and the dust mixed, at that age."
However the Times representative (19.8.2016) Tom Coghlan in Beirut reports it was a different person who took the photograph. He writes: "Mahmood Raslan, the photo journalist who took the image, said: 'We were passing them from one balcony to another.' he said that he had passed along three lifeless bodies before Omran was handed to him."
So we appear to have (at least) two different people claiming authorship of the telling photograph - Mustafa al Sarout and Mahmood Raslan. Did they both take a photograph of the same scene or is one of the claims unreliable?
In both instances you will notice they are attached to a detailed and moving description to afford them additional credibility. The second story does I have to admit raise a few questions in my mind for it would appear to suggest that he physically carried the child from the scene whilst still rescuing others in a human chain and accompanied the child to the ambulance, whereas it can be clearly seen in the video at the top of the article, that the person who carries the child there has no camera. However two people are shown filming which with person who filmed the video, makes three at least, so this may explain in part the two newspaper sources - but not the accompanying accounts.
Who are the claimed photo journalists
Mustafa al Sarout
and
Mahmood Raslan?
From:
https://wallofcontroversy.wordpress.com/tag/omran-daqneesh/

we have this:
Images of little Omran Daqneesh dazed and covered in dust and blood reminded us again of the horrors of war, however the mainstream media outlets who featured the video as their headline story, told us very little about its source, a man named Mahmoud Raslan (also Rslan). Had they dug just a little deeper, they would have quickly uncovered something immeasurably more horrific and sinister.
Here is Mahmoud Raslan standing in front of a tank captured by 'the rebels' in the Ramouseh district of Aleppo:
Below we find Raslan featured within a montage of four images. Top left, he is again the main subject of a selfie but standing in front of a different group of 'rebel' fighters taken from his
Facebook page
– these same friends are also seen in the adjacent image with arrows indicating who is who (I will come back to that in a moment). Bottom left, we find Raslan wearing his distinctive blue and white shirt, as he is in the accompanying photo (bottom right) which reveals him in the act of filming little Omran Daqneesh.
Now let's return to the image above again (top right) which is a single frame captured from a 'rebel' video. It shows Raslan's friends sitting in the back of a truck next to another little boy (his face blanked). This second boy is a 12 year old Palestinian child named Abdullah Tayseer Al Issa. Abdullah is about to be slowly decapitated with a knife.
1
The perpetrators of this sickening crime are the CIA-backed
Nour al-Din al-Zinki Movement
, a faction affiliated to the so-called Free Syrian Army (FSA).
2
From: https://off-guardian.org/2016/08/19/an-id-for-mahmoud-raslan/:
"
So, the alleged event the MSM are doing their best to make a catalyst for more Western intervention in Syria, was filmed by
friends of al Nusra
, and its chief witness seems to be an associate of the worst and most depraved murderers in the region.
Is there any independent confirmation that this video [of Omran Daqneesh] is showing what it claims to show? Do we positively know the little boy was hurt by a bomb and not by any of his handlers?
Maybe those misguided people currently chiding and insulting us for daring to question the video should turn their attention to the real issues here. The boy in the video is fortunately alive. The one beheaded by Mahmoud Raslan's chums is not. If your outrage is real and not feigned – turn it where it deserves to be. 3"
A search for Mahmood Raslan on 'Linkedin' provides a 'student' in Syria from 2011 to 2016 (https://www.linkedin.com/in/mahmood-raslan-31b6a685)
. Also the Aleppo based person who's facebook page is cited at the base of this article. He has this image (and others) on it but none of little Omran as far as I can see, which is surprising if he is the author of it.
From his April Twitter we have this in translation from the Arabic,


"Before you get out of your House. Before your children. Say goodbye to your loved ones and friends. And reconcile with you antagonize. You might not come back. You draft a martyr."

(See: https://twitter.com/mahmood4455)
When you do a Google search for images of the journalist
Mustafa al-Sarout,
what you get are these of the Syrian footballer
Abdul Baset Al-Sarout,
who is almost a rebellion icon and has recently made clear he is an ISIS fighter opposed to Assad
.
The obvious question of course is, are they related or directly connected?
Despite the fact that the image and story have brought Mustafa al-Sarout sudden and unexpected fame, very little of a biographical nature can be found out about him so we should not necessarily jump to conclusions. Wikipedia tells us that all four brothers of Abdul Baset Al Sarout have been killed in the fighting, so that would clearly appear to rule out a sibling.
The Role of Abdul Basset Sarout
In this article (2) Sean Ongley just over a year ago claimed that Abdul Basset Sarout was alive and well and "probably in northern Syria. He says, "activist and refugee, Aboud Dandachi, confirmed that the former athlete now bonafide revolutionary fights with Faylak Homs, a grassroots brigade that simply means "Homs Legion," somewhere in northern Homs, most likely the Rastan area."
It is therefore quite possible, that he is now in Aleppo, even that he has changed his name and activity.
Ongley adds this assessment of him:
"Those close to Homs regard him as someone mostly unrelated to any outside agents. His fighters are not on the known CIA-approved list of moderate rebels, yet they aren't strictly Islamist. His character has always appeared to be too loyal to blood and soil for the Islamic State, al-Nusra or any strictly Islamist militia. This loyalty may come at a fault."
This has proved incorrect as apparently he has sworn allegiance to ISIS since the article was written.
The Syrian uprising started in Homs and was where Sarout and many others became radicalised and active. For example as early as 2013 the Wall Street Journal reported:
"Foreigners fighting with an offshoot of al Qaeda in Iraq—called the Islamic State of Iraq and al-Sham, or ISIS—led the capture of the Minigh air base north of Aleppo early Tuesday, according to local activists and some rebel commanders. The seizure offers Syria's rebels a strategic victory after eight months of failed advances on the base."
Aboud Dandachi,
working for
The Daily Sabah
, describes very well the emotional experience he went through as he moved from a position of non-interference to activism.
"The event that had suddenly and so jarringly finally gotten me off the fence was the massacre by the regime's security forces of a large scale demonstration being held at the time in the very center of Homs."
It was that fateful massacre in April of 2011 that ignited civil war, and Homs was ground zero. He was still in Homs when Basset's family was massacred by Assad's agents. Dandachi watched from the sidelines as Basset took sides and took up weapons, but only one of them would stay for the fight. He never took up arms and lives as a refugee residing in Istanbul today."
He adds, a position I agree with, "

Although we call it the Syrian Civil War, at this point it looks much more like the first ever World Proxy War, where nations all over the globe are tossing chips into the game. Sadly, in geopolitics, the people of Syria, including Basset, are just pawns."
As an update he adds that in May 2016 Basset was in Turkey making a film. We know that Turkey has actively supported the 'freedom fighters' in northern Syria, who have shot down Russian aircraft so it appears that Basset is protected by Turkey. Clearly he managed to escape Homs despite the Government stranglehold, some time after the 2014 siege. How all this changes with the arguably American/Israeli inspired attempted coup and subsequent raproachment with Russia and Iran, awaits to be seen but it is in this context that the current viral images must be seen.
https://i.ytimg.com/vi/fVBZof8dOvo/maxresdefault.jpg
From:
https://www.ovguide.com/abdul-baset-al-sarout-9202a8c04000641f8000000020630773
Biography
:
Abdul Baset Al-Sarout or Abdelbasset Saroot
is a Syrian association football
goalkeeper
. He has represented
Syria
at U-17 and U-20 level. He is thought to be a leader of the Syrian rebels in Homs. He is a vocal supporter of the rebels in Syria. The Arab-speaking media network Al Jazeera have described him as a "well known icon in the Syrian uprising". All four of his brothers were killed by Syrian security forces. His uncle, Mohe Edden Al-Sarout was killed during November 2011 in Homs. Sarout reportedly kissed a murdered 19 year old protestor's bloody head whilst a crowd chanted to the beat of a drum "Sleep easy we will continue the struggle... mothers weep for Syria's youth" Al-Sarout is thought to have survived at least three assassination attempts. In May 2014 he stated in a video he has the same goal as Al-Nusra and ISIS.
Show Less
Born
: January 01, 1992,
Syria
Clearly the above is taken from this image:
http://media.tumblr.com/tumblr_m9y1ccWoxn1qmkwz4.jpg
Here's another image of him: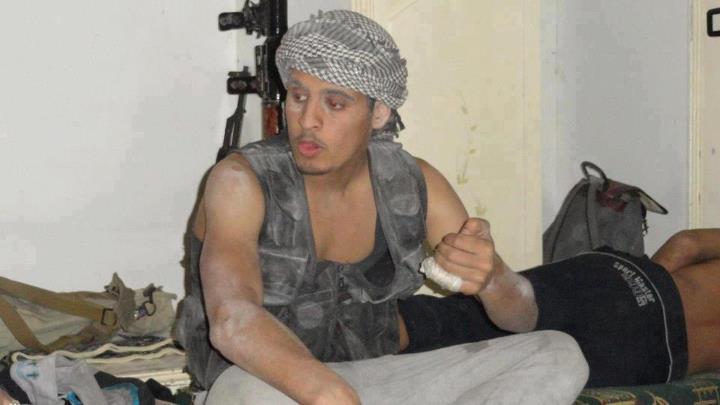 http://alchetron.com/Abdul-Baset-Al-Sarout-392380-W#demo
Here we see him enthusing ISIS fighters in Homs subsequently taken back by West supported Kurdish forces:
https://www.youtube.com/watch?time_continue=82&v=KFkyPnVD_pE
In it he makes clear he is fighting in support of Omar and Abu Bakr. (It seems in Sunni iconography,

Abu Bakr was to be the first successor, and Umar and Uthman were to be the second and the third successors of Muhammad.

) Oh the tenacity of tradition and its present implication for peace and stability! In the opinion of one: "
Countless Muslims were killed in their countless wars which were fought only because there was no apparatus for peaceful transfer of power from one ruler to another."(1) and it still continues.
Another shows him exhaused and drained by battle:
http://alchetron.com/Abdul-Baset-Al-Sarout-392380-W#-
And another holding a heavy duty weapon:
Here is an image of him taken from a Twitter feed in which he apparently swears allegiance to ISIS. Perhaps it is worth noting the clear western origins of the fatigues and T-shirt worn by his unidentified companion whilst he appears to have adopted the obligatory ISIS black traditional Arab dress code. Confusingly this pre-dates the article by Ongley discussed above by about seven months so which to believe? Or is it all just fabricated propaganda by those that control these things? 'ISIS fundamentalist extremist' or 'Syrian Freedom Fighter', you decide.
The accompanying text reads: "
#

Syria
: recent photo of Abdul Baset al-Sarout reportedly taken after his pledge of allegiance to
#IS
. V sad news."
Source:
https://twitter.com/charliewinter/status/548609937606459392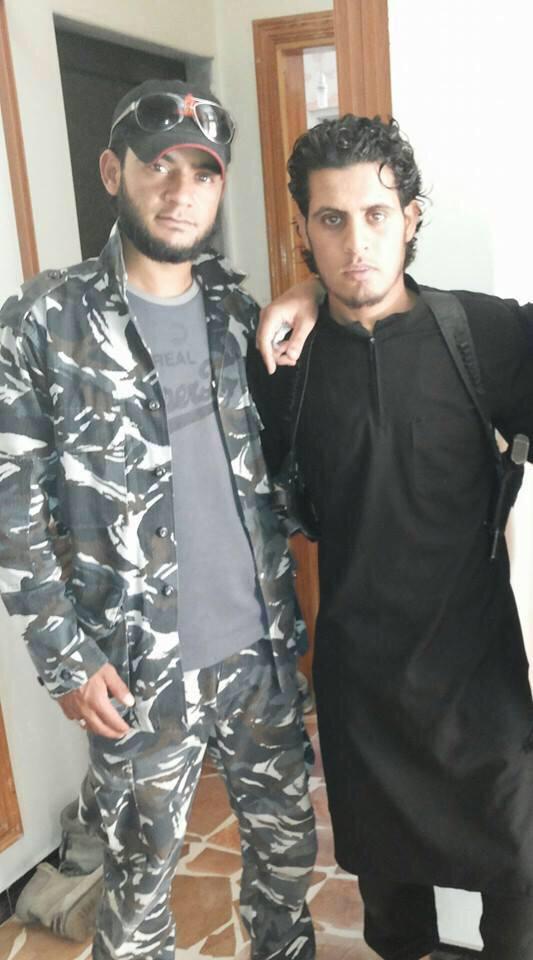 https://pbs.twimg.com/media/B50N0vTIIAARgxy.jpg
The Role of 'Eretz Zen'
In this video he is seen warning humanitarian efforts to supply Homs in January 2014:
https://www.youtube.com/watch?v=HB18VdRKays This comes from the Syrian Eretz Zen Channel a still of which is here:
Its You Tube Channel is here:
https://www.youtube.com/user/EretzZen It is hard to detect what its position is, although it appears to be pro-Israel and anti-ISIS but is this all part of the ruse to increase the fear and antpathy towards that organisation? It posts a 2014 BBC interview with a thirteen year old alleged recruit in souther Turkey. The mother states that ISIS was good to them though her assurance that she would be proud if he was killed hardly appears convincing. (See:
https://www.youtube.com/watch?v=mJYeZkXdZAU) Amidst all the killing and conflict it is very hard to segregate fact from intentional propaganda for one side or another.
In December 2014 it provides footage of
Israeli Fighter Jets Bombing or flying over al-Dimas and Area next to Damascus International Airport here:
https://www.youtube.com/watch?v=OznteXryltY There is some discussion if it is what it purports to be or "
100% bullshit israeli crap."
However 21st Wire had this special report
that also listed all Israeli actions over Syria.
"Israeli warplanes hit two separate areas near Syria's capital of Damascus yesterday, including a facility at the city's international airport. This latest attack reveals a pattern of involvement which spells out Tel Aviv's role in the destabilzation of Syria, which includes providing intelligene, air support, arms, and medical assistance – to Islamic insurgents inside Syria." (3)
Another Eretz Zen site is here:
http://note.taable.com/feed/Eretz-Zen-Channel-Syria-News/2next_213BCC_187619314736127-yFKnR8pGQEuJW7YVwqxp3tiamqg$1416777379@enc_AdDPYw3ed013S1gmdGrnZBNZB1XfESWz7Igm9pueZCobcLI9uAAx7dKZBDeKW3oeSXtgo15oUwhNpAymuIgBnUpYBzBcLXJRKIzS83P3MUnsdFiJ6gZDZD
Then there is this Eretz Zen source material affording substantive proof of American sreation and support of ISIS:
http://www.ascertainthetruth.com/att/index.php/al-islam-a-terrorism/intl-qwar-on-terrorq/1391-isis-as-u-s-creation-the-clearest-evidence-to-date
So after all of this, I am unable to tell who is actually behind Eretz Zen or where it is actually coming from but it clearly has unobstructed access to those fighting on the behalf of ISIS yet seeks a counter narrative of Israeli aggression and American double dealing. Is it actually a Jewish counter-information or something genuinely Syrian supportive of the Assad regime. Honestly I can't tell as no definitive background information appears to be available.
Direct Evidence of American ISIS Support?
The same media outlet makes the claim of documented direct American support of ISIS here: https://levantreport.com/2014/09/13/isis-as-u-s-creation-the-clearest-authenticated-video-evidence-to-date/
From that I take just one quote:
"The video, documenting (now former) U.S. Ambassador Robert Ford's visit to FSA
Col. Abdel Jabbar al-Okaidi
in Northern Syria, also shows the same Col. Okaidi celebrating with and praising a well-known ISIS commander,
Emir Abu Jandal
, after conducting a successful joint operation against Syrian Army forces at
Menagh Airbase
in early August 2013. Abu Jandal's identity can be further established in an
interview he did with Al-Jazeera (Arabic)
, immediately after the capture of the airbase.
In interview footage from the Eretz Zen video, the U.S. "key man" Okaidi, through which U.S. assistance flowed, also praises ISIS and Al-Qaeda as the FSA's "brothers". The video further shows Okaidi proudly declaring that al-Nusra (Al-Qaeda in Syria) makes up ten percent of the FSA."
Needless to say the video and evidence of American direct support for ISIS have not been widely circulated. Nor the effectiveness of Russian intervention in doing what the West said it was doing (i.e. fighting ISIS) whilst clearly doing the opposite! In other words the whole western position, including it must be said the 'ISIS terrorist threat and events' is a crock of lies.
Conclusion
There is no doubt there is violence and destruction in Syria, but one can only conclude that the real reason for western intervention there, is not the defeat of ISIS but the defeat of Assad. If fact, deceitfully, the west has actually supported ISIS in this aim! It is important that the people of America and Europe realise they have been subject to a massive con. by their own elected governments and bear all this in mind when subjected by a Zionist controlled media to emotional imagery, such as that of poor little
Omran Daqneesh
.
From the Facebook page of Mamood M Raslan who lives in Aleppo (
here:
https://www.facebook.com/mahmood.rasslan)
with this translated caption, "
Unfortunately become martyrs are just numbers don't mean to the world, anything.... but who's tougher?"
REFERENCES
1. https://www.al-islam.org/restatement-history-islam-and-muslims-sayyid-ali-ashgar-razwy/major-failure-abu-bakr-and-umar
2. http://www.thru.media/where-is-abdel-basset-sarout/
3. https://syrianfreepress.wordpress.com/2014/12/09/report-39849/
"Contrary to popular belief, Israel is very much involved in the destabilization of Syria.
"Israel's Prime Minister greets ISIS fighter being treated in Israeli medical facility."
https://syrianfreepress.files.wordpress.com/2014/12/israhell-snake-visiting-terrorists.jpg
Damascus and Dimas attack (7 December 2014) – Alleged Israeli airstrikes in Syria against a warehouse of advanced S-300 missiles, which were en route to Hezbollah in Lebanon.[25]

Missile Strike at Golan Heights (23 September 2014) – IDF Patriot Missile battery shot down a Syrian MIG21, allegedly because it violated Israeli airspace.

Beqaa Valley airstrike (24 February 2014) – Two airstrikes against an alleged Hezbollah missile base in Lebanon near the border with Syria.[21]

2nd Latakia attack (26 January 2014) – Alleged Israeli airstrike against a Syrian warehouse of S-300 missiles.[20]

Snawbar airstrike (30 October 2013) – Alleged Israeli airstrike at an air defense site in Snawbar.[19]

Latakia explosion (5 July 2013) – Alleged Israeli airstrike on a Syrian depot containing Russian-made Yakhont anti-ship missiles.[18]

Airstrikes on Syria (3-5 May 2013) – Airstrikes on Syria against alleged long-ranged weapons sent from Iran to Hezbollah.[16][17]

Jamraya airstrike (30 January 2013) – Alleged Israeli airstrike on a Syrian convoy allegedly transporting weapons to Hezbollah.[14]

Other sources stated the targeted site was a military research center in Jamraya responsible for developing biological and chemical weapons.[15]

Operation Orchard (6 September 2007) Israeli airstrike on a 'suspected' nuclear reactor[4] in the Deir ez-Zor region[5] of Syria. The Israeli and U.S. governments imposed virtually total news blackouts immediately after the raid that held for seven months.[6]

Ain es Saheb airstrike (5 October 2003) – Israeli Air Force operation against an alleged Palestinian militant training camp in Ain es Saheb, Syria.

Additionally, Israel has attacked Lebanon repeatedly, most notably in 2006 when it slaughtered some 1,500 Lebanoese civilians during it's indiscriminate bombing raids hitting residential areas and targeting 'infrastructure' in neighboring Lebanon.