American woman stabbed to death in London.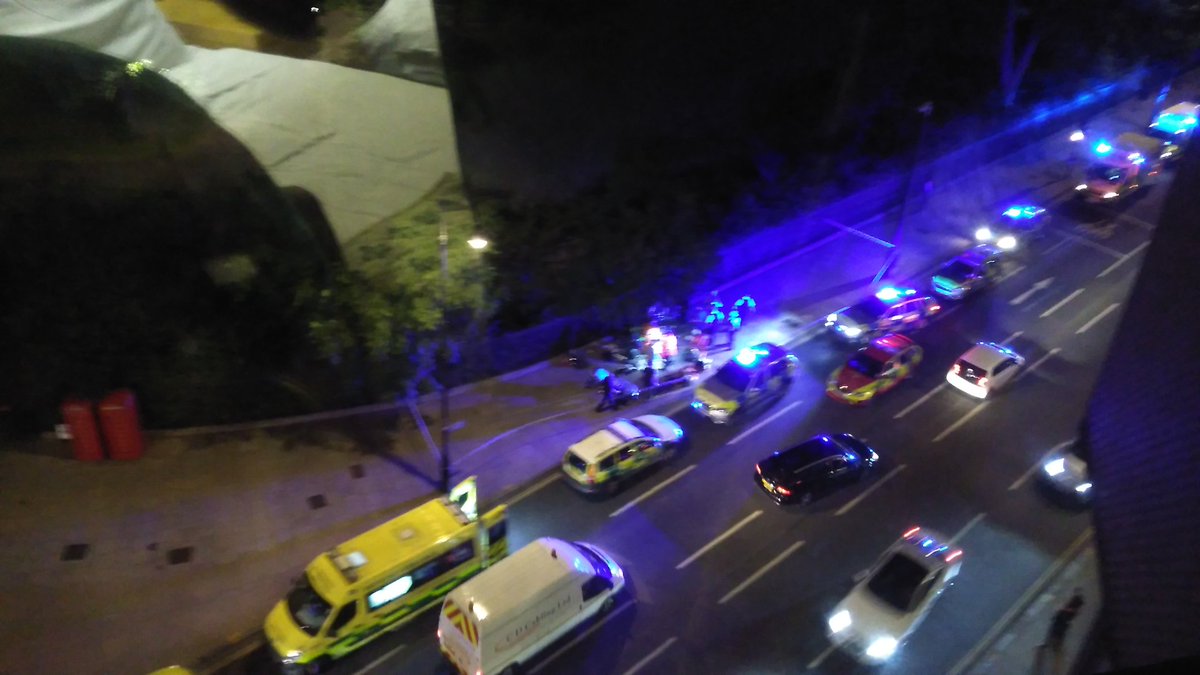 A 19-year-old man is being held on suspicion of murder after a woman was killed and five others injured in a knife attack in central London at just before 10.30 pm on Wednesday 3rd August, 2016.

The immediate question: was this a "terrorist attack"? It comes only hours after a high-profile dramatic presentation by the Police Commissioner and Mayor of the introduction of more armed officers and sophisticated equipment including men on motor bikes for faster reaction times. (See: http://veaterecosan.blogspot.co.uk/2016/08/robo-cops-on-motor-bikes-hit-capital.html)


The man was Tasered by police and arrested following the incident, which left one of the victims lying in a "pool of blood" in Russell Square. Armed officers arrived on scene "within five minutes of receiving the first call."


The police reported that the dead woman in her sixties was treated at the scene but was pronounced dead a short time later. She was one of six people injured. There was a suggestion by a witness that they were Spanish. (It now turns out the deceased was American. (Other injured in the party of six included an Israeli national - BBC )


After being arrested and taken to hospital, the suspect who is ('Norwegian of Somali origin' - BBC) is now being held on suspicion of murder.

The Commissioner of Police has indicated that the motivation was less likely terrorism; more likely mental heath issues. However it is hard to overlook the way in which the story, with accompanying photographs has been projected by the media, nor the way it appears to fit with a number of similar attacks in France and Germany particularly.


In 2015 knife crime wa

s up by at least 18%, after years of falling.

Fifteen young people were stabbed to death in London in 2015.

Nationally, the number of knife crimes resulting in sentence or caution has fallen by a fraction, from 16,400 in the 12 months to March 2014 to 16,391 now.

The ONS said overall crime recorded by the police in 2015 rose by six per cent in the year to September, including a 27 per cent jump in violence against the person.

There were an extra 185,666 violent offences, bringing the annual total to more than 885,000 in England and Wales.

In 2015 knife-point rapes jumped 26 per cent to 341, while overall knife crime was up nine per cent, with 14,190 assaults involving a blade.
It is important to put this latest event in the context of the wider picture, with the obvious question, why do certain knife deaths get huge attention, whilst others are ignored?
This is not a trivial matter, as we know how the media works. When the propaganda machine swings into action, we have cause to be concerned.
It was the second most prominent story on BBC lunch-time news (after a reduction in the bank rate and before a consideration of 'internet addiction', the Brazil Olympics, report on S. Africa election, the future of 'HMS President' and Brighton's new 'pod')
This my friend is the quality of our national news network!

Then there is the rather remarkable way in which this event and the way it has been communicated replicates those elsewhere. It raises the obvious question, are they in any way connected or coordinated?
Leytonstone Station, London. (5.12.2015) Somali-born Muhiddin Mire, 30, injured musician Lyle Zimmerman, 56, in the station's ticket hall. Zimmerman sustained a 'deep and ragged wound' to his neck. Mire claimed he was carrying out the attack for "my Syrian brothers". He had a history of mental illness and he believed he was being watched by the security services. He was tasered and arrested by police and last month found guilty of attempted murder at the Old Bailey. (Daniel Bielinski filmed events on his mobile phone.)
Grafing, Nr Munich, Germany (10.5.2016) Twenty-seven year old German man kills one and injures others in knife attack. Said to have Shouted "Allahu Akbar" during the assault. Paul H. was mentally disturbed and stressed that he had no known links to Islamist militant groups. Arrested by police.
Wurzburg, Germany, (19.7.2016) Seventeen year old ......... is alleged to have carried out a knife and axe attack on a train injuring several passengers, before being shot dead by police. Shouted "Allahu Akbar" during the assault. He was said to be of Afghan backgound but this and his age subsequently disputed. IS connection claimed.
RAF Marham, England (20.7.2016) An RAF serviceman, who was not wearing his uniform, was out jogging in the afternoon on 20 July when two men grabbed him by the wrist, threatened him with a knife and tried to pull him towards a dark coloured people-carrier. The pair are described as of Middle Eastern origin in appearance and each was aged between 20 and 30.
Munich Shooting (22.7.2016) 18-year-old David Sonboly shoots dead 9 and injures 36 others. Sonboly died nearby (actually a Km away!) from an alleged self inflicted gunshot wound to the head "in front of two police officers". He was German-Iranian and been in psychiatric care, where he was treated for depression. An early witness talking to CNN correspondent on the phone claimed that the gunman had shouted, 'Allahu Akbar!' She was only identified as 'Lauretta', her story has never been substantiated, and she appears to have disappeared off the scene.
Ansbach, Germany (24.7.2016) Suicide bomber, Mohammad Daleel, a 27-year-old Syrian, kills himself outside wine bar injuring fifteen. Later revealed had fought against Assad regime and been terribly tortured twice. Had recently been denied permission to remain in Germany. (See: http://www.independent.co.uk/news/world/europe/ansbach-explosion-germany-isis-suicide-bomber-mohammed-daleel-al-qaeda-a7157961.html) This was the first such case on German soil. (See new comment at foot of article)
Reutlingen in southwest Germany. (24.7.2016) 21-year-old male refugee from Syria stabs a woman dead and injures others. Arrested by police. German-Iranian attacker having a history of mental illness, according to German officials.
St Etienne , France (26.7.2016) murder of priest during mass were allegedly 19-year-old Adel Kermiche and 19-year old Abdel Malik Petitjean. Shouted "Allahu Akbar" during the assault. Shot dead by police.
London, England (3.8.2016) Nineteen year old man (unnamed) stabs to death an American woman in Russel Square (scene of 7/7 terrorist attack) in a party of tourists. Mental health said to be a "substantial focus" of the investigation.
Aldershot, England (3.8.2016) Two men in a blue Renault Clio tried to abduct a soldier near the main Garrison Church, Aldershot at 8.30 am (as reported here: http://www.independent.co.uk/news/uk/home-news/aldershot-abduction-attempt-soldier-garrison-military-police-hampshire-a7169821.html) (Clearly this and afore-mention RAF Marham incident recall the Woolwich knife attack on the 22.5.2013)
QUESTION


Are these individuals acting out their violent tendancies randomly from personal undisclosed motives or are they actually following instructions? Is it significant that nationality, religion and mental state appear to be common factors?
This is not a fatuous question either. Only yesterday (3.8.2016) the Telegraph announced (here: http://www.telegraph.co.uk/news/2016/08/03/uk-educated-isil-supergrass-claims-terror-group-planning-simulta/) the following:
"A British-educated Isil supergrass has revealed how the terror group has planned simultaneous attacks in England, France and Germany but is struggling to recruit UK-based jihadis.

Harry Sarfo, who was born in Germany but grew up in the UK, told how he travelled to Syria to fight alongside Isil jihadists but was told to return to Europe in order to take part in terrorist attacks.

In an interview in the New York Times Sarfo, who is serving a prison sentence in Germany, said that Isil commanders want to organise "loads of attacks at the same time" in different European countries."
The question is, is this latest attack, within the context of all the others, genuine, by a genuine Muslim political group, or is it an arms-length front for the America/Saudi/Israeli alliance; or indeed just a scare story to promote fear and enable western governments to further advance a regressive and repressive agenda of legal and policing measures?
Time will no doubt tell.
This one comes from a somewhat similar alleged stabbing incident in Reutlingen, Germany on ..... in which one female died also at the hands of an emotionally disturbed young man of 23 referred to above. The car in the picture was said to have intentionally collided (some reports stated 'drove over') the alleged assailant. Somewhat strangely there appears to be little or no obvious damage to the front of the car. The road appears to have been chalk marked to indicate its position, hopefully
after
it was parked. What I find somewhat interesting in this and the more recent photograph from Central London (did you notice?) something has
amused
the officers at the scene engaged in the murder enquiry. In both photographs officers are seen smiling. Perhaps in both they were sharing a private joke with the female officer concerned or even that they knew something we don't?
I have just watched the ITV report on the Ansbach suicide bombing here: https://www.youtube.com/watch?v=GWuP21Pdinc. Published on 26 Jul 2016
"More about the Ansbach bomber and other images of terrorist attacks in Germany in recent days. Rohit Kahroo reports, with Tom Bradby in the studio."
I have to say I watch these productions carefully and critically for signs of problems. I noticed Rohit Kahroo a graduate from Birmingham University, was appointed ITV's 'African Correspondent" five years ago and rather unusually it was jointly with US network NBC.
He is now "the Security Editor for ITV News, concentrating on counter-terrorism and national security, both in the UK and abroad."
Reading his brief profile here in connection with his promotion in 2011, in the Birmingham Mail (Here: http://www.birminghammail.co.uk/news/local-news/former-birmingham-student-rohit-kachroo-151166) was this:
"Still only 28, he was diagnosed with the condition (Type 1 diabetes) three years ago. "I was driving towards Leicestershire to work on a story with the McCanns when I realised I couldn't keep my eyes open for more than half a second," he said. "So I stopped at a service station for a quick nap – and woke up hours later having missed that story."
He was however the reporter for a McCann item according to ITV (here: http://www.itnsource.com/shotlist/ITN/2008/07/21/T21070841/?v=1) "LTN: CRIME: Madeleine McCann disappearance: parents no longer suspects 21 July 2008 Story ref: T21070841 Contains: 7 Clips Format: betamax" amounting in all to over two and three quarter hours.
So to suggest he "missed the story" may not give a totally accurate picture.
The intrigue surrounding the McCann story
and involvement of departments of HM Government
is well known and a bit of a red flag in relation to anything else. (See:
https://www.youtube.com/watch?v=_yYwFnglhtw)
But in relation to the Ansbach bombing, the bit that interested me in particular was an interview with a stated "Witness", (at 1.13 m) a young woman in her late teens or early twenties, called Jana Vandenberg. She speaks with a pronounced American accent. In the exceedingly brief slot (it's obviously savagely edited nine (9) seconds in total!) she says:
"... and then I remembered that my little sister was back inside so I ran back towards the entrance of the concert hall and I saw a man laying injured on the floor with blood on his face ..."
No information is given where she comes from, by whom she is employed (if she is), or why she and her younger sister were in Ansbach? Or indeed why she of all people was chosen as the "eye witness" and no others.
There are several elements to this that I find questionable. It is not clear how long after the incident the interview takes place but her utter composure and undisturbed - both mentally and sartorially - appearance is worrying.
True she doesn't claim to have seen the man blow himself up but she claims to have witnessed the immediate after effects, and she was clearly desperately worried about her "little sister" who may have been a casualty. Having been concerned about her no mention is made of her again which seem rather strange.
So the man on the ground "with blood on his face": is she suggesting that was the bomber? That would certainly be the inference I got from it. If so the account is quite preposterous. He was I believe described as setting off a backpack bomb filled with bolts and such like. Do you really think that a bloodied face would adequately describe the carnarge such a device would produce?
But perhaps she was instead describing one of the fifteen injured? If so why not a mention of them or more importantly the impact the bomber himself made on her? In no way is this a credible witness report.
The question arises, was she in fact scripted or indeed what has come to be known as a "crisis actor" purely for the emotional impact on, and link to, the United States audience?
Searching the name on the internet provided only this at
http://independent.academia.edu/JanaVandenberg which does look remarkably like the person being interviewed in the ITV footage. This young lady of identical name has this against it surprisingly:
8,223

People

3,128

People

879

People

1,089,429

People

603,556

People
I have now discovered the same footage, but more of it - forty (40) seconds this time - put out by NBC. (Note the
Rohit Kahroo joint arrangement with NBC above that looks as if it might still be in operation) This clip is self standing at
http://www.nbcnews.com/video/u-s-teenager-witnessed-ansbach-suicide-bomb-attack-731807811513 and provides a little bit more information. We learn she is sixteen: "
16-year-old Jana Vandenberg was taking an ice cream break from a music festival when she heard the explosion in Ansbach, Germany". (Her white T-shirt has 'California' embroidered on it.) Actually she doesn't say they were having an icecream but rather that "they ran in the opposite direction towards the icecream stall". Had she actually left her little sister alone inside the hall and why did it take time before she remembered her?
"There was security people everywhere," she says. This we must presume was within minutes or seconds even, of the explosion itself. No one explains how or why they were there so quickly. The man we learn who had "blood on his face " was an "elderly gentleman" but she doesn't stop to help him or any of the other injured apparently or take notice of the man who has just blown himself up! This is quite incredible.
She says she was, "able to push through inside the concert screaming for her sister. They were hiding in the bathroom , really scared. I said we' re running now and we got out and ran all the way down town. As we ran cop cars were coming the other way. There was a very quick reaction."
So again we have the familiar element of these incident narratives "holed up in a bathroom very scared". But it begs the question doesn't it, how if she got to the scene so quickly, ignoring all the mayhem around her, and unobstructed by all the security people she says were there, and able to get back inside (she says "pushed through") yet within minutes not only has her little sister hidden in the bathroom, but she is able to locate her there and still be out and running away whilst "cop cars" are still arriving.
I would say there is something very wrong with this account. Yet again the television companies (in this case ITV and NBC) are either very gullible or knowingly agree to broadcast a very questionable source.