Cologne Axe Attack 15.8.2016
Cologne was the location of mass anti-immigration protests in January 2016.
Sascha Schuermann | Getty Images
http://www.cnbc.com/2016/01/10/riot-police-break-up-anti-refugee-protest-in-wake-of-cologne-attacks.html
Any reasonably enlightened person has become aware how the media has been, and is being used, sometimes unwittingly, by government agencies, to promote a certain view of international issues. Primary suspects in this underhand business are the United States CIA and Israel's Mossad, often acting in concert. The news agencies that bring you the bare facts of a claimed incident, seldom challenge the reliability of their sources or follow up the questionable aspects that are subsequently revealed. Nothing must be propagated to the general public that conflicts with officially approved version. Of course the (literally) incredible events of 9/11 prove that, reinforced by innumerably more since, as elsewhere on this blog, I have feebly endeavoured to demonstrate.
We must all now realise that for the last couple of years France has been the target for a number of high-profile incidents, conveniently placed at the door of the so-called Islamic State, an off-shoot it would appear of a group and movement referred to as Al Qaeda. The fact that both these organisations were largely created and actively supported by a combination of countries such as Israel, the United States, Saudi Arabia and Turkey, is of course of itself deeply worrying, and renders any terrorist activity by it immediately suspect.
However the focus of attention now appears to have moved somewhat to Germany, with a series of well publicised 'terror' events, that have been laid at the door of disaffected Muslims in general, with sympathies or connections with 'ISIS' in particular. Within the context of world events, this trend which is hardly likely to be a sudden spontaneous outbreak of violence, needs to be subject to rigorous examination for clues as to source and purpose.
Anyone who has read my previous articles on earlier events in Paris, Nice, Brussels and Munich (to mention just four!) will realise I place great stress and importance on images that go 'viral', and where they originate and by whom, as an indicator of foreknowledge of the event, and likely organising 'mind' behind them. When this keeps leading back to the same place -the CIA/Mossad connection - we can only come to the rather obvious conclusion of involvement and collusion.
So it was with some interest I noticed the source of the following image of the latest German incident in Cologne was the
'ANADOLU AGENCY'
in conjunction with
Getty Images.
(In passing I have often noted the rather strange frequency of 'smiling faces' as here with the gentleman on the right. With some confidence but no inference, I can say that true terror never evinces smiles) Continuing the the theme, perhaps it should be mentioned that the 'NRW' on police uniforms stands for '
North Rhine-Westphalia' - the largest regional police force - not New World ordeR, nor that the consecutive numbering indicates that the two officers are an 'item'!
https://www.facebook.com/topic/Cologne-Germany/105525356147328?source=whfrt&position=3&trqid=6318993437711422448
Anadolo Agency
happens to be a Turkish outfit. Particularly in the light of dramatic events in Turkey involving an attempted coup, it is a matter of interest, how and why this is the source of the photo. Of course there may be a genuine and wholly innocent reason why a Turkish Agency photographer was immediately on scene in Cologne, but more devious explanations should never be ruled out.
Turkey as we know is in a state of high tension with over twenty thousand individuals currently under arrest and subject to Turkish methods of interrogation which are well known for their thoroughness. Claims and counter-claims of foreign interference fill the airways, the latest being that Europe is unjustly 'threatening' Turkey with sanctions over its response and fear that having only recently been at 'daggers drawn' with neighbouring Russia, it is now intent on making the association closer, particularly in the area of defence.
We need not point out that Turkey is a full member of NATO and that America is highly reliant on it for staging post and base for its Russia facing rockets and nuclear capability in the area. Nor that American/Israeli compact is deeply implicated in the attempted coup, although in view of the potential consequences, Ankara has refrained from this explicit accusation, preferring to put all the blame on
Fethullah Gülen resident in, and protected by, the U.S.A.
Turkey's role in the chief 'bogeyman' - ISIS - is clear for all to see. It facilitated through its borders the arrival of terrorist extremists from Libya with the assistance of the United States and then actively supported them by buying the oil produced from its controlled territory, that paid for the mercenaries and armaments to supplement those provided by Qatar and other Middle East states.
Now it would appear, a west-inspired attempted coup, intended to align Turkey more closely to the US/Israeli master plan for the region, including the establishment of an independent state for the Kurds strenuously opposed by Turkey, has back-fired and pushed it into the arms of Iran and Russia, the worst possible scenario for both said countries.
So it in this wider context that we view all the so-called 'terrorist incidents' on European soil, and particularly in France and now Germany. If we can see it, European leaders certainly must, but such is the influence of the United States, they are prepared to play dumb, and go along with an essentially fraudulent narrative of 'Muslim Extremism' that hardly explains anything apart from American/Israeli meddling and intrigue.
Back in Cologne the story so far as reported by the Independent is that:
"
Two suspects are on the run after a knife and shooting attack in Cologne
, local media has reported.
A 34-year-old man was seriously injured in the attack near Rudolfplatz in the early hours of Monday morning.
S
everal people told police shortly before 4am local time that three or four people seemed to be having problems with another man, with eyewitnesses telling the Koelner Express
they saw men attacking each other with axes."
(
http://www.independent.co.uk/news/world/europe/cologne-shooting-stabbing-attack-two-suspects-on-the-run-knife-gun-latest-updates-a7191301.html)
http://www.smh.com.au/content/dam/images/g/q/t/4/s/b/image.related.articleLeadwide.620x349.gqsycf.png/1471260210445.jpg
Reuters had this:
"
Police, who received emergency calls around 3.45 a.m. (0145 GMT), found traces of blood and shattered glass at the scene and said they were investigating whether several spent gun cartridges they found were also linked to the incident.
There has been a spate of indiscriminate attacks against civilians in Germany in recent weeks, including two claimed by the Islamic State group and a mass shooting in Munich by a deranged 18-year-old that was also initially seen as terrorism-related." (
http://uk.reuters.com/article/uk-europe-attacks-germany-cologne-idUKKCN10Q0HB)
Reuters has this image to illustrate the story. You may consider it overly dramatic but that is what consistently we see from the media when it comes to this subject.
https://www.geo.tv/latest/111408-One-person-injured-in-axe-and-shooting-attack-in-Cologne-newspaper
Whether this latest incident was a 'terrorist event' or not, and the authorities are suggesting it was not, it is fairly clear how this spate of Muslim/ISIS incidents is resounding within the German community and political scene. This was quite predictable and therefore the question arises was it the devious intention by the people who plan such things. As always "who benefits" is the question to be asked. It is certainly NOT ISIS or Muslims generally that's for sure. Nor is it the population of Iraq and Syria, for whom it means more not less bombing and other military intervention.
However it is good for a generally more aggressive stance against these countries and people, support for Israel, and a more right wing and repressive politics at home. France remember is still under a State of Emergency, conveniently extended immediately after the Nice attack. For those familiar with the secret 'GLADIO' organisation and its methods, this appears very like a re-run. Germany, and particularly Merkel, has stood in the way of an aggressive American anti-Russian stance.
See how it is being emotively and personally portrayed as in this photo image: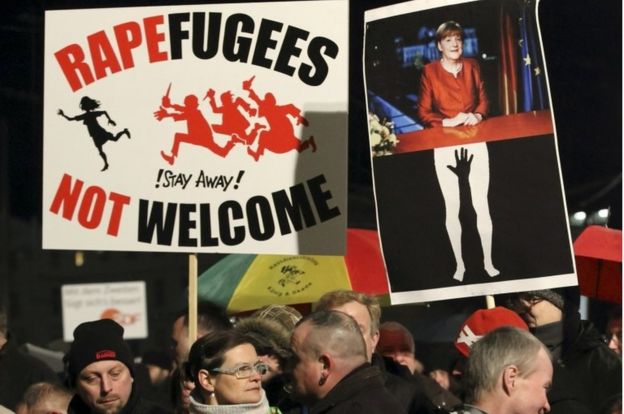 http://ichef-1.bbci.co.uk/news/624/cpsprodpb/147BE/production/_87620938_87620937.jpg
The "147BE/production" tag brings this anti-Merkel site on twitter
https://twitter.com/hashtag/merkelized. Note also the involvement of the BBC apparently!
The previous chief of police in Cologne had to resign in January after it emerged that he had also deliberately covered up the full extent of the attack on German women in the city it is claimed.
France under Hollande made many Palestine-positive announcements and the intention to cancel the state of emergency, until Nice and Rouen intervened. Was Turkey frustrating American plans in that region? Meanwhile, all the media and political stops have been pulled out to undermine the anti-war/nuclear deterrent Corbyn in Britain - so far disastrously. Do we see a definite pattern repeated here? You would have to be blind not to I would suggest.
So now belated back to my original point regarding the

Anadolo Agency, we discover that its chief executive is an Erdogan insider, Senol Kazanci appointed only twenty months ago. His twitter feed is here though frustratingly all in Turkish:
https://twitter.com/senolkazanci There appears to be no mention of Cologne on it despite his photographer being there. He appears to have escaped the the recent purge though we may wonder what "further education in the U.S." consisted of and whether his position has been compromised by it?
From http://www.dailysabah.com/nation/2014/12/17/anadolu-agencys-new-director-general-appointed we glean:
"

Kazancı was born in Istanbul in 1975, but he is originally from Yomra district in Turkey's northeastern Trabzon province.
He did his early schooling at the Kartal Anatolian Imam Hatip High School in Istanbul. Later, he studied law at Istanbul University and recieved further education in the U.S.
"In 2007, he became the chief editor of the Turkish television channel, TV Net. He also wrote articles for the daily Yeni Şafak until 2011, during which time he was appointed as Erdoğan's principal consultant during his prime ministry.
Kazancı went on to serve as a key advisor when Erdoğan became the president.
Kazancı is married with two daughters. He speaks English and German."
Here's another from that source as can be seen. Unfortunately no date or location is attached so it is not clear whether this relates to the recent event or some other. However, note the term 'asset' embedded in the description. Further a search on "
IWSAsset&k" embedded in the photo source brings up this site full of photographs dominated by members of the Royal family the significance of which (if any) I have no idea!
https://www.google.co.uk/search?q=IWSAsset%26k&rlz=1C1ARAB_enGB463GB464&tbm=isch&tbo=u&source=univ&sa=X&ved=0ahUKEwj6usTbvcPOAhVBLMAKHQlXBWgQ7AkINQ&biw=1024&bih=713
http://cache4.asset-cache.net/gc/450338202-german-police-take-security-precautions-with-gettyimages.jpg?v=1&c=IWSAsset&k=2&d=GkZZ8bf5zL1ZiijUmxa7QbmrsOYQqBA8cpfaMfZGqLALrdO0qMdRbgPSQCB73mrPL9YsgGCjKWhZ6t%2FLt2Fn4g%3D%3D
So to conclude, can we infer anything from the fact that a photographer employed by the leading Turkish news agency was on scene at the time of the alleged incident or soon after? We do not know the name of the photographer and with a large Turkish presence in Germany it is perhaps not surprising they have photographers there that they can use. However the incident does fit within a trend and is likely to exacerbate anti-immigration and possibly anti-Turkish sentiment as part of the wider pattern. Any causal links to Turkey itself are however tenuous in the extreme.
MEANWHILE IN TURKEY....
From:
http://www.hurriyetdailynews.com/explosion-hits-village-in-turkeys-diyarbakir.aspx?pageID=238&nID=102859&NewsCatID=341
Two police officers and a child were killed in an outlawed
Kurdistan Workers' Party
(PKK) car bomb attack targeting a traffic police station in the Şükürlü village located between the Çınar and the Bismil districts of the southeastern province of
Diyarbakır
on Aug. 15, the
Diyarbakır
Governor's Office has announced.
The governor's office also said in a statement that 25 people, including eight police officers, were wounded in the attack targeting the Murat Uçar Regional Traffic Inspection Station at around 1 p.m.
The wounded were transferred to nearby hospitals.
The blast also created a hole with a depth of five meters in the road, which was closed to traffic.
Meanwhile, security forces conducted an operation in the region to apprehend the militants responsible for the blast.
SEARCH TOP WINDOW
See also:
"MUNICH"; "ANSBACH"; "BAVARIA"; ST. ETIENNE"; "BARI"; "BAD AIBLING"; "NICE"; "PARIS"; "BRUSSELS";