The World Financial System: Is there any alternative?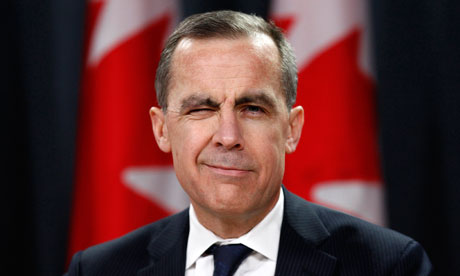 https://static-secure.guim.co.uk/sys-images/Guardian/Pix/pixies/2013/6/12/1371056338728/Mark-Carney--009.jpg
From Daily Pickings here:
http://freecriticalthinking.org/daily-pickings
The latest Runnymede Gazette opens with two articles posted in Daily Pickings: the first being a retrospective view of Occupy and the second on the structural nature of the many problems we face. The editorial refers to the need to organise but Critical Thinking's analysis suggests creating another "movement" is not the answer. We need to self-organise locally and interact regionally, nationally and globally. We need a self-governing ecosystem which grows across continents and ideological divisions. Most importantly, we need to avoid embedding hierarchy within our organisational structures.
Other articles include: a critique of Mark Carney, Goldman Sachs alumnus, and his extraordinary appointment as Governor of the Bank of England; Iceland's plans, long overdue, to issue its own currency; the cashless society; and more.
EDITORIAL AVENUE OR CUL-DE-SAC?
Copied and pasted from:
http://freecriticalthinking.org/images/Documents/RunnymedeGazette/RUNNYMEDE_GAZETTE_MAY_%202016.pdf
where all the articles can be read if desired.
"Imagine a great maze, but unlike Hampton Court this one is filled with mirrors not hedges. Many people can be seen preening themselves; sometimes trying on different garments to see how they might look in this or that, or trying any number of quack remedies in order to cure this or that distortion. That is the nature of politics.
Nothing seems to go in the declared direction; every journey seems to end at a point far removed from the intended destination; most words end up meaning the opposite; most journeys seem endlessly circular; and there is no escape. Conservative politics … in the 'small c' sense of the word … is always about what is; radical politics … again with a small and very generalised 'r' … is always about what might be, or perhaps ought to be.
So the latter, being necessarily predicated on the hypothetical, will always be severely handicapped in its journey through the maze. Moreover, proximity to any desired destination is always measurable as the inverse of the number of chickens counted.
In assessing the impact of Occupy Paolo Gerbaudo counts some chickens. With the usual radical taste for complexity and obscurity, a number of what common sense might present as the more obvious lessons, are discounted or ignored.
Occupy was almost entirely based in capital cities. In smaller cities and towns it was never any more than an occasional brief flicker. That should tell us much about its real level of support on the one hand and the depth of its organisation on the other.
It is easy to fall deeply in love with one's own ideas … where the idea becomes perceived as too perfect to be exposed to the corrosion of popular knowledge and consent. Then there is no need to slum it by actually presenting it to the Hoi Poloi. Besides, that takes a lot of time and effort, not to mention boot-leather. So a mandate is claimed which has neither been requested nor granted.
We, Occupy, speak on behalf of the 99%. That 'we' are probably actually far less than 0.01% and that 'we' have never condescended to knock on a single door of the 99% Great Unwashed becomes immaterial.
Occupy never had any organisation. It was almost a Flower Power Mark II ... a shapeless, political blancmange. Yes, an 'incubator' effect is possible, but like Flower Power Mark I (where the Hoi Poloi were almost universally derided as 'straights')… and speaking as one who was there and saw this … it is as likely that the participants will follow their forebears, cut their hair and become corporate sales executives.
At least Flower Power Mark I took a decade to fall apart. In this age of instant gratification and millisecond attention spans a few months are often sufficient. An instant result is demanded or people drift away and do something else. The notion that parking a few hundred tents in a city square would topple a complex, long established and deeply entrenched power matrix was always beyond preposterous.
It is all simpler than Gerbaudo avers. Yes, (apropos of the Charles Hugh Smith item) there is much anger around. But we are involved in a millennial war with a corporate hydra of immense reach, resource, subtlety, experience and raw power. The conduct of that war will demand perseverance, co-operation , patience and sacrifice beyond the call of duty. It will also demand excellent organisation. This is a long, hard game, and not an arena for the whimsical or the disorganised." Frank Taylor
RUNNYMEDE GAZETTE A Journal of the Democratic Resistance
MAY 2016 ______________________________________
CONTENTS 5 YEARS ON: WHY THE OCCUPATIONS OF 2011 CHANGED THE WORLD Paolo Gerbaudo; Roar and Occupy.com; via Critical Thinking
THE ANGER OF THE UNPRIVILEGED IS RISING GLOBALLY Charles Hugh Smith; Max Keiser; via Critical Thinking
POLITICS AND PSYCHOPATHY Neil Lock; Libertarian Alliance Blog
NON-CONFORMITY AND ANTI-AUTHORITARIANISM NOW CONSIDERED AN ILLNESS: 'OPPOSITION DEFIANT DISORDER' Carolanne Wright; Humans are Free; via Victims Unite
THIS IS WHAT GOVERNMENT SPONSORED MASS SURVEILLANCE IS DOING TO YOUR MIND Alex Pietrowski;Waking Times; via Activist Post
WETIKO; HEALING THE MADNESS WITHIN Kosmos Journal Newsletter
THE MAN WHO GOT REVENGE ON COLD CALLING MENACE AOL Money UK; Sarah Coles; via Richard Colborne
WHO CONTROLS THE CENTRAL BANKS? MARK CARNEY, GOVERNOR OF THE … "BANK OF GOLDMAN SACHS" Prof Michel Chossudovsky; Global Research
REVENGE OF THE VIKINGS — ICELAND WILL CREATE ITS OWN MONEY CS Globe; via Michael Morton
A NEW DIGITAL CASH SYSTEM WAS JUST UNVEILED AT A SECRET MEETING FOR BANKERS IN NEW YORK Michael Snyder; Activist Post
BANK OF NORTH DAKOTA SOARS DESPITE OIL BUST: A BLUEPRINT FOR CALIFORNIA? Ellen Brown; Web of Debt; Huffpost Business