"Why do I use my paper, inke and penne?"

Of Saints and Sinners.


Torture and death for holding religious views or none?
Surely not today?

The abridged story of three men then and one now.
St. Edmund Campion, was martyred at Tyburn in 1581. A young Henry Walpole, was present at the execution and afterwards wrote a poem, "Why do I use my paper, inke, and penne?", to commemorate the occasion. Later William Byrd (at great personal risk) set some of the poem to music. It can be heard here: https://www.youtube.com/watch?v=nxOax0W5UMU

Edmund Campion (1540 - 1581)
From Wikipedia:
Born in London
on 24 January 1540, Campion was the son of a bookseller in Paternoster Row, near
St Paul's Cathedral
. He received his early education at Christ's Hospital school
and, at the age of 13, was chosen to make the complimentary speech when Queen Mary
visited the city in August 1553.
He then attended St John's College, Oxford
, becoming junior fellow in 1557
and taking the required Oath of Supremacy
, probably on the occasion of his B.A. degree in 1560.
He took a master's degree at Oxford in 1564.
Two years later, Campion welcomed Queen Elizabeth to the university, and won her lasting regard. He was selected to lead a public debate in front of the Queen. By the time the Queen had left Oxford, Campion had earned the patronage of the powerful William Cecil and also the Earl of Liecester, tipped by some to be future husband of the young Queen.
When Sir Thomas White, the founder of the college, was buried in 1567, the Latin oration fell to the lot of Campion.
Edmund Campion, in a 1631 print.
https://upload.wikimedia.org/wikipedia/commons/thumb/2/25/Campion.jpg/220px-Campion.jpg
Lord Chief Justice Wray read the sentence: "You must go to the place from whence you came, there to remain until ye shall be drawn through the open city of London upon hurdles to the place of execution, and there be hanged and let down alive, and your privy parts cut off, and your entrails taken out and burnt in your sight; then your heads to be cut off and your bodies divided into four parts, to be disposed of at Her Majesty's pleasure. And God have mercy on your souls."
On hearing the death sentence, Campion and the other condemned men broke into the words of the Te Deum. After spending his last days in prayer he was dragged with two fellow priests, Fathers Ralph Sherwin and Alexander Briant to Tyburn where the three were hanged, drawn and quartered on 1st December 1581. Campion was 41 years of age.



Henry Walpole (1558 - 1595)


Henry
Walpole
was born in 1558 at Docking, Norfolk. He studied at
Peterhouse, Cambridge
, but did not take his degree; then at
Gray's Inn
, finally in the
English Colleges at Rheims and Rome
. He entered the
Society of Jesus
in 1584 at Rome. He was sent to England in 1593, and landed Dec. 6, but was at once arrested, taken to
York Castle
, sent to the
Tower of London
, and finally to York, where, after being put through a form of trial, he was executed in April, 1595
From:
http://www.hymnary.org/person/Walpole_H1
http://www.jesuit.org.uk/sites/default/files/styles/full_column_pic/public/walpole_st_henry_sj_1558-1595_5.png?itok=thEFyvzT
By the gallows where Edward Campion was put to death stood a young student of law, Henry Walpole who, inspired by the example of Campion, resolved to become a Catholic. Born in 1558 at Docking, near Sandringham in Norfolk, the eldest son of a Norfolk squire, he spent seven years (1567-1574) at the Norwich Grammar School, and three at Peterhouse, Cambridge. He left the University without taking a degree (most likely because he was unwilling to take the oath of supremacy imposed on every graduate), and entered Gray's Inn to study law in 1578.
Soon after Campion's martyrdom in 1581, which called him from his lukewarm Catholicism, he wrote a small book of poetry on the martyr which was secretly printed and circulated in London. The authorities were enraged and Walpole fled London for his home in Norfolk, and from there he escaped to France. From: http://www.jesuit.org.uk/profile/henry-walpole-sj
Some years after Campion's death, William Byrd set a few stanzas of Walpole's poem to music. This was a rather bold move on his part; the only previous attempt to publish the poem had resulted in the torture and death of the publisher. But Byrd, because his talent had made him a favourite with the Queen, had more latitude, and made use of it.

William Byrd (c. 1540 - 1623)
William Byrd was born in London, the son of another Thomas Byrd and his wife, Margery. The specific year of Byrd's birth is uncertain some time between 1539 and 1543.
Byrd may have been a chorister
at St Pauls where his two brothers attended, or at the Chapel Royal. He was probably a pupil of Thomas Tallis.
https://upload.wikimedia.org/wikipedia/commons/2/27/William_Byrd_(1543-1643).jpg
Whilst still a 'teenager' he began composing sacred music.

Byrd's first known professional employment was his appointment in 1563 as organist and master of the choristers at Lincoln Cathedral where

he remained until 1572.

On 14 September 1568, Byrd married Julian Birley; it was a long-lasting and fruitful union which produced at least seven children.
Byrd obtained the prestigious post of Gentleman of the Chapel Royal
in 1572 following the death of Robert Parsons, a gifted composer who drowned in the Trent near Newark
on 25 January of that year. Almost from the outset Byrd is named as 'organist', which however was not a designated post but an occupation for any Chapel Royal member capable of filling it. This career move vastly increased Byrd's opportunities to widen his scope as a composer and also to make contacts at Court. Queen Elizabeth I
(1558–1603) was a moderate Protestant who eschewed the more extreme forms of Puritanism and retained a fondness for elaborate ritual, besides being a music lover and keyboard player herself.
In 1575 he (with others) published the ambitious collection the
Cantiones (abbrv.)
were a financial failure. In 1577 Byrd and Tallis were forced to petition Queen Elizabeth I for financial help, pleading that the publication had "fallen oute to oure greate losse" and that Tallis was now "verie aged". They were subsequently granted 21 year leasehold on various lands.
Byrd himself may have held Protestant beliefs in his youth, for a recently discovered fragment of a setting of an English translation of a Martin Luther hymn,
which bears an attribution to "Birde" includes the line "From Turk and Pope defend us Lord".
However, from the 1570s onwards he is found associating with known Catholics, including Lord Thomas Paget.
In 1583 he got into serious trouble because of his association with Paget, who was suspected of involvement in the Throckmorton Plot
, and for sending money to Catholics abroad. As a result of this, Byrd's membership of the Chapel Royal was apparently suspended for a time, restrictions were placed on his movements, and his house was placed on the search list. In 1586 he attended a gathering at a country house in the company of Father Henry Garnett
(later executed for complicity in the Gunpowder Plot
) and the Catholic poet Robert Southwell.
However despite all his Catholic sympathies and associations he survived the very real and terrifying dangers, probably as a result of his high level relationships, although often fined for not attending Anglican services. Throughout the latter part of the 16th C. he continued a prolific output of scores for voice and instrument.
In about 1594 Byrd's career entered a new phase. He was now in his early fifties, and seems to have gone into semi-retirement from the Chapel Royal. He moved with his family from Harlington to
a small village near Chipping Ongar
in Essex where he remained
until his death on 4 July 1623. Uniquely when he died, an entry in the Chapel Royal Check Book described him as "a Father of Musick".
Despite repeated citations for recusancy and persistent heavy fines, he died a rich man, having rooms at the time of his death at the London home of the Earl of Worcester. His contribution to early English polyphony, instrumental and sacred music is immeasurable.
"Why do I use my paper, ink and pen?
And call my wits to counsel what to say?
Such memories were made for mortal men;
I speak of Saints whose names cannot decay.
An Angel's trump were fitter for to sound
Their glorious death if such on earth were found.
"That store of such were once on earth pursued,
The histories of ancient times record,
Whose constancy great tyrants' rage subdued
Through patient death, professing Christ the Lord:
As his Apostles perfect witness bare,
With many more that blessed Martyrs were.
"Whose patience rare and most courageous mind,
With fame renowned perpetual shall endure,
By whose examples we may rightly find,
Of holy life and death a pattern pure.
That we therefore their virtues may embrase
Pray we to Christ to guide us with his grace.
Byrd did not publish the more controversial stanzas, of which these are but a sample:
"My soveraigne Liege behold your subiects end,
your secret foes do misinforme your grace:
who in your cause their holy lives would spend
as traytors dye, a rare and monstrous case,
the bloudy wolfe, condemnes the harmles shepe
before the dog, y whiles the shepherds slepe.
"England looke up, thy soyle is stained with blood,
thou hast made martirs many of thine owne,
if thou hast grace their deaths will do thee good,
the seede wil take which in such blood is sowne,
and Campions lerning fertile so before,
thus watered too, must nedes of force be more.
"You thought perhaps when lerned Campion dyes,
his pen must cease, his sugred tong be still,
but you forgot how lowde his death it cryes,
how farre beyounde the sound of tongue and quil,
you did not know how rare and great a good
it was to write his precious giftes in blood."
Bringing it up to date.
And now to bring the subject of persecution and torture for holding inconvenient or unpopular religious beliefs up to date, I refer you to the following, leaving you to conclude whether human beings have advanced one jot. Needless to say, although in the West we like to think we have moved on, we are still able to regard as friends and allies those countries and regimes that consider this behaviour acceptible. Such is the power of trade and economic considerations to dull any moral scruples or reservations.
Unidentified man (Dates unknown but very Presently)
http://thinkaboutnow.com/2016/09/saudi-arabia-sentences-a-man-to-10-years-in-jail-and-2000-lashes-for-being-an-atheist/
"Saudi Arabia sentences a man to 10 years in jail and 2,000 lashes for being an atheist"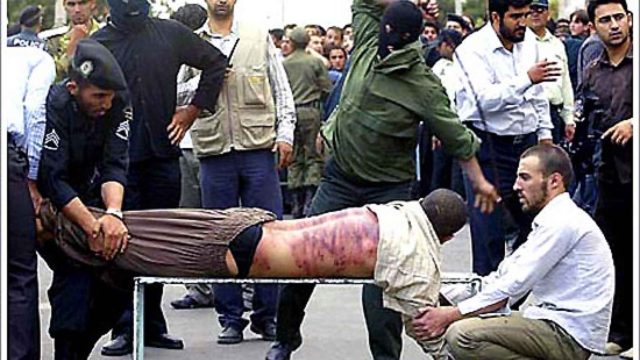 Can anyone doubt the assertion that the way States behave determines whether they are "civilized" or not? Should this not be the only criterion in deciding membership of the UN Human Rights Council?
Please tell me how Saudi Arabia or those that voted for it, manage to reconcile this image and its circumstances (and there are far worse I assure you) with the term "Human Rights"?
What separates modern Britain with the punishment meted out to Edmund Campion and Henry Walpole? Is it only TIME?
What separates modern Saudi Arabia - which for economic reasons Britain whole-heartedly supports apparently - and the treatment of this man and others like him?