The Murder of Jo Cox by Thomas Mair
The facts the jury probably didn't hear.
The message in the launderette's window says: "Please note, I did not tackle the gunman. And no one shouted Britain First at any time."
http://aanirfan.blogspot.co.uk/2016/06/mysterious-death-of-jo-cox-mp.html
Video of Mair's arrest here:
https://www.youtube.com/watch?v=uMDMVDeMcQI
Very Important! Check it out at 2mins 20 secs and then compare it with this image:
"Police said a man was arrested in Market Street near the scene of the attack in Birstall" BBC (Of course it wasn't though witness said he saw him arrested there! In fact it was in culdesac a mile away!)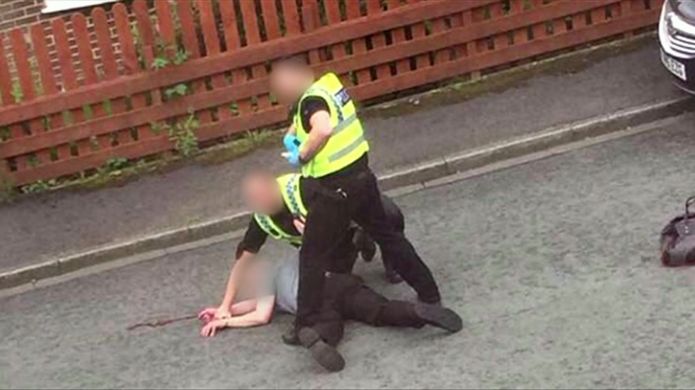 http://www.bbc.co.uk/news/uk-england-36550304
Here's another:
http://www.mirror.co.uk/news/uk-news/cctv-shows-moment-accused-killer-9273217
Note in the video there is no sign of the holdall (presumably with gun inside - see photo below) or it being moved. None of the officers appear to be in a position to move it. Where did it go or alternatively how did it get there?
The helicopter police video here (http://www.examiner.co.uk/news/chilling-cctv-footage-shows-thomas-12219424) clarrifies it a certain extent. I am right in my guess about the first police car to arrive. The holdall is shown from the air but video stops before it must have been moved before the start of the house video. Of course as part of the crime scene it should not have been moved or interfered with until photographed and subjected to proper forensic examination.
On the same police video he is seen at Hill head Drive without his overcoat. Where was that abandoned and was it located? Note now also the BLACK cap rather than the white one he had been wearing. Was in the habit of having two caps and where is the white one?
Arriving at Library day before
http://www.mirror.co.uk/news/uk-news/cctv-shows-moment-accused-killer-9273217
(Photo: PA)
http://www.mirror.co.uk/news/uk-news/cctv-shows-moment-accused-killer-9273217
Does this look like the same guy to you? And whats that long thing he's carrying. A bag or something else. Note dark hair and build that doesn't seem to match to me.
http://www.mirror.co.uk/news/uk-news/cctv-shows-moment-accused-killer-9273217
Note time and date of above image.
The two UNARMED officers had arrived first followed by a whole platoon of armed ones. Sadly they have no excuse to expend their bullets on a sitting duck that appears not even able to quack! Was this meant to happen? Indeed would the man on the ground have survived had they not?
Note also the arrival of two possibly three unmarked cars in addition to five police cars shown. The manner in which they arrive and treated by police suggests they are involved. So who are these people in these 2/3 unmarked cars. Is it possible they are Special Branch or other Government employees on site to make sure things go according to plan? Note also the arrested man appears to have walked into a
culdisac
more convenient for the police than him.
Note in this vid there is no sign of either a black hold-all or the brightly decorated plastic bag although there is in others. The police car in the fore ground obviously belongs to armed officers as they return to it. The unarmed officer's car is in the middle with door open. How though were they able to get there first?
They are said to have "rugby tackled" Mair which would suggest he was running away. If so this would be out of character with other images and descriptions of him so perhaps they just brought him to the ground heavily. In the circumstances it would perhaps have been reasonable.
But again the video shows no evidence of Mair resisting arrest or of putting up any kind of resistance. Did they in fact sabotage what they knew would be a possible assassination if they didn't? Who after all would have questioned the shooting dead of an armed man who had supposedly just carried out an horrendous attack on an innocent and attractive MP?
Shooting dead suspected terrorist has become the norm for armed officers so he may in fact owe his life to the unarmed ones. Hollande in France has made it explicit; Cameron hinted at the same. What better opportunity than this where a legislator, and a young and attractive one at that, had been assassinated? Surely it could be relied on for the 'Diana effect' despite not being so well known?
Rather strangely Diana or Artimis tend to merge with Athena or Minerva in classical mythology, and as we shall see, this is not wholly irrelevant as Mair seems to have had a new looking wallet placed right next to his gun, with the head of Medusa boldly displayed (all covered with snakes) who actuall becomes the shield of Athena! Well I never did. Who would guess this manic depressive extreme nationalist would put so much thought into Greek and Roman mythology? (See below)
The shooting of alleged 'terrorists' serves multiple purposes. It removes the need for a trial and any possibility the accused may dispute the accurate or fabricated story of his culpability. It can be portrayed as a necessary evil by very brave and heroic police officers. And it has the further advantage that it impresses on the public mind that not only is the government protecting them, but the extremist threat is ever present and real, and that the arming of the police is an unfortunate necessity, in an increasingly dangerous world.
Of course the government would never admit to this hidden agenda or of actually planning and executing these events themselves. They would say it was complete baloney. And who in politics would dare to suggest this was so or even raise a voice in defence of 'Mair' himself?
The suspected murderer of British politician MP Jo Cox being arrested and treated at the scene for a head injury. Mother of 2 Jo Cox was shot and stabbed multiple times in a brutal attack while meeting members of her constituency on the 16th of June 2016. Thoughts and prayers are with her family in this tragic time that has shocked the nation.
Medusa was beheaded by the hero Perseus, who thereafter used her head, which retained its ability to turn onlookers to stone, as a weapon[4] until he gave it to the goddess Athena to place on her shield.
Now I didn't know Mair was into classical mythology but he may have been I suppose. As far as I am aware nothing has been made of this particular detail but it strikes me as typically elitist not Mairish. One of those little clues that just happens to be left lying around. Of course we may draw parallels between Cox and Medusa and between Perseus and her killer - whether Mair or someone else. "The power to turn her enemies to stone for those that looked on her and effectively the protector of the godess Athena." Surely not a side swipe at brexiteers and in praise of the European ideal surely? After all the event and its meticulous timing was surely intended to be the final nail in the Brexit coffin. ("Oops sorry boss it doesn't appear to have gone according to plan!")
Perhaps this use of imagery is even more poignant:
"The profoundest instinct in man is to war against the truth; that is, against the Real. He shuns facts from his infancy. His life is a perpetual evasion. Miracle, chimera and to-morrow keep him alive. He lives on fiction and myth. It is the Lie that makes him free. Animals alone are given the privilege of lifting the veil of Isis; men dare not. The animal, awake, has no fictional escape from the Real because he has no imagination. Man, awake, is compelled to seek a perpetual escape into Hope, Belief, Fable, Art, God, Socialism, Immortality, Alcohol, Love. From Medusa-Truth he makes an appeal to Maya-Lie."
"I heard the shot and I ran outside and saw some ladies from the cafe running out with towels," he said. "There was loads of screaming and shouting and the police officers showed up.
"He was shouting 'Britain first' when he was doing it and being arrested. He was pinned down by two police officers and she was taken away in an ambulance.")