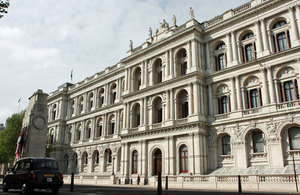 Australia and the Netherlands have declared their intention to hold the Russian Federation responsible for its role in the downing of the plane.
Foreign Secretary Boris Johnson said:
I would like once again to offer my condolences to the families and friends of those so tragically killed by the downing of flight MH17 on 17 July 2014, and to thank the Joint Investigation Team for its painstaking work. It is vital that this work continues towards prosecution. The 298 people, including 10 British nationals, who lost their lives in such horrific circumstances, deserve justice.

Earlier investigations, by both the Joint Investigation Team and the Dutch Safety Board, concluded that the aircraft was brought down by a Russian-made Buk missile system, launched from within territory held by Russian-backed separatist groups. Thanks to the thorough and professional work of the investigators, we now know that that missile belonged to the 53rd Anti-Aircraft Military Brigade of the Russian army.

The Kremlin believes it can act with impunity. The Russian Government must now answer for its actions in relation to the downing of MH17. The UK fully supports Australia and the Netherlands in their request to the Russian Federation to accept state responsibility, and to cooperate with them in their efforts to deliver justice for the victims of this tragedy.

Instead of seeking to undermine the investigation through the deluge of disinformation we have seen from Russia about MH17 in the past, the Russian Federation must fulfil its obligations under UN Security Council resolution 2166 to provide any requested assistance to the investigation. To do otherwise would be a violation of the UN's resolution, and to deny the families the justice they seek for their loved ones.

This is an egregious example of the Kremlin's disregard for innocent life. The international community has witnessed this irresponsible and destabilising pattern of behaviour in Russia's illegal annexation of Crimea, in its fomenting of conflict in eastern Ukraine which has led to the death of over 10,300 people, and in its shielding of President Assad's brutal regime as he uses chemical weapons against his own people.

The UK will continue to offer its full support to the efforts of the Joint Investigation Team, the Dutch and Australian authorities and other grieving nations to deliver accountability for this terrible act and justice for all those who died.
See:
http://veaterecosan.blogspot.co.uk/search?q=mh+17