Death of ex-Ukrainian fighter pilot draws attention to anti-Russian duplicity by the West.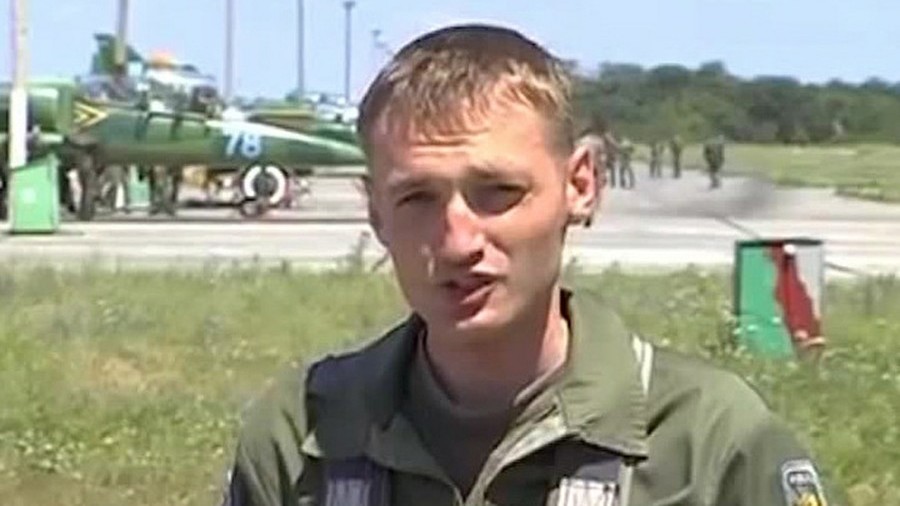 Vladislav Voloshin © youtube.com / Global Look Press
Is the anti-Russian narrative being fabricated?
With all the hullabaloo over the claimed Russian 'Novichok' poisoning of Sergei Skripal (66) and his daughter Yulia (33) in Salisbury, home until his death of British ex-Prime Minister, Ted Heath, all the millions of other deaths get proportionately little or no attention by the media.
It is endlessly fascinating to me how we as humans treat both life and death on an enormously variable scale of importance. Many lives pass hardly noticed or lamented, whilst others dissolve countries in tears or start wars.
Much more turns on the death of some than others, largely as determined by government, media and national sentiment. So it is the world over.
It is easy to think of examples.
Had it not been for the death of two individuals in Sarajevo in 1914, countless millions of lives would have been saved. It is now a century since the First World War

entailing
18 million deaths and 23 million wounded.
Causing the death of another is seldom treated objectively. As has been demonstrated recently in Israel, where a slap can be treated more harshly than cold-blooded murder, depending only on what tribe the assailant and victim come from!
In rather similar fashion, the attack on the Skripals - if such it was - has led to an international crisis, whilst the death of a homeless man on the street from cold and exposure in the absence of available shelter, evokes hardly a murmur from government.
This inconvenient fact rather undermined the British Prime Minister, Theresa May's claim that
"We will never tolerate a threat to the life of British citizens and others on British soil." Unless presumably they are destitute nationals, that the government cares nothing about! The blatant hypocrisy of her position requires no further emphasis.
The downing of MH 17
The premature death of Ukrainian pilot
Vladislav Voloshin,
although reported by the western media sources, has been given far less prominence to that of the Skripals, possibly because it is a reminder of a rather embarrassing flaw in the west's case that Russia was behind the shooting down of MH 370 over Ukraine, used by Mrs May to justify her hard-line "rogue state" claim.
Crashed remains of MH17. Note position of door, windows and flag.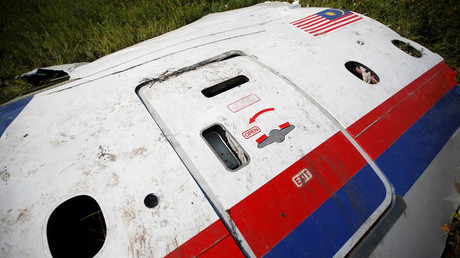 https://www.rt.com/news/421942-ukrainian-pilot-mh17-suicide/ Willy Wimmer
As everyone knows, on 17th July, 2014 a Malaysian aircraft, MH17 was shot down over Eastern Ukraine, flying from Amsterdam to Kuala Lumpur killing all 283 people, plus 15 crew, on board including many children. (In the image of the crashed plane above, note the door/window/flag configuration that we shall return to later.)
The Western/NATO/Ukrainian position was and remains this was effected by a ground-to-air 'Buk' missile fired by Russian supported separatists. The problem is that the facts - as with the Skripal allegation - hardly support the claim. Nor could it be overlooked that incredibly the plane and airline were identical to that of MH370 that mysteriously disappeared whilst on a flight from Kuala Lumpur to Beijing on 8th March, 2014, and despite a huge search effort over and under the Indian Ocean, never since found.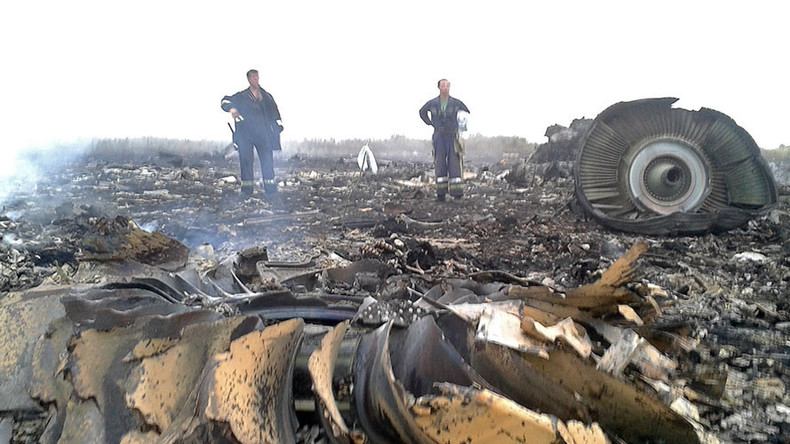 © Maxim Zmeyev / Reuters
The fact that two almost identical Boeing 777 planes, owned by the same nation and airline, flying to and from the same airport, should both come down within three months of each other, under still unresolved and mysterious disputed circumstances, is almost unique in aviation history. Even the cause of the revolutionary Comet crashes, despite some contrary opinion, was pretty much solved.
The downing and disappearance of the Malaysian airlines planes was pinned on the Russians with virtually no evidence, much as the Skripal poisoning now is, suggesting skulduggery by the west and/or its allies desperate to promote conflict with that country.
The tri-partite
Joint Investigation Team (JIT) bound to secrecy still hasn't come to conclusion after four years!
The tri-partite
Joint Investigation Team (JIT)
investigation inquiry, representing the Netherlands, Belgium, Australia, Ukraine and Malaysia, with input from the manufacturers Boeing and other aircraft disaster experts, was immediately subject to a binding contract of secrecy unless all three agreed to publication - unprecedented in a civil airline disaster.
It has not yet conclusively proved cause or perpetrator although in 2016 with scant evidence it determined it was a Buk missile fired by Ukraine 'rebels'. It still has not published its final report. The most recent update on the investigation, released earlier this year, Delphically stating it was
"extended until January 1, 2019"
and would remain
"a matter of a long period of time."
Is it not highly suspicious that neither MH370 nor MH17, sharing as we have noted so much in common, have had anything like a conclusive resolution?
Was MH 17 actually MH 370?
Returning to the image of the crashed plane (top), experts have observed that it reveals the extra window unique to MH17 (9M-MRD) is absent. This would appear to rule out the genuine MH17 crashed on the ground. The crashed plane window configuration, does however accord with the window images of the original MH370 (9M-MRO). If this is accurate and reliable, it would suggest that somewhere along the line, the MH17 was in fact swapped with a still extant MH370 for the Amsterdam/Kuala Lumpur flight.
As far as I am aware this very critical and fundamental observation has neither been refuted or explained by the Investigating team. I am happy to be corrected if wrong. Note in the next image that claims to be MH370 taking off from
Roissy-Charles de Gaulle Airport (LFPG) in France on 26 December 2011, twenty-seven months before it went missing, the flag emblem is missing from the rear door and is only visible at the front, suggesting either it was added later or it is a different crashed plane on the ground.
The mysterious Boeing 777 in Tel Aviv!
Where the original MH17 ended up has not been revealed but in another suspicious twist in the story, it was revealed soon after MH370 went missing, that an identical Boeing 777-200 had ended up via a very obscure and circuitous route in Tel Aviv the Israeli capital.
Rather conveniently Israel blamed Iran for the loss of MH 370. Well I never! How convenient? See:
https://www.timesofisrael.com/ex-el-al-expert-iran-likely-involved-in-mh-370/
A full exposition re-post is provided at the foot of this article, but as frequently occurs, it implicates Israel in both the the MH370 and MH17 incidents.
Did
Vladislav Voloshin shoot down MH 17?
At the time of the crash I suggested, with many others, that the evidence such as it was pointed much more to an attack by another aircraft rather than a ground to air missile. I won't repeat all the cogent reasons for this. The most likely was a fighter from the Ukrainian air force as there has been no suggestion of other fighters being in the air - not even Russian ones!
Now the death of an ex-SU 25 fighter pilot of the Ukrainian airforce,
Vladislav Voloshin,
apparently by suicide, draws attention to the circumstances and the likely duplicity of that western-backed country.
Voloshin, the 29-year former pilot, who had been accused of being the responsible pilot, died in his apartment in the city of Nikolayev on Sunday 18th March, 2018 from a gunshot wound. The incident has been described by the Ukrainian police as a suicide. He was apparently suffering from depression. Could it be the death of 298 people was weighing on his conscience?
At the time of the crash I suggested, with many others, that the evidence such as it was pointed much more to an attack by another aircraft rather than a ground to air missile. I won't repeat all the cogent reasons for this. The most likely was a fighter from the Ukrainian air force as there has been no suggestion of other fighters being in the air - not even Russian ones!
Clearly such a suggestion requires far more than speculation. What is the supporting evidence?
In 2015, a key witness, Evgeny Agapov, an aviation armaments technician with the Ukrainian Air Force, testified that on July 17, 2014, a Ukrainian Sukhoi Su-25 jet aircraft piloted by Voloshin
"set out for a military task"
and returned without munitions. Agapov has also claimed that the pilot returned from the sortie very agitated and told his colleagues that the plane was
"in the wrong place at the wrong time."
He said
He 'personally' saw Voloshin's warplane 'loaded with R-60 type air-to-air missiles, with which Su-25 fighters were not normally equipped'.
The Russians stated he was a credible witness because he had passed a polygraph test. However
Voloshin
denied the allegation stating
last year: 'I did not shoot down the MH17 Boeing. A former military mate of mine called Evgeny Agapov, a mechanical engineer, falsely gave evidence against me.'
He added: 'We did not carry out flights on July 17. The mechanic also says that three aircraft went out on a mission and I was the only one to return. But again this actually happened on the 23rd.'
In addition
, Voloshin received the third class Order For Courage on July 19, 2014, only two days after the MH17 tragedy. Voloshin's citation quite vaguely reads:
"for personal courage and heroism shown while protecting the state sovereignty and territorial integrity of Ukraine." No other event other than than the downing of MH17 offers itself up as justification for such a prestigious medal and none has been offered by the Ukrainian state.
Despite numerous complaints following his retirement soon after the event he was appointed
acting director of Mykolayiv International Airport, hardly a sign of disapproval by the State.
Conclusion
So we have an event of two people taken seriously ill and blamed on a allegedly Russian nerve agent organised and carried out by Russia on the flimsiest of evidence, whilst strong evidence it was Western-backed Ukraine that brought down MH 17 is totally ignored.
In these circumstances what faith can we have in anything our own government claims in respect of Russia?
http://veaterecosan.blogspot.co.uk/search?q=MH+17
https://www.rt.com/news/421942-ukrainian-pilot-mh17-suicide/
http://www.dailymail.co.uk/news/article-5517517/Pilot-blamed-Moscow-shooting-Flight-MH17-dead.html#ixzz5Anof949T
Following from: https://nodisinfo.com/israel/

Identical Plane as Malaysian Airlines MH370 Found in the Israeli Entity? False Flag Plot Aborted?
Updated with additional write-up, screen shots, and images, Mar. 29, 2014, 2:00 am EST.
The fake Malaysian Airlines disappearing act occurred on Saturday, the Zionist sabbath. From the beginning it has all been a Zionist plot. Now, Christopher Bollyn brings a new twist to the plotting and scheming of these violent ones through his discovery and/or reporting of a Flight MH370 777 jetliner clone in the Zionist strip.
The Israelis, no doubt, commit great acts of terror such as the blowing to smithereens of the WTC complex, the detonation and destruction of the Madrid trains (2003), and the blowing up of the London tubes (2005). Yet, simultaneously, they also fake acts of terror, like Entebbe, Sandy Hoax, the Boston smoke bombing hoax, Nairobi, and, now, the Malaysian Airlines Disappearance, alternatively, crash fraud.
(icon in screenshot not intended)
http://jpupdates.com/2014/03/16/mh370-update-us-malaysia-believe-pilots-behind-missing-plane-israeli-expert-says-iran-behind-hijack/
That secret area that no one would ever realize, so the Zionists presumed, is none other than the Israeli entity itself. Yeffet got one element right. It was a a "plan" by "terrorists," Israeli ones. However, he erred in calling it "excellent." Rather, it was, like 911, yet another example of Zionist buffoonery.
It is just like the fake CCTV images, whose great promoter is the Zionist cabal. That, too, is an example of great blundering by Zionist extremists, as immediately these images were recognized as fakes:
Then, could there truly be any doubt other than the fact that this entire false terror act is anything other than a Zionist plot?
Credit to Christopher Bollyn for the original write-up and to planespotters.net for the discovery.
http://www.planespotters.net/Production_List/Boeing/777/28416,N105GT-GA-Telesis.php
9M-MRI Boeing 777-2H6(ER) Malaysia Airlines 2x RR Trent 892 C35Y247 20-10-1998 Leased from ALAFCO
wfu 08-04-2013
std at LDE 04-10-2013
N105GT Boeing 777-2H6(ER) GA Telesis 2x RR Trent 892 21-10-2013 std at TLV 04-11-2013
March 26, 2014 – Christopher Bollyn
http://www.4key.net/false-flags/identical-airplane-like-flight-mh370-stored-in-israel/
Why would (Zionist) Israel have a plane identical to the missing Malaysia Airlines plane in storage in Tel Aviv? The plane in this photo (image missing) is Boeing 777 2H6(ER) – 28416/155, an identical twin of the missing plane, which has been in Israel since November 2013. What are the Israelis doing with this plane in a hanger in Tel Aviv? Could it be part of a false-flag terror plot in the making? Where is this plane today?
Source: www.planespotters.net/Production_List/Boeing/777/28416,N105GT-GA-Telesis-php
See more at: http://www.bollyn.com/home/#article_11686
Update – According to reports from plane-spotters, Israel has an identical Malaysia Airlines Boeing 777-200 in storage in Tel Aviv since November 2013. The only visible difference between the missing plane and the one in Tel Aviv would be its serial number. What do the Israelis have planned with the twin Malaysia Airlines plane?
By using the twin aircraft they have in storage, the terror masterminds may have a sinister plan for the missing plane to seemingly reappear in a false-flag atrocity. Public awareness of the twin plane in Tel Aviv, therefore, could prevent the evil plot from going ahead.
For more on the identical Malaysia plane in Tel Aviv see the latest entry, dated March 26, 2014, on my Q&A and Comment page.
Note: The Malaysia Air 777 with Boeing serial number 28416 and registered as 9M-MRI was sold to GA Telesis, LLC of Fort Lauderdale, Florida, on October 21, 2013, and is now registered as N105GT. The aircraft was stored at Tarbes Lourdes Pyrenees on October 4, 2013, and then on November 4, 2013, it was re-registered as N105GT and stored at Tel Aviv.
See: www.planespotters.net/Production_List/Boeing/777/28416,N105GT-GA-Telesis-php
Abdol Moabery serves as the President and Chief Executive Officer of GA Telesis, LLC. Previously, Mr. Moabery served as Executive Vice President of Aviation Systems International, Inc., and as Director of Marketing and Sales at C-S Aviation Services, Inc. Both of Moabery's former companies were owned by George Soros. Therefore it is not unlikely that Soros owns a good part of GA Telesis, too.
C-S Aviation Services:
https://www.mail-archive.com/osint@yahoogroups.com/msg64520.html
Aviation Systems International, Inc.
http://business.fau.edu/news-events/event-details/index.aspx?eid=2826#.UzFK2CO3PJs
This information is very important because it fits neatly into the terror scenario presented by Israeli El Al "security expert" Issac Yeffet shortly after the Malaysian plane went missing. Yeffet suggested the missing plane had been hijacked to Iran and was being prepared for a terror attack. For the Israelis to have an identical plane in a hanger in Tel Aviv reveals why Yeffet presented such a scenario. He appears to have been setting the stage for a false-flag attack like 9-11, perhaps in Israel. If such an attack were to occur in Israel all the evidence would be in the hands of Israeli intelligence giving them complete control of the interpretation or narrative of the terror event.
March 27, 2014 – Jim Stone
"It's hard to believe it went this way, and we can claim at least a partial victory.
This site is getting hit hard by Malaysia, and to you I offer my condolences."
UPDATE: THE COMPANY THAT OWNS THIS PLANE IS HEADQUARTERED IN FLORIDA, THE SAME STATE THE 777 INTERCEPTED BY THE DUTCH AIR FORCE FLEW OUT OF, HMMMMMMMMMM . . . ..
UPDATE: The following is absolutely documented in irrefutable terms. I do my homework. Attempts to re-write sources and change records or censor photos won't work, I do my homework and you cannot get away with that with me, I'll just re-post originals that are obviously and verifiably NOT FAKE.
I looked into this and it actually took some thinking to confirm this was NOT a hoax, and it is not a hoax. I confirmed that it was not a hoax by putting the plane's exact designation into Google with a dated search that forced all results to be prior to March of 2014. It is indeed a Malaysia flight 370 clone, with Malaysia airlines paint identical to flight 370, and it is indeed parked at Tel Aviv, and has been there since 21-10-2013.
To get the history of this plane and prove this story is not a hoax, drop the search term N105GT GA Telesis Boeing 777-2H6(ER) – cn 28416 / ln 155 into Google. Do a dated search to only return results from before March, and hit images. This will yield the four photos below:
UPDATE: These appear to be censored again, and I will fix that permanently. [1, 2, 3, 4]
The plane is owned by GA telesis and has been sitting there, in Tel Aviv, in storage, as stated. Now, to the non-conspiracy crowd, GA Telesis is an aircraft leasing firm. SO, I guess you could say that explains why this plane is in storage. But I'd like to pop a question then, WHY IN TEL AVIV WHEN THE HOST COMPANY IS HEADQUARTERED IN FLORIDA, THE SAME STATE THE PLANE THE DUTCH INTERCEPTED FLEW OUT OF? . . . . . Good question.
…
UPDATE: Malaysia airlines previously leased this plane, that would explain the paint job. But WHY TEL AVIV? WHY HAVE SUCH A VALUABLE ASSET SIT IN