Shades of 9/11? Major Fire in London Tower Block!
http://www.standard.co.uk/news/london/london-fire-dramatic-images-show-devastating-impact-as-blaze-engulfs-27storey-grenfell-tower-in-a3564566.html Photo:
Jeremy
Selwyn
From Twitter:
#

GrenfellTower
statement from London Fire Commissioner Dany Cotton:
http://
bit.ly/2rpKoMH
#LondonFire
#NorthKensington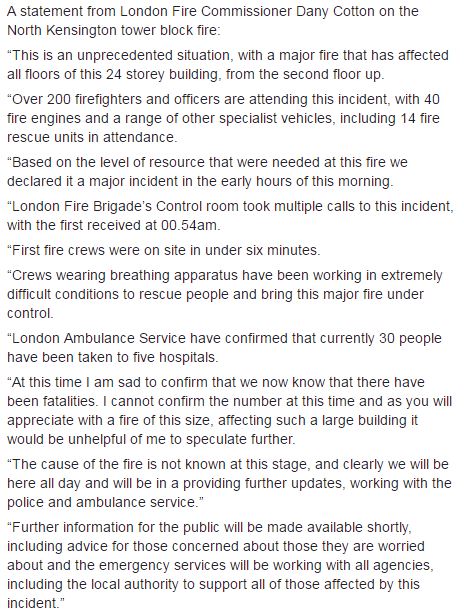 http://www.standard.co.uk/news/london/london-fire-dramatic-images-show-devastating-impact-as-blaze-engulfs-27storey-grenfell-tower-in-a3564566.html
(AFP/
Getty
Images)
The block is near Ladbrook Grove, Notting Hill. It cannot escape notice that this area of London appears to be regularly associated with terrorist incidents and their supporters as a brief search on Google will confirm. Of course there is no suggestion at this stage that this incident is terrorist related, although the severity of the blaze, and its visual similarity to the New York towers, cannot fail to raise questions in the mind. The timing also is suspiciously ominous, chiming as it does with the anniversary of the killing of Jo Cox MP and all the media interest in it, including national campaigns aimed at "Hope not Hate" and "Togetherness". As we all no fires and their aftermath leaves a distinctive and repellent stench and this one will be no different I fear.
I wrote the following just prior to discovering the fire tragedy: Jo Cox anniversary. "Hope not Hate" Campaign. "Togetherness" slogan. All a little too contrived and predictable perhaps? Or am I being too cynical? See: https://www.greatgettogether.org/ Now get together over this London fire tragedy. #GrenfellTower Victoria Derbyshire on scene providing emotional support which is reassuring.
ADDED:
Just one example: http://www.getwestlondon.co.uk/news/local-news/ladbroke-grove-student-arrested-plotting-7907490
Another: "Police called out to burning Union flag posters
Sick idiots have daubed a London bus shelter with a photo of a burning Union flag - just one day after the Westminster Bridge attack. The UK flag was pictured in flames in the sick stunt. It was plastered on the side of a bus shelter in Ladbroke Grove in the London borough of Kensington and Chelsea." NB. These were 'professional' posters. See: http://www.mirror.co.uk/news/uk-news/parliament-shooting-live-updates-after-10076508
http://www.mirror.co.uk/news/uk-news/parliament-shooting-live-updates-after-10076508
The following is taken from: https://grenfellactiongroup.wordpress.com/2013/02/21/another-fire-safety-scandal/
"
When we published our two recent items on Fire Safety in the Grenfell Tower area we expected to see some serious repercussions. Our earlier complaints to Siobhan Rumble had, of course, been copied to senior figures at RBKC, including the Director of Housing and the Cabinet Member for Housing, so we fully expected to see evidence of some kind of seismic upheavel following our revelations. Nothing of the sort happened. There wasn't so much as a peep out of Coleridge or his deputy Laura Johnson.
"We did get a reaction from Rumble herself. Following her earlier failure to provide us with contact details for Steve Cunningham, the Station Manager at North Kensington Fire Station, she did so immediately, once she had been publicly embarrassed by our first blog.
"Unfortunately, and for reasons that we don't fully understand, we got a very poor response from Mr Cunningham, who seemed inclined to cut Ms Rumble and her cronies rather a lot of slack. He even suggested that we call the police next time we saw vehicles parked illegally in the Grenfell Tower area. Perhaps someone forgot to tell him that the enforcement authority for fire safety issues is not the Metropolitan Police, but the London Fire Brigade, which has the power to issue an enforcement notice requiring the Lancaster West authorities to comply with their own fire safety rules.
"Imagine our consternation, therefore, when we then saw the recent report in the K&C Chronicle of a special fire safety exercise organised by the London Fire Brigade, not at Grenfell Tower, which we had been desperately trying to flag up to anyone who cared, but at Trellick Tower, a mile up the road from us.
Ironic don't you think?" QUOTE ENDS.
IT GOES ON TO ADD:
"
At that time we copied the Grenfell Tower Fire Risk Assessment to Councillor Blakeman (and various others including the LFB) and she replied on 18th February informing us that she had asked for;
"…a full and comprehensive report once the emergency fire test at Grenfell Tower has been conducted and also for this to be an item on the Lancaster West EMB meeting agenda… (and) also asked for the likely timeframe within which we can expect a response."
As expected we got no reply from anyone else in authority, so we'll just have to wait and see what develops out of this. Needless to say we won't be holding our breaths while we wait.
In the light of this official report, which is strongly suggestive of years of ongoing neglect and criminal negligence of the fire safety systems at Grenfell Tower, we would suggest that the managing authorities need to tak a long hard look at themselves, and how they manage this estate. We would also strongly suggest that they seriously reconsider their earlier facile dismissal of the concerns we raised regarding their lax attitude to the emergency access arrangements also.
We note from the account of the Trellick Tower exercise that four fire appliances attended on that occasion. We would be very interested to see whether LFB can fit four appliances into the Grenfell Tower emergency access zone, particularly if it is obstructed with multiple parked service vehicles, as it so often is during working hours.
Given that Lancaster West management and LFB have both dismissed our concerns about such obstructions, we would even dare to suggest that arrangements are made to ensure that a minumum of six service vehicles are deliberately parked in this area, for the duration of the Grenfell Tower exercise, including three in the gallows-gated area, to test access and manoeuverability of fire appliances under emergency circumstances.
ONE THING IS CERTAIN – THEY CAN'T SAY THEY HAVEN'T BEEN WARNED." END QUOTE.