"London Bridge is Falling Down". A Play in (at least) Three Terrorist Acts."
https://3ncridad6ai1jg5mt30vexk1-wpengine.netdna-ssl.com/wp-content/uploads/2017/01/theresa-may-italy-2500x1667.jpg

The Sun says: "
ENOUGH IS ENOUGH
London Bridge attack – Theresa May declares Britain has been 'too tolerant to Islamic extremism' hours after van and knife rampage
One officer was seriously wounded while heroic cops gunned down extremists within eight minutes of first emergency call"
https://www.thesun.co.uk/news/3717339/london-bridge-attack-police-shoot-terrorists-dead-latest/
"Unreal City,
Under the brown fog of a winter dawn,
A crowd flowed over London Bridge, so many,
I had not thought death had undone so many.
Sighs, short and infrequent, were exhaled,
And each man fixed his eyes before his feet.
Flowed up the hill and down King William Street,
To where Saint Mary Woolnoth kept the hours
With a dead sound on the final stroke of nine.
There I saw one I knew, and stopped him, crying: "Stetson!
"You who were with me in the ships at Mylae!
"That corpse you planted last year in your garden,
"Has it begun to sprout? Will it bloom this year?
"Or has the sudden frost disturbed its bed?
"Oh keep the Dog far hence, that's friend to men,
"Or with his nails he'll dig it up again!
"You! hypocrite lecteur!—mon semblable,—mon frère!""
There is certainly a picture emerging - whether its intentional manipulation or not. The Tories - and more particularly the dark forces behind them - are definitely running scared that their calculations are not holding up with the prospect of a Hung Parliament. It is conceivable Labour and SNP may make an alliance and form a government. If 'terrorism' or the threat of it, can be used to stop it, it will be, make no mistake. All
plausibly deniable
of course.
THE HYPE
Armed police with children in Sheffield
http://res.cloudinary.com/jpress/image/fetch/w_700,f_auto,ar_3:2,c_fill/http://www.thestar.co.uk/webimage/1.8571054.1496228612!/image/image.jpg
"All three attackers shot within eight minutes." Whether real or not, this folks is the new policing message. "Death by Police Shooting" is being sold as a "Good Thing". It parallels the national campaign of "normalising" armed police with guns by photographing them smiling with children. The agenda is clear and VERY dangerous.
THE REALITY!
BIRMINGHAM POLICE RAID 10.4.17. A 12 year old girl holds her hands up in front of an armed officer.
http://www.irishmirror.ie/news/world-news/dramatic-footage-shows-moment-armed-10198224
LONDON: Guns at the ready.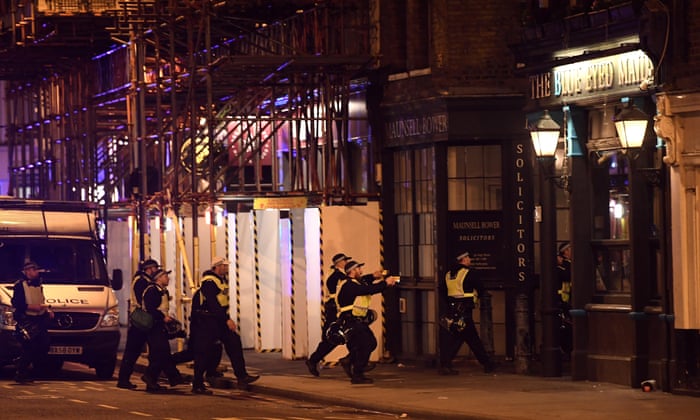 http://newsinfo.inquirer.net/files/2017/06/Britain-London-Bridge.jpg
At -1:01 "Thrale Street" named after notable MP but subliminally very close to "Thrall". Def. of thrall: "thrall
θrɔːl/Submit
noun
1.
literary
the state of being in someone's power, or of having great power over someone.
"she was in thrall to her abusive husband"
synonyms: power, clutches, hands, control, grip, grasp, yoke; More
2.
archaic
a slave, servant, or captive." Purely coincidental of course.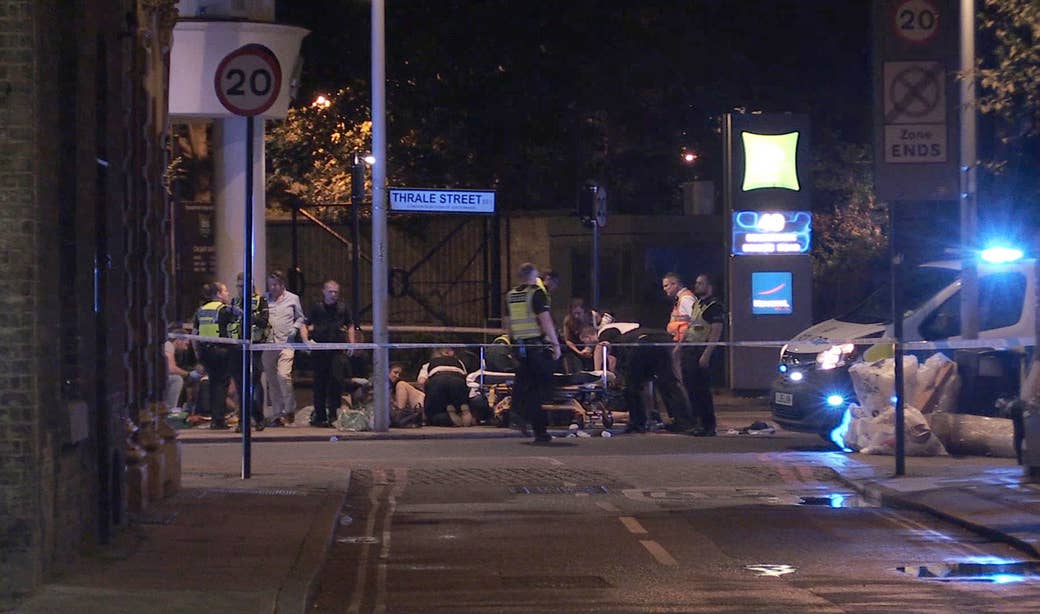 https://img.buzzfeed.com/buzzfeed-static/static/2017-06/4/5/asset/buzzfeed-prod-fastlane-03/sub-buzz-13292-1496567842-1.jpg?downsize=1040:*&output-format=auto&output-quality=auto
https://gumshoenews.com/2017/06/04/trains-planes-and-automobiles-after-london-bridge-whats-next/
"As Dr Day said back in his
'Everything Is In Place And Nobody Can Stop Us Now'
lecture, in 1969:
"Terrorism would be used widely in Europe and in other parts of the world. At that time it was thought terrorism would not be necessary in the United States. It could become necessary in the United States if the United States did not move rapidly enough into accepting the system. Along with this came a bit of a scolding that Americans had had it too good anyway and just a little bit of terrorism would help convince Americans that the world is indeed a dangerous place, or can be if we don't relinquish control to the proper authorities." [9-11 convinced Americans to relinquish control.]"
BBC have just released images of someone believed to be an attacker on the ground with canisters around waist
#londonbridge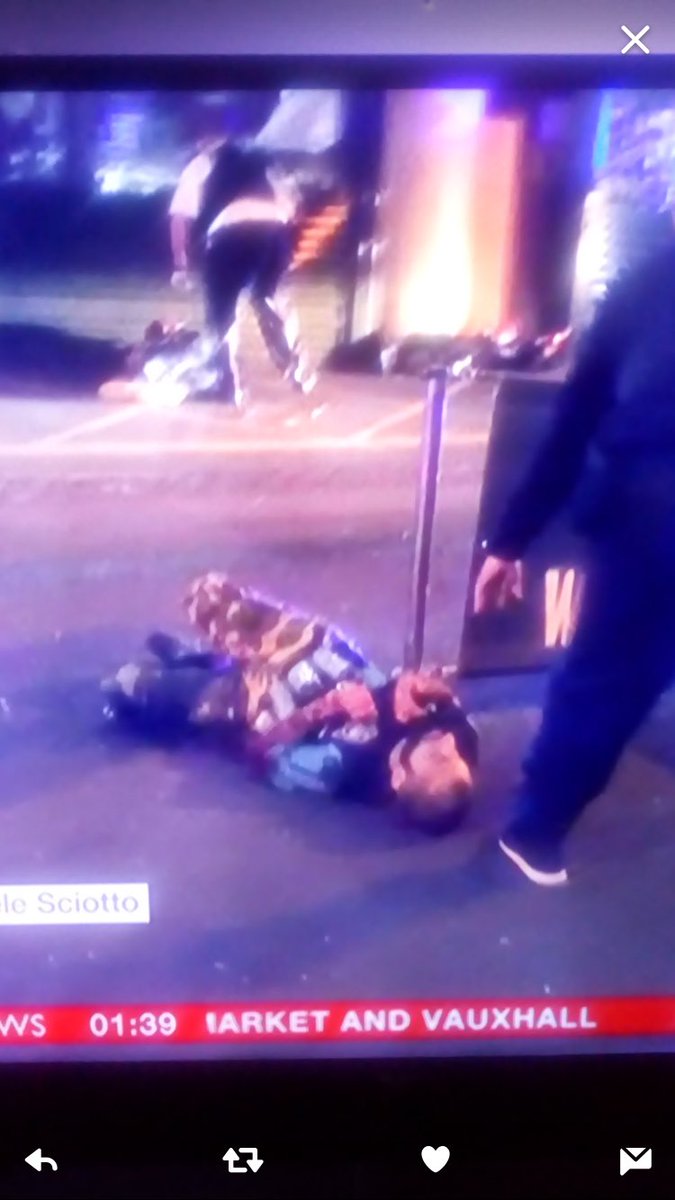 https://twitter.com/HarryYorke1/status/871165211922837504/photo/1?ref_src=twsrc%5Etfw&ref_url=http%3A%2F%2Fheavy.com%2Fnews%2F2017%2F06%2Flondon-bridge-photos-terror-attack-terrorist-isis-victims-england%2F
@
https://www.instagram.com/p/BU5JN9hlX-e/
As usual the question is "Who benefits?" Well it's certainly not Muslims, British or otherwise.
ONE OF THE TERRORISTS ARRESTED. SO HOW COME "ALL THREE SHOT DEAD"?
It's obviously not the the three people we are told were "shot dead by police within eight minutes" - summary execution if I've ever heard of it. And what happened to the attacker who was photogaphed last night "under arrest" and very much alive. (Shades of the Tsarnev brothers in the Boston criminal fraud I think to myself?)
http://www.mirror.co.uk/news/uk-news/missing-journalist-filmed-staggering-ambulance-10556879
It's not in the interests of the victims or the innocent bystanders who were either commanded by police to "run, run, run", or "get down on the floor" or were herded with their hands up.
So who might benefit or alternatively be thought to benefit, by the people who organised the event, for organisers there must have been?
(Photo: Ayes Gokkaya)
http://www.mirror.co.uk/news/uk-news/missing-journalist-filmed-staggering-ambulance-10556879


Well it is not hard to see it might be calculated to chime with the Conservatives political message, "strong and stable". Isn't that what everyone yearns for in time of trouble? Then again, foreign attack always stiffens the patriotic sinews that would likely benefit the party that claims to be big on defence - whether it is or not. Nor can it escape notice that with every attack - and of course this is the third in the relatively short period in the run up to the General Election and we were in fact warned after the first that others were "imminent"! - which seems just a tad coincidental, particularly it is impossible to formulate in what way a Conservative victory could in any way benefit ISIS.
British Transport Police!!! Everyone getting in on the act apparently.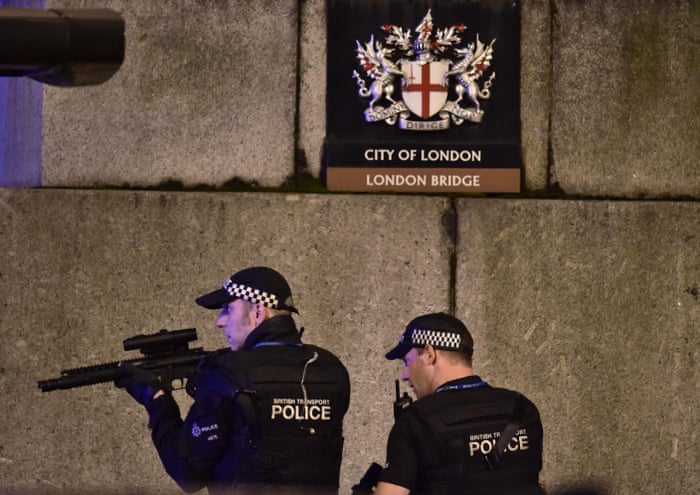 https://www.theguardian.com/uk-news/gallery/2017/jun/04/london-bridge-attack-in-pictures#img-5


Then again we see how these events benefit a stated more repressive domestic agenda, particularly in relation to the control of the media and internet; the arming and militarising of the police, the acceptance of police guns, the army on the streets, and the replacement of due process with summary execution.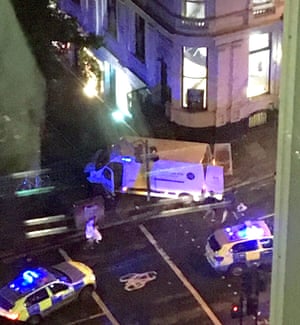 https://www.theguardian.com/uk-news/gallery/2017/jun/04/london-bridge-attack-in-pictures
The parallels with France, America and Israel are impossible to avoid. Now, with the failure of the democratic system to respond in the way intended - horror of horrors Corbyn and Labour might actually win - a petition is launched to postpone the election "indefinitely". So as I have suggested many times before, if this latest ploy works on the back of these 'terror attacks', we have a fascist COUP in all but name. So to return to the original question, who do YOU think benefits?
Remember this politician's involvement in the Melbourne fake attack? "Cashing in"?
The London deaths were a political opportunity for One Nation's leader.
Photo: AAP
"Barely hours after people were killed and maimed in the attacks, Senator Hanson used UK police advice to people caught up in terrorist incidents to push her message of banning Muslims from immigrating to Australia."
http://thenewdaily.com.au/news/world/2017/06/04/london-bridge-attack-hanson-trump/
FRENCH CONNECTION?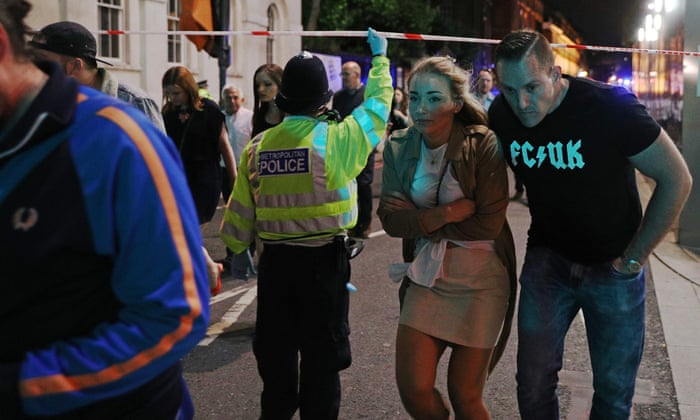 https://www.theguardian.com/uk-news/gallery/2017/jun/04/london-bridge-attack-in-pictures#img-20
Counter-terrorism officers are patrolling near the scene. Police say all three attackers were shot dead.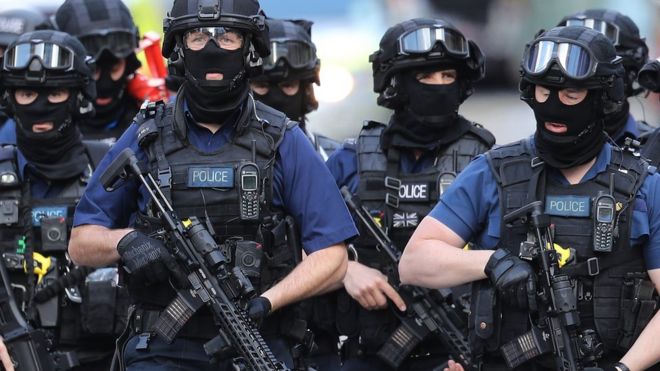 https://ichef.bbci.co.uk/news/660/cpsprodpb/DCA3/production/_96338465_mediaitem96338464.jpg
NOT COMPLETE WITHOUT THE GAY MEME?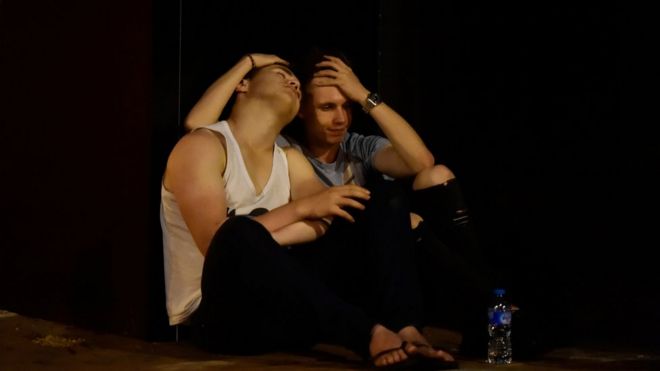 https://ichef.bbci.co.uk/news/660/cpsprodpb/FD0F/production/_96338746_hi039860027.jpg
'DANGEROUS' PEDESTRIANS
VIDEO OF REACTION OF POLICE IN PUB
https://www.facebook.com/GenEuropa/videos/1482888775095835/?autoplay_reason=all_page_organic_allowed&video_container_type=0&video_creator_product_type=2&app_id=121876164619130&live_video_guests=0
Genuine or Fake? Will anyone ask if this was necessary or appropriate. Or how the policemen came to be INSIDE given that the complete incident was over in less than eight seconds?
THIS IS WORTH A LISTEN FROM 35 MINS IN
https://www.youtube.com/watch?v=FM80enUUoX4
Jordan Maxwell continues as a preeminent researcher and independent scholar in the field of occult / religious philosophy. His interest in these subjects began as far back as 1959. He served for three-and-a-half years as the Religion Editor of Truth Seeker Magazine, America's oldest Free Thought Journal (since 1873). His work exploring the hidden foundations of Western religions and secret societies creates enthusiastic responses from audiences around the world.
His work on the subject of secret societies, both ancient and modern, and their symbols, has fascinated audiences around the world for decades. Considering the rapidly moving events of today, and the very real part hidden religious agendas play in our modern war-torn world, he feels these controversial subjects are not only interesting to explore, but too important to ignore! His extraordinary presentations include documents and photographs seldom seen elsewhere.
Jordan has been away from major media for over six years...and tonight he's ready to speak out, once again, to everyone.
Air date: May 30, 2017

Northern Ireland in the 1970's. Looks familiar?


"I sat upon the shore
Fishing, with the arid plain behind me
Shall I at least set my lands in order?
London Bridge is falling down falling down falling down
Poi s'ascose nel foco che gli affina
Quando fiam uti chelidon

—O swallow swallow
Le Prince d'Aquitaine à la tour abolie
These fragments I have shored against my ruins
Why then Ile fit you. Hieronymo's mad againe.
Datta. Dayadhvam. Damyata.
Shantih shantih shantih "