Cambrils Shootings - More Questions
Below the car in question, from which it is alleged five young terrorists emerged. It appears to have come to rest against some form of official barrier. At some subsequent point they were all shot dead - four by the same officer. We need to ask how reliable and accurate is this version of events?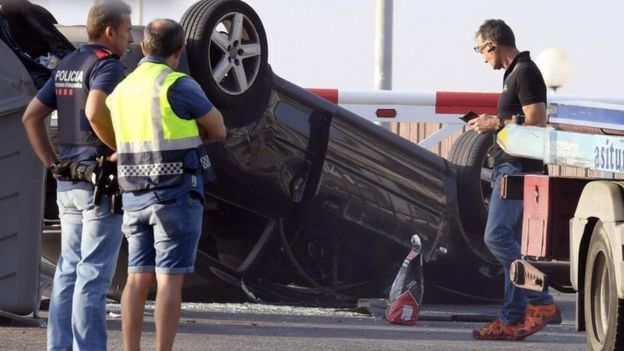 https://ichef.bbci.co.uk/news/624/cpsprodpb/C74F/production/_97432015_mediaitem97432014.jpg
Another image of the scene:
http://i3.mirror.co.uk/incoming/article11008260.ece/ALTERNATES/s1200/Police-investigate-at-the-scene-of-an-attack-in-Cambrils-south-of-Barcelona.jpg "
Lone hero police officer shot dead FOUR terrorists armed with machetes and guns in second Spain attack - Mirror Online"
Today 20th August, 2017, the Daily Mail published the following report by journalist Tom Worden, the thrust of which identifying a "hero" policeman, who it claimed shot dead four terrorists, "thus saving many people's lives". The full article may be located here:
http://www.dailymail.co.uk/news/article-4806658/Pictured-soldier-gunned-jihadis-Cambrils.html?ito=social-twitter_mailonline
Now every detail of the story may in fact be an wholly accurate and reliable record of the official story but we would be wise to keep in mind that this is not necessarily the same as an accurate and reliable record of what actually happened.
These so-called ISIS terror attack are so formulaic and filled with so many inconsistencies and doubtful details, that people need to remain objective and not be swept along with the media-encouraged panic and hysteria.
The Daily Mail article typically asks no questions or doubts about the Cambrils operation that resulted in five young men being shot dead at about one a.m. on a public road. Why is there is no real analysis of what really happened, the actual threat posed by the men or why it was necessary to shoot them all dead, rather than challenge and arrest them?
Nor is there anything about how the car came to be identified and targeted. Was it being tracked and followed or are we to believe that an off duty policeman, trained in weapons, just appeared on the scene at the right time? Nor is there any real explanation of how the car ended up on its roof. Individuals in a car on its roof after such an accident are surely vulnerable and most amenable to proper arrest?
Were they not injured or rendered unconscious? Upside down and presumably entangled in safety belts, they had somehow to extricate themselves through those smashed windows before posing a danger or confronting the policeman with the gun.
Reports about what happened and the risk the five occupants posed are suspiciously indecisive and conflicting. Did they have suicide vests on or only fake ones as has been reported? If the latter what sort of self-respecting Jihadist terrorist would that be? This Mail report claims they emerged from the car
"armed with an axe and knives". No guns or explosives then? So what would justify the lethal response with firearms?
There seems to be no video or photographic images to support this version of events. It is not clear who shot the one video clip that has been widely circulated including on the Mail article, but what it does show briefly is even more disturbing.
It shows two men in the foreground shooting what appears to be an unarmed man in a pink tee-shirt on the opposite side of a crash barrier. He appears to collapse, presumably after being hit and then gets up again, waving his arms. In no way can this be interpreted as presenting a danger. Indeed it could equally be interpreted as a plea of innocence and submission.
It appears in this clip https://www.facebook.com/WorldNewsTonight/videos/vb.214832449817/10156193326478812/?type=2&theater (note title!) that after falling down, apparently shot, the target appears to get up and actually proceed to cross the road. What happens after this is not shown.
The action of shooting an unarmed man with no real certainty of guilt for anything, is so contrary to normal police procedures as to raise serious questions as to the real motive of the action.
And in these images there is no evidence of the upturned car from which it is claimed he has emerged apparently quite unscathed and free of any signs of blood or injury. Indeed as can be seen he appears quite pristine!
As always we need to ask who shot the video and why is it this is the only clip available? Why did the person with the filming device - whatever it was - not continue the filming to show us what happened subsequently? What we are dealing with is edited footage which always raises questions. Of course there is no real proof that live rounds were fired or the victim died from the encounter.
Of course all these basic question are not even hinted at in the article, all swept away in hailing the extreme bravery of the unidentified police officer, who it is claimed, despite being ex-army and in a special police unit called the
Mossos d'Esquadra (1) - a small quasi-military Catalan police unit - we are told was employed on a day-to-day basis educating children on terror risks? Excuse me! But how credible is it that a trained fire arms officer would be so deployed in the current climate? If true, it hardly indicates sound use of resources.
Besides the shocking video clip, several photographs are used to illustrate the article one of which purports to show the back of the head of the officer concerned. I will reproduce it below with the Mail description:
The officer (pictured circled above), now with the Catalan police force the Mossos d'Esquadra, was on patrol working overtime when five terrorists launched an attack in the seaside town of Cambrils, Spain.
It is claimed that he shot dead four of the five. The fifth man the article states tried to escape but after "
stabbing a woman in the neck, fled before he was shot by another officer."
The major problem with this is that neither claims are supported by the brief video clip that show two very casually dressed men, clearly NOT in police uniform, shooting the man in the pink tee-shirt, apparently fatally, neither of whom approximate in head features to the man circled above.
The man on the right who appears to be the shooter is in shorts and what appears to be a protective vest but even from that distance it can be seen that his shaved head does not match the circled officer above.
The video suggests the man in the Bermuda shorts standing beside him arrives wearing a black shoulder bag. He appears to show no fear in contrast to the stereo-typical panic in these situations and is accepted by the shooter. Does it indicate this was just a member of the public who arrives on scene or was he police related? Check for yourselves. (See below a still from the video referred to. The video itself can be viewed here:
https://www.youtube.com/watch?v=Q8YR85lEsGk
)
"Using his army training and experience, the officer pulled his weapon and shot dead four of terrorists"
Clearly the Mail, presumably with official approval, identifies this as the same officer but this raises another problem as to the account. If as is claimed he shot dead FOUR, how can this one isolated man be explained? This would better fit the one who attempted to get away but this would rule out THIS officer as apparently that was another one.
So there is clearly something seriously wrong with the "heroic cop" cop account, leaving aside the very serious question why the five, and particularly the man in the pink tee-shirt were not properly challenged and arrested.
The officer in question may have been heroic in the face of a presumed danger, but on the face of it it appears unlikely that the two pictured are the same individual. But if they are, it raises other questions of how and where he shot another three men dead, especially considering his and their location and the number of bullets fired on the video. (I counted ten shots - a full magazine on just this one suspect).
It would be nice if the Daily Mail could have resolved some of these questions to reassure us that this was not a modified story to present the police in best light and distract from a more accurate account. Or was this yet just another case of extra-judicial killing by armed individual(s) for some other unspecified motive?
UPDATE: Today (21.8.2017) it has been announced that the van driver was
Younes Abouyaaqoub aged 22. (2) What of course none of the media point out is that if reliable, the two previously named individuals -
Driss Oukabir, 28 and his brother
Moussa Oukabir, 18
- were
falsely
accused of the act.
How could such grievous mistakes have been made? What guarantee is there that the third person to be accused of driving the van is any more reliable?
It is claimed that Abouyaaqoub fled the scene of the attack on foot and hijacked a car to escape. Police fired on the car after it rammed through a checkpoint Thursday night but Abouyaaqoub was able to flee a second time. The car's owner, named as Pau Perez, was found stabbed to death in the vehicle. He becomes the 15th victim of the attack.
Even this account raises serious questions. Did he abandon the car and flee on foot after it rammed the checkpoint or did he drive on abandoning the car later? If the checkpoint was manned by armed police, how was he able to escape so easily? At what point did he stab dead the owner of the car and why if his objective was to escape capture? And why if this all happened on Thursday night, effectively identifying the true perpatrator, did the police still perpetuate the story that it was one or other of the Oukabir brothers?
Here are the images of four of the alleged "terrorist cell",
Abouyaaqoub
bottom right,
put out by the Spanish Interior Ministry and published by CNN: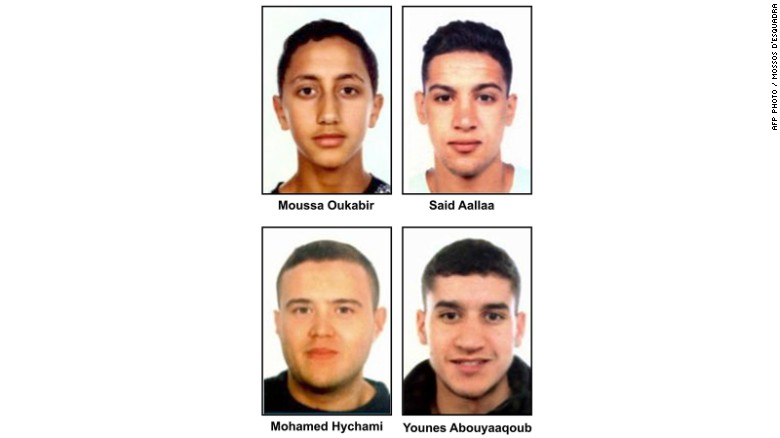 Now compare and contrast with the following images that are said to be of him also published by CNN: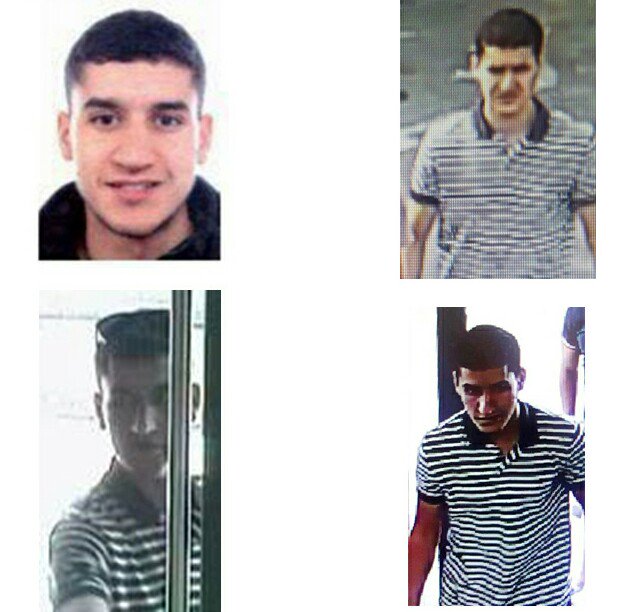 https://twitter.com/interiorgob/status/899587639652872193/photo/1?ref_src=twsrc%5Etfw&ref_url=http%3A%2F%2Fwww.cnn.com%2F2017%2F08%2F21%2Feurope%2Fbarcelona-attack%2Findex.html
It is hard to see how these facial images can be reconciled as being the same person. The shape of face and nose appear quite different! The above images were said to be taken in Ripoll the day before the attack, whilst the one below the next day in Barcelona
after he has carried out the outrage. Note he is wearing identical clothing sometimes with dark glasses or not.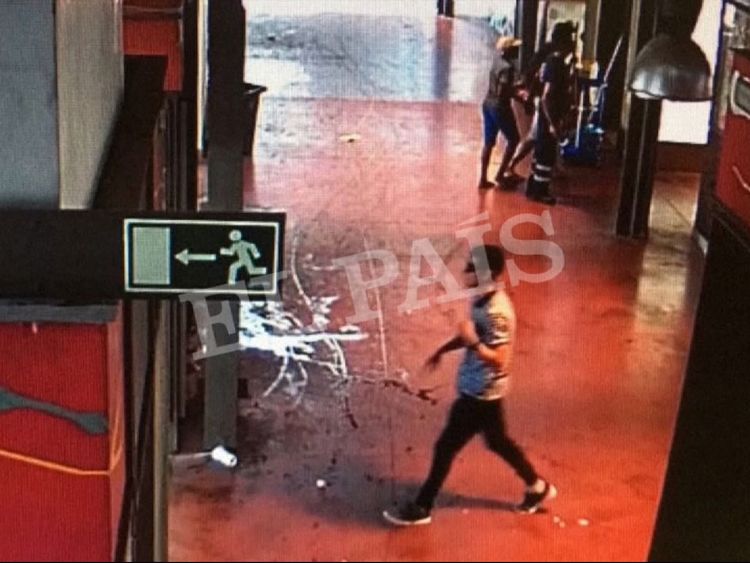 A CCTV still said to show Younes Abouyaaqoub in La Boqueria market after the attack.
http://news.sky.com/story/europe-wide-alert-for-barcelona-van-driver-10999108
Here is another image that claims to be Abouyaaqoub escaping through the market after the attack. Am I the only one to raise doubts that these different images accord with one another?
CREDIT:

EL PAIS
It is beyond dispute that the first two individuals accused of driving the van were completely wrong. Is there any reassurance that this latest named individual is any more reliable, or indeed that the images correlate with the individual named or in any way tie him to the van in question? In other words where are the CCTV images that show him getting out of the van immediately after it came to a stand-still?
Younes Abouyaaqoub is said to be on the run and sought by European police forces. Given the fate of his friends shot dead it is not surprising that he should fear the same fate and want to run and hide. The fact that he does cannot be automatically taken as proof of guilt and should not be although all media outlets propagate that assumption. This is classic patsy-territory and we should be very wary of it.
The cell has been nick-named the "Dirty Dozen" another red flag of western instigation. "The Three Muskateers" was applied to this group of alleged terrorists. (3) Jihadi John and the suggestion this was linked to the Beatles (4) Note these are not indicative of Eastern or Muslim thinking but of Western.
In passing, note the now familiar subliminals at work in this image here:
CREDIT:

REUTERS
Here is the suggested terrorist cell members as deduced by https://firenewsfeed.com/incident/377760
FURTHER UPDATE!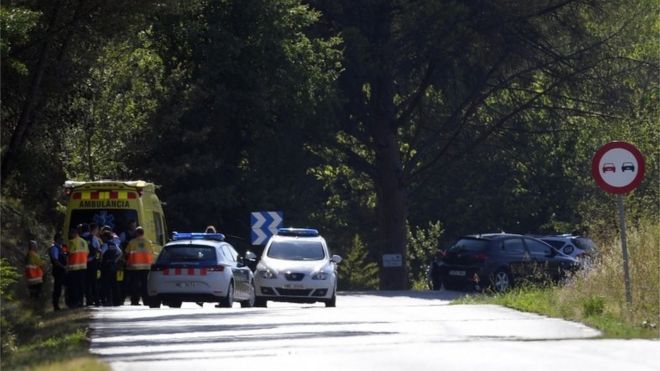 AFP.
Spanish police have shot dead the main suspect in last Thursday's Barcelona attack, Younes Abouyaaqoub.
So my ominous prediction is realised! Younes Abouyaaqoub aged 22, has also now been shot dead by Spanish forces. He is apparently the sixth person shot dead by police in connection with the incident and the eighth suspect to die.
This comes not long after he was finally identified as the driver of the white van that crashed into people on a Barcelona street.
A number of conflicting images have been published purporting to prove the claim.
Of course they do no such thing, merely showing a young man both before and after the event walking through a public space wearing the same clothes. To date nothing shows this young man getting out of the van when it stopped.
Nor is the fact that he is but the THIRD person so accused, and that the previous two, also accused with the same degree of confidence to be the driver, proved to be quite untrue, notwithstanding that one of them, only eighteen years of age, was shot dead on a very questionable pretext of danger a couple of days after the attack.
Now we are told this latest suspect was shot dead also.
Police say (the BBC reports (5)) he was "shot in the Subirats area, close to Sant Sadurní d'Anoia, after someone spotted him at a petrol station". This time the excuse for killing him was that he was allegedly wearing some sort of "fake explosive belt".
Yet again we are told "when confronted he shouted 'Allahu Ackbar' ('God is Greatest') This appears to be an essential ingredient in the terror act mix though often disputed by witnesses.
What serious Jihadist terrorist would employ a mock suicide belt in remote place whilst on the run, I ask myself?
It appears from the published air-photo, to have taken place in woodland to the south of a sewage treatment plant. The circumstances of his location are not provided so we are left to guess how he was found and why he was there.
Nor are there any details of the shooting, although there is no suggestion that Abouyaaqoub was armed or offered any real threat to the officers concerned - if indeed it was officers that shot him.
What I would like to know is why Europe appears to have adopted this brutal form of law enforcement where suspects are shot on sight?
Apparently traditional methods of arrest are as obsolete as the policy of 'shoot-to-kill' is uniformly popular. It would appear that this new approach needs only a suggestion of "terrorism" to normalise it, whether the individual resists arrest, offers a threat or even proved to be guilty of the accusation.
No one in public life or the media appears to raise the slightest reservation regarding this wave of officially sanctioned killings, that replace any necessity for due process or enquiry as to whether the person is guilty or not.
Needless to say a dead accused is never afforded the opportunity to defend himself or for that matter spill the beans on an illegal official conspiracy to blame the wrong people.
These incidents do nothing for Muslim fundamentalism or benefit whatever group currently constitutes 'ISIS', but it is certainly very successful at achieving other objectives, more the province of a US/Israeli 'deep-state' agenda: to create social division and animosity along sectarian lines; create irrational panic and fear; stoke hatred of Muslims in particular; and facilitate repressive measures, of which the normalisation of 'shoot-to-kill' is just one extreme example.
REFERENCES.
1.
https://en.wikipedia.org/wiki/Mossos_d%27Esquadra
2. http://edition.cnn.com/2017/08/21/europe/barcelona-attack/index.html
3. http://www.telegraph.co.uk/news/2017/08/03/three-musketeers-terrorist-gang-jailed-life-lee-rigby-style/
4. https://en.wikipedia.org/wiki/Jihadi_John
5.
http://www.bbc.co.uk/news/world-europe-41004603