A few disconnected thoughts on the Turkish ' Coup'
Ah right! "This uprising is a gift from God to us because this will be a reason to cleanse our army." President Erdogan .
(But cleanse of what?)
See below for latest report that appears to support my suspicions!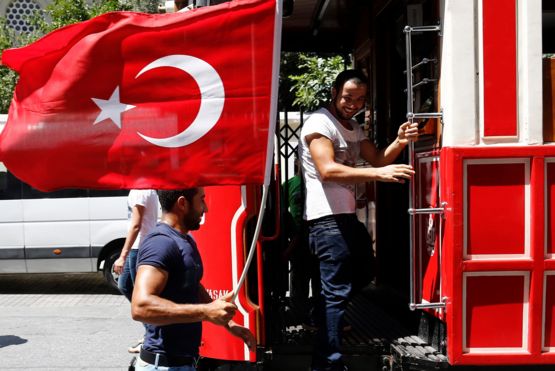 http://www.bbc.co.uk/news/world-europe-36815758
In reply to Ian's enquiry! Yup I agree. I've been thinking about it. The first obvious feature is that it took off just hours after the Nice attack. Is that just coincidental? I may say yes apart from the proven involvement by the Israelis in the former (at the very minimum pre knowledge) I begin to wonder if they were involved in the Turkish scenario. Its far from impossible.
First there has been deep and ongoing Mossad involvement in that whole area. I am sure I don't need
to list all the terrorist events in Lebanon and Syria that have implicated Israel including the falsely accredited Damascus sarin attack that was supposed to give the actus reus for American invasion.
This raises the point that often Israel and American covert action is coordinated which makes it difficult to decide who's behind what. The un-audited billions poured into these organisations, goes to something! There is indisputable US policy and action proving they work closely together, and the whole Middle East adventure has them written all over it. But its complicated and difficult to read.
REUTERS/TUMAY BERKIN
Remember this Coup, which doesn't appear to have been very effective, comes close on the heels of several 'terrorist bombs' most recently at Ataturk Airport. Please note the very different western propaganda exercise that followed Paris and these others including Iraq and Pakistan and Bangladesh. It may indicate different objectives and agencies.
So the question is, was the coup genuine or a pretext for a clamp down? (Note despite a total failure of 'security' prior to Nice it has used as the pretext for another extension of the state of emergency, and now a general call up of reserves!)
Is the the real reason for 'terror' - to take democracies ever closer to totalitarianism?
What is interesting is the prominent alleged role of Fethullah Gülen by Erdogan, a person who has been sheltered for years by the US and claimed to be an asset of the CIA. Gulen denies it vociferously of course.
Turkey has banned the USAF from using its bases, has shot down Russian planes, and on the same day as Nice Putin and Kerry meet to discuss combined operations 'against ISIS' including Israel backed Al Nusra and Syria backed 'opposition'. Meanwhile Tuirkey bombs the West backed Kurds.
If you can work out the strategic objectives of everyone and the true reasons for the coup, other than further chaos, you're a cleverer man than me Gungadin! Perhaps the only reliable position is that nothing is as it is officially portrayed. Regards, T.
See: http://www.vox.com/2016/7/16/12204456/gulen-movement-explained
Etiket: Avni Angun.
http://www.gundemspor.net/okubak/avni-angun/ and http://gaste.org/Etiket/avni-angun-yakalandi/
Appointed 13th August, 2015 Commander of the Polath Artillary and Missile Command.
http://www.malatyacagdas.com/malatya/vali-kamci-tumgeneral-angunu-ziyaret-etti-h11682.html
HAARETZ REPORT
"Suspected Turkey Coup Leader Served as Military Attaché to Israel
General Akin Öztürk (far right below) who served as commander of Turkey's air force, was arrested Saturday in connection with the failed coup. At least five other generals were detained.
Asaf Ronel Jul 16, 2016 9:30 PM
read more: http://www.haaretz.com/middle-east-news/turkey/1.731349
From:
http://atimes.com/2016/07/thousands-take-to-streets-across-turkey-for-democracy/
Security forces rounded up as many as 2,839 military personnel involved in the coup attempt.
Among those arrested were the commander of the 2nd Army Gen. Adem Huduti and its executive officer and Malatya Garrison Commander Avni Angun and the commander of the 3rd Army Gen. Erdal Öztürk.
Some 272 prosecutors and judges in Istanbul were detained and prohibited from leaving the country on Saturday in connection with the failed coup.
Greece to study asylum requests of 8
The Greek government said it will examine the asylum requests of eight people, who landed at Alexandroupolis airport on Saturday aboard a Turkish military helicopter, as dictated by international laws, government spokeswoman Olga Gerovasili said, Kathimerini, the English-language daily, reported.
Gerovasili underlined that "in examining their requests, it will be taken very seriously into account that they participated in an attempt to overthrow the democratic regime and the constitutional order in the neighboring country."
She added that Greek authorities have communicated with their Turkish counterparts to arrange for the swift return of the Turkish helicopter.
Earlier, Turkish Foreign Minister Mevlüt Çavuşoğlu said Ankara has demanded the return of the eight pro-coup soldiers from Greece and Athens has accepted the request.
"The Greek Foreign Minister Nikos Kotzias told me on the phone that they will return the eight traitors who escaped to Greece from Turkey," he wrote on his Twitter account, adding that the soldiers "won't be able to escape." http://atimes.com/2016/07/thousands-take-to-streets-across-turkey-for-democracy/
Black Hawke helicopter at Greek airport.