Another Example of American "Justice"? – Tim Veater
Another Example of American "Justice"? – Tim Veater
Cecily McMillan's guilty verdict reveals our mass acceptance of police violence
The hyper-selective retelling of events mirrors the popular narrative of Occupy Wall Street – and how one woman may serve seven years while the NYPD goes free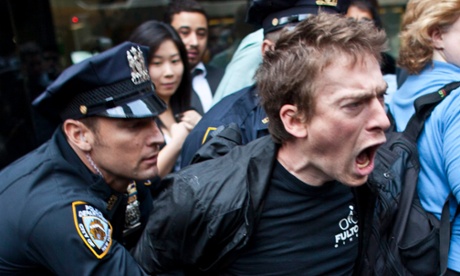 McMillan was one of roughly 70 protesters arrested on March 17, 2012. She and hundreds of other activists, along with journalists like me, had gathered in Zuccotti Park to mark the six-month anniversary of the start of Occupy Wall Street. It was four months after the New York Police Department had evicted the Occupy encampment from the park in a mass of violent arrests.
When the police moved in to the park that night, in formation and with batons, to arrest a massive number of nonviolent protesters, the chaos was terrifying. Bovell claimed that McMillan elbowed him in the face as he attempted to arrest her, and McMillan and her defense team claim that Bovell grabbed her right breast from behind, causing her to instinctively react.
But the jury didn't hear anything about the police violence that took place in Zuccotti Park that night. They didn't hear about what happened there on November 15, 2011, when the park was first cleared. The violence experienced by Occupy protesters throughout its entirety was excluded from the courtroom. The narrative that the jury did hear was tightly controlled by what the judge allowed – and Judge Ronald Zweibel consistently ruled that any larger context of what was happening around McMillan at the time of the arrest (let alone Bovell's own history of violence) was irrelevant to the scope of the trial.
To the jury, the hundreds of police batons, helmets, fists, and flex cuffs out on March 17 were invisible – rendering McMillan's elbow the most powerful weapon on display in Zuccotti that night, at least insofar as the jury was concerned.
That hyper-selective retelling of events to the jury mirrored the broader popular narrative of OWS. The breathtaking violence displayed by the NYPD throughout Occupy Wall Street has not only been normalized, but entirely justified – so much so that it doesn't even bear mentioning.
It's impossible to understand the whole story by just looking at it one picture, even if it's McMillan's of her injuries. But that is exactly what the jury in McMillan's case was asked to do. They were presented a close up of Cecily McMillan's elbow, but not of Bovell, and asked to determine who was violent. The prosecutors and the judge prohibited them from zooming out.