MANCHESTER UNITED 'BOMB' 'FIASCO'
http://www.gannett-cdn.com/-mm-/91a6045177503605e3c9bb967d73b124458577bc/c=120-0-2171-1542&r=x404&c=534x401/local/-/media/2016/05/15/USATODAY/USATODAY/635989151848833135-EPA-epaselect-BRITAIN-SOCCER-ENGLISH-PREMIER-LEAGUE.jpg
At around 3 pm on the15th May, 2016, what appeared to be a pipe bomb and mobile phone, was discovered attached to the back of a door, in the toilets between the Sir Alex Ferguson Stand and the Stretford End, by a Manchester United employee. It was sufficiently authentic in appearance to be treated as the real thing. Obviously if one device had been discovered, there was the possibility that others might be in place elsewhere, not to mention the possibility of a coordinated terrorist attack. No doubt with the recent events in Paris and Brussels in mind, the Manchester United Management, presumably on the advice of the police, erred on the side of caution and ordered the evacuation of the ground and cancellation of the match.
All well and good but the official version of events simply does not add up!
The Manchester Crime Commissioner, in announcing a full inquiry, described the bomb scare that resulted in the Manchester United stadium being evacuated, the match with Bournemouth being abandoned and 'fifty thousand' fans being inconvenienced, as 'a fiasco'. In layman's language this was an 'almighty cock-up' it would seem.
Tony Lloyd, Greater Manchester's Police and Crime Commissioner, condemned the incident as "outrageous" and a "fiasco" and demanded a full inquiry into an "unacceptable" situation that he claimed put people in "unnecessary danger" and proved a waste of police time and resources. The incident is claimed to have cost the football club alone up to three million pounds.
But can a genuine but unfortunate human error or mistake be adequate explanation or are more sinister factors involved? Rather suspiciously it follows only days after a well publicised simulated terrorist event in the Trafford Centre and elsewhere on the 10th May, 2016 in which 800 people took part. (Realistic video and report here:
http://www.independent.co.uk/news/uk/home-news/suicide-bomber-targets-trafford-centre-in-manchester-as-part-simulated-attack-in-counter-terror-a7022121.html)
http://www.channelnewsasia.com/image/2773406/1462889520000/large16x9/768/432/uk-terror-exercise.jpg


Some might question the real point of these 'exercises' and whether they actually contribute anything to preparedness of, or efficiency in, any such attack. They may do little more than increase anxiety unnecessarily and blur the lines between 'real' and fake. They certainly prove that it is hard to distinguish between the two when the organisers put their minds to it. When all the other factors are taken into account it provides food for thought as to whether many of the recent 'terrorist events' are genuine or contrived.
So the first question to be asked is whether the 'fake' pipe bomb was designed to be part of those earlier exercise scenarios or not? Another is, if it was, why did it take about five days to discover a very obvious device on a toilet door? Surely the toilets must have been visited or used before match day, in which case it would be almost impossible to miss it or the danger? This certainly tends to suggest that the offending item was NOT part of the previous operation, but had been placed behind the door immediately before the match - i.e. the morning of the 15th or evening of the 14th. So who would do such a thing and why.
The reports suggest that it was just part of a training exercise involving 'sniffer dogs' by two firms -

Security Search Management and Solutions Ltd working and Deacons Canines. of which more later.
The Guardian reports as follows: "Following today's controlled explosion, we have since found out that the item was a training device which had accidentally been left by a private company following a training exercise involving explosive search dogs. While this item did not turn out to be a viable explosive, on appearance this device was as real as could be, and the decision to evacuate the stadium was the right thing to do, until we could be sure that people were not at risk."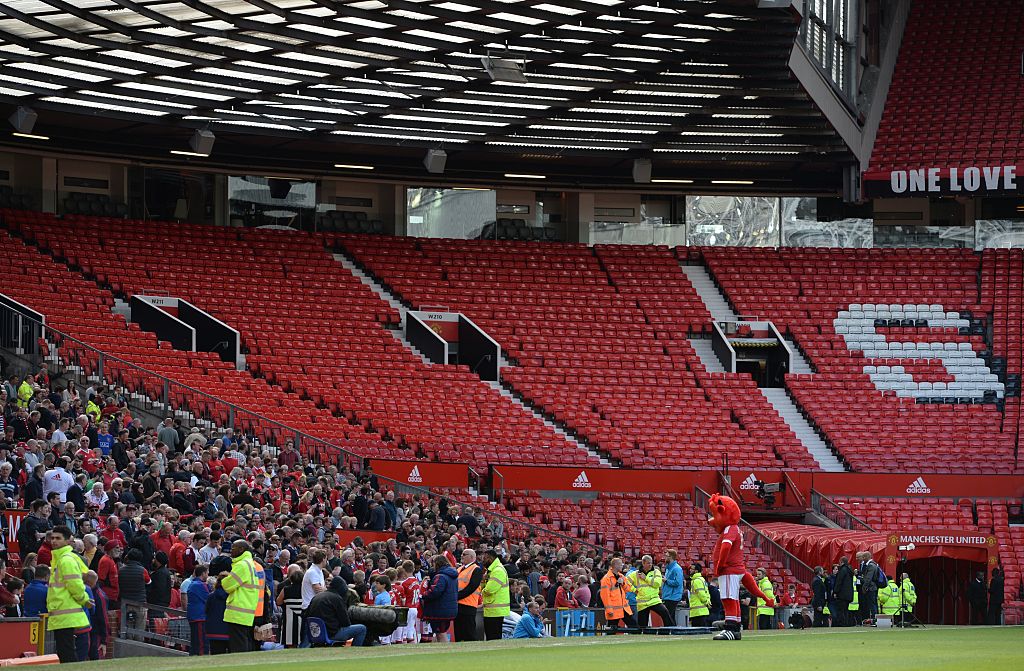 https://d.ibtimes.co.uk/en/full/1516334/manchester-united-old-trafford.jpg?w=736&h=444&l=50&t=40&q=80
So it would appear we are asked to believe that a firm based in Bexley, Kent, '
Security Search Management and Solutions Ltd.',
supervised the placing of device or devices (surely in such circumstances they would not have placed just one?) for the sniffer dogs provided by 'Deacons Canines' to detect, but then after it was over failed to collect it. I know accidents and oversights do happen but really in a matter of such importance, is this credible? Is it believable that the Manchester United management, including their own Health and Safety experts, would have allowed such an exercise without being informed where the test devices were placed and had been properly retrieved following it? And when and by whom was the exercise ordered and designed if so it was? It is important that these questions are asked and answered.
We are assured by reports that the device was "as real as could be", without being so which rather poses the question who would have the inclination and knowledge to make it prior to placing it? We must assume in the absence of any other explanation, to come back to the security firm referred to,
'
Security Search Management and Solutions Ltd.'
Perhaps it should be asked if it is in the habit of making such and placing them about public buildings and how it knows what such devices look like?
However a more serious explanation should not be totally ruled out, that the device was in fact a REAL one, and that the information put out by the police for whatever reason is not reliable. There are several reason for leaning towards this view. The very realistic nature of the device; the fact that had it been intentionally placed in the full knowledge of management this would have been easily and quickly ascertained; the full evacuation of the stadium and cancellation of an important match would not have taken place in the absence of reasonable belief it was real; even if real the danger was localised and could be controlled without evacuation unless it was believed there might be more such; for it to pose a test for dogs even if part of an intentional exercise, it would have to involve elements of explosive to be detected; and finally why was it necessary to destroy it with a 'controlled explosion' if it posed no risk? Controlled explosions are only carried out by experts, experts who could quickly differentiate between real and fake surely? Nor does it make sense that the mobile phone containing potentially useful information would be destroyed unless there was a pressing need to do so. Yet again the official versions of a story do not make for 'internal' consistency.
Nor should we overlook the very strange and worrying phenomenon of the 'parallel phoney exercise' that so often appears in these incidents. We saw it in the attacks of 9/11, the 7/7 underground and bus bombings, Charlie Hebdo, the November 13th Paris attacks and later in Brussels, to name but five such. (I have covered these in other articles) It is now so common and widely understood, as to have become apocryphal. Indeed there were Manchester locals on Facebook and other web sites, warning people to be on their guard following the Trafford exercises described because of it. The question is was this 'fake' bomb a forgotten part of the earlier exercises or a real attempt to cause panic and mayhem on the back of them?
Is it also significant that only three days ago, a widely publicised warning was put out by MI5 of 'imminent attacks' by IRA splinter groups on the mainland! (See:
http://www.express.co.uk/news/uk/670125/IRA-terrorism-bomb-warning-sent-British-Army-cadets-hours-after-threat-level-raised) The coincidence is truly astonishing. (
The most recent dissident republican attack was in March, when prison officer Adrian Ismay was murdered by a group calling itself the new IRA and significantly t
he RIRA carried out a
pipe bomb
attack on a police officer's home in Annalong, County Down 26 January, 2016.) Might this suggest IRA or MI5 connections?
Now turning to what is claimed to be the principal
guilty party in the 'fiasco',
'
Security Search Management and Solutions Ltd.' and
'Deacons Canines', it throws up some rather interesting and it must be said, suspicious features. First we should note that it two firms were involved in a 'search and find' it makes it even less likely that a device, even if not detected by the dogs would be left behind with all its known implications.
The Mail has some interesting revelations on the subject here: http://www.dailymail.co.uk/news/article-3592372/This-idiot-s-right-kicking-Fury-Old-Trafford-bungling-security-firm-left-fake-bomb-toilets-named-Manchester-United-face-3million-bill-replay-game-scrapped.html
In an interview with
the owner of Security Search Management & Solutions Ltd, a Mr.
Chris Reid, it is revealed that he was
former Met counter terrorism officer for more than 32 years and that he is quoted as saying - delphically you may think - as follows:
"My company is getting the blame for leaving the fake bomb and I lose my business over the scandal.
I can't say anything at the moment - I'm waiting for Manchester United to get back to me.
Obviously, it's a security issue. If it was any other sort of issue and I needed to put my side of the story then it would be different. But I'm waiting for them to get back to me - they said this afternoon.
I'm sure they're having meetings at the moment to see which guillotine they're going to use on me. I have to take responsibility in the end, I won't shirk my responsibility.
It will come out I'm sure. I don't know what I'm allowed to say, what they want me to say, or anything like this so I don't want to compromise that at all."
Really does this sound like a man in charge of a company with his finger on the pulse who has carried out urgent and detailed enquiries of how his company was involved and effectively fouled up big time? Or a man who believes he has been 'stitched up' and is prepared to replicated whatever he is told to say by the security services? I will let you come to your own conclusion.
The Sun (here:
http://www.thesun.co.uk/sol/homepage/news/7153731/Were-probably-about-to-go-into-liquidation-Boss-of-Old-Trafford-bomb-blunder-firm-says-he-is-fixing-his-roof-while-hes-still-got-one-while-he-awaits-call-from-club.html
) reports as follows:
"
Mr Reid worked previously for G4S where he was responsible for training guards involved in search and screening vehicles and visitors at the London Olympics.
On his Linkedin page Mr Reid writes: "In the lead-up and during the London 2012 Olympics I had responsibility for the initial training of all personnel who provided the Search & Screening capability for Vehicles and Persons entering the Olympic Park plus refresher training and procedural quality assurance during the Games period."
He adds that he also worked for the Met Police for more than 32 years as a Counter Terrorist Police Search Advisor (PolSA) "responsible for advising Chief Police Officers on Counter Terrorist and other search related matters. Planning, Command & Control of Search Operations, e.g."Royal engagements, State Visits, Military events, Bomb scenes, Major crime scenes, Missing Persons, Summits such as G20."
http://www.dailymail.co.uk/news/article-3592372/This-idiot-s-right-kicking-Fury-Old-Trafford-bungling-security-firm-left-fake-bomb-toilets-named-Manchester-United-face-3million-bill-replay-game-scrapped.html

For those familiar with my article on 'Product Placement and Terrorism Events', it will not have escaped your notice the prominence of the Gloucester Rugby Football shirt and even more prominently of the Cheltenham and Gloucester Building Society. All purely coincidental of course as is the fact that Britain's secret eavesdropping service, GCHQ, is located in Cheltenham.
Perhaps we should also ask "Why the saw?" In the middle of a major crisis for his firm he's doing a spot of gardening?!!! Or should we assume we are meant to take from it more? Of course this strays into speculative territory that runs the risk of undermining the rest of the discussion but I think in the circumstances it's worth pursuing a little.
A saw figuratively is used for cutting something down or up. Significantly in the quote above he himself refers to "being guillotined". What a strange and passive phrase to use? Is the saw meant to emphasise the precarious position he is in if he doesn't do and say what he is told? Then again 'saw' may be used in the context of 'sight' and 'vision', when in conjunction with GCHQ we have the memorable 'Five Eyes' in reference to the five countries (USA, Canada, Australia, New Zealand and the UK) that share intelligence.
And how about the 'Saw' movie franchise of which I know very little but found this Youtube video rather interesting. (See: https://www.youtube.com/watch?v=xuIWsbmhmBw) Entitled, "SAW - Secret Messages" from August 2007. The tape is inscribed "PLAY ME". The tunes on the tape are: "Do what you want 'cause a pirate is free. You are a pirate. We have a map to lead to a hidden box. Locked up with locks and buried deep away. " and "You got to do the cookin' by the book. You know you can't be lazy" and "Wake me up before you go go. Don't leave me hanging on like a Yo Yo."
So as to the firm, details are given below from public registers. It will be seen it operates from an 'accommodation address' 34B North Cray Road, Bexley in Kent where 198 other companies registered there. Very strangely however it does not appear on that list (below) It's actual location for operations is not recorded. So where is it actually based and where does it actually operate from? How many staff does it employ and what is its turnover? Mr Reid himself lives at Biggin Hill apparently. He now states his firm is likely to be "liquidated".
Perhaps Manchester United and the Manchester Police should explain how and why a company registered so far away was engaged to carry out security work on its premises including the placing of fake pipe bombs? Also how a company so small as to be 'totally exempted for filing purposes' would be engaged to carry out such important work with considerable human and resource requirements. Yet again the story does not work.
From: https://www.duedil.com/company/07386561/security-search-management-and-solutions-limited
From: https://www.endole.co.uk/explorer/company/postcode/da5-3lz for
NORTH CRAY ROAD, BEXLEY, KENT. DA5 3LZ
198 Companies
Cash In Bank
Net Worth
1
Russian Oil Products Limited


Heritage House, 34B North Cray Road, Bexley, Kent, DA5 3LZ

£42,000
£16,945,000
2
Noakes Farm Properties Limited


Heritage House 34, North Cray Road, Bexley, Kent, DA5 3LZ

£40,543
£38,273
3
Musical And Theatrical Enterprises Limited


Heritage House 34B, North Cray Road, Bexley, Kent, DA5 3LZ

£16,650
£16,230
4
P.J. & M.E. Reilly Limited


Heritage House, 34B North Cray Road, Bexley, Kent, DA5 3LZ

£102,450
£158,003
5
Bishopshire Limited


Heritage House, 34B North Cray Road, Bexley, Kent, DA5 3LZ

£35,537
£163,375
6
Supersleuth Limited


Heritage House, 34B North Cray Road, Bexley, Kent, DA5 3LZ

£1,888
£-131,781
7
Index Financial Management Consultants Limited


Heritage House, 34B North Cray Road, Bexley, Kent, DA5 3LZ

£448
£5,294
8
Davy Marler (Import) Limited


Heritage House, 34B North Cray Road, Bexley, Kent, DA5 3LZ

£0
£-63,906
9
CHL Limited


Heritage House, 34B North Cray Road, Bexley, Kent, DA5 3LZ

£2,957
£-1,235
10
Co-Tron Components Limited


Heritage House, 34B North Cray Road, Bexley, Kent, DA5 3LZ

£136,178
£665,037
11
Media Control Limited


Heritage House, 34B North Cray Road, Bexley, Kent, DA5 3LZ

£17,051
£1,207
12
Logodraw Limited


Heritage House, 34B North Cray Road, Bexley, Kent, DA5 3LZ

£135,562
£114,813
13
Larsen & Partners Limited


Heritage House, 34B North Cray Road, Bexley, Kent, DA5 3LZ

£4,642
£87,181
14
Second Source (UK) Limited


34B North Cray Road, Bexley, Kent, DA5 3LZ

£4,734
£862
15
Cdi Associates Limited


Heritage House, 34B North Cray Road, Bexley, Kent, DA5 3LZ

£5,440
£4,805
16
Blueprint Properties Limited


Heritage House, 34B North Cray Road, Bexley, Kent, DA5 3LZ

£1
£1
17
Ashdown Close Limited


Heritage House, 34B North Cray Road, Bexley, Kent, DA5 3LZ

£2,058
£1,531
18
Morley Curd Limited


Heritage House, 34B North Cray Road, Bexley, Kent, DA5 3LZ

£1,661
£55,967
19
Hurst Marler Limited


Heritage House 34B, North Cray Road, Bexley, Kent, DA5 3LZ

£8,745
£-255,573
20
M-Squared Building Services Ltd


Heritage House 34B, North Cray Road, Bexley, Kent, DA5 3LZ

£146,349
£100,947
21
RGD Systems Limited


Heritage House, 34B North Cray Road, Bexley, Kent, DA5 3LZ

£793
£-23,312
22
Adlids Limited


Heritage House, 34B North Cray Road, Bexley, Kent, DA5 3LZ

£1
£1
23
Sangallo Ltd


Heritage House, 34B North Cray Road, Bexley, Kent, DA5 3LZ

£19,731
£568
24
HR Independent Financial Services Limited


Heritage House, 34B North Cray Road, Bexley, Kent, DA5 3LZ

£58,801
£36,817
25
Andy Russell Contracts Limited


Heritage House, 34B North Cray Road, Bexley, Kent, DA5 3LZ

£5,704
£3,798
26
Barking Brown Limited


Heritage House, 34B North Cray Road, Bexley, Kent, DA5 3LZ

£8,865
£-25,031
27
Barker Brown Limited


Heritage House, 34B North Cray Road, Bexley, Kent, DA5 3LZ

£1
£1
28
Marta's Vinyard Limited


Heritage House, 34B North Cray Road, Bexley, Kent, DA5 3LZ

£9,398
£-185,813
29
Aspire Recruitment Consultants Limited


Heritage House, 34B North Cray Road, Bexley, Kent, DA5 3LZ

£105,825
£72,874
30
Chappell Cole & Co Limited


Heritage House, 34B North Cray Road, Bexley, Kent, DA5 3LZ

£2,120
£24,961
31
Abintra Limited


Heritage House, 34B North Cray Road, Bexley, Kent, DA5 3LZ

£147,312
£230,513
32
Submission Technology Limited


Heritage House, 34B North Cray Road, Bexley, Kent, DA5 3LZ

£224,555
£557,075
33
Multi Door Service Limited


Heritage House, 34B North Cray Road, Bexley, Kent, DA5 3LZ

£33,828
£1,451
34
Cowlard Construction Limited


Heritage House, 34B North Cray Road, Bexley, Kent, DA5 3LZ

£60,339
£195,738
35
J C Electrical Limited


Heritage House, 34B North Cray Road, Bexley, Kent, DA5 3LZ

£250,762
£461,568
36
S E Hannabuss & Son Limited


Heritage House, 34B North Cray Road, Bexley, Kent, DA5 3LZ

£42
£-5,938
37
Holly Lodge (Bexley) Management Company Limited


Heritage House, 34B North Cray Road, Bexley, Kent, DA5 3LZ

£578
£1,091
38
Berrow Consultancy Services Limited


Heritage House, 34B North Cray Road, Bexley, Kent, DA5 3LZ

£9,553
£27,232
39
Track Communications Limited


Heritage House, 34B North Cray Road, Bexley, Kent, DA5 3LZ

£98
£28,360
40
PDS-Hamiltons Limited


Heritage House, 34B North Cray Road, Bexley, Kent, DA5 3LZ

£1,887
£-3,935
41
Lje Limited


Heritage House, 34B North Cray Road, Bexley, Kent, DA5 3LZ

£2,377
£-63,932
42
Byhurst Construction Ltd


Heritage House, 34B North Cray Road, Bexley, Kent, DA5 3LZ

£25,223
£32,807
43
Wise Security Services Limited


Heritage House, 34B North Cray Road, Bexley, Kent, DA5 3LZ

£10,045
£53,489
44
Taber Precision Engineering Limited


34B North Cray Road, Bexley, Kent, DA5 3LZ

£40,036
£88,920
45
Jormax Limited


Heritage House, 34B North Cray Road, Bexley, Kent, DA5 3LZ

£1
£1
46
Clifford Heating Engineers Limited


Heritage House, 34B North Cray Road, Bexley, Kent, DA5 3LZ

£551
£698
47
Media Control Management Limited


Heritage House, 34B North Cray Road, Bexley, Kent, DA5 3LZ

£3,218
£57,310
48
Archibald And Joseph Associates Limited


Heritage House, 34B North Cray Road, Bexley, Kent, DA5 3LZ

£82,209
£68,808
49
SC Power & Data Ltd


Heritage House, 34B North Cray Road, Bexley, Kent, DA5 3LZ

£172,559
£269,228
50
PW Interiors (UK) Limited


Heritage House, 34B North Cray Road, Bexley, Kent, DA5 3LZ

£35,438
£30,527
EXPORT FULL DATA (198 companies)