7/7 and the Mystery of the Missing Train.
On the morning of 7th July, 2005, as I sat at the desk where I worked, the news slowly filtered in that there had been a serious violent event in London. Gradually everyone became aware this consisted of a series of explosions on three tube trains on the underground and another on the top deck of a bus that killed or seriously injured hundreds of people. Whilst feeling natural sympathy for those affected, I had selfish reasons to be concerned as well. I knew my lawyer daughter worked in London. Imagine my relief when I learnt she had narrowly missed two of the explosions, having arrived at Kings Cross immediately before it was closed and walking on the route the bus had later taken!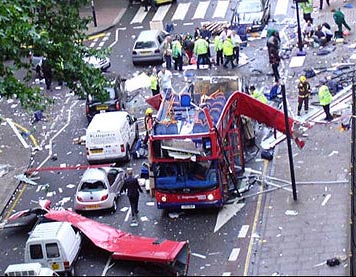 http://vignette1.wikia.nocookie.net/criminalminds/images/9/9e/Tavistock_Square_bus.jpg/revision/latest?cb=20130720031008
Much has been written about the events of that day. Indeed I have referred to it myself on numerous occasions, some of which are here: (1) The events of 7/7 are filled with so many questions and coincidences, as to make the official version of events highly suspect and unreliable. (2) However replicating the attacks on America four years before, nothing appears to shake the Government's confidence in their own narrative. This of course was and is that four British born and bred Muslim extremists were responsible for planning the operation as a protest at Britain's involvement in the Afghanistan and Iraqi invasions. That they made their devices from readily available chemicals - home-made organic peroxide - which they carried in back-packs and detonated in their four separate locations - three simultaneously on the underground (08.49 BST) and another approximately an hour later (09.47 BST) on the Number 30 double deck bus, sacrificing their own lives in the process. They were, it was claimed 'suicide bombers'.
Perhaps before I go any further I should make it clear that I take no credit for any of the discoveries or assertions made in this article. That must go to the ingenious and courageous individuals that did so, many of whom were pursued and harassed by media and government, including unsuccessful prosecution, in an effort to prevent them questioning the official version and speaking out against it. It has become a very familiar pattern with these high profile events. They appear to be choreographed from beginning to end to permit just one approved version, however untenable it proves to be.
Aldgate tube station following the attack (PA)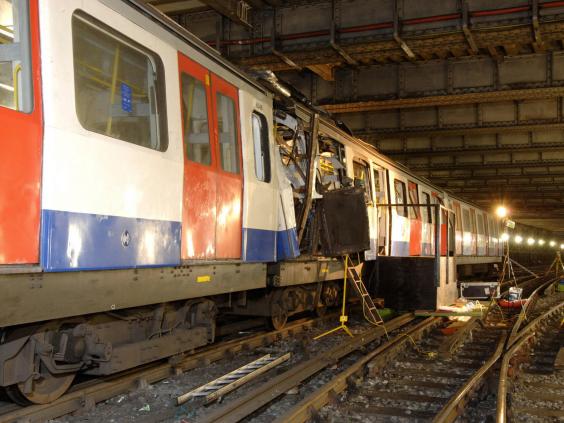 https://static.independent.co.uk/s3fs-public/styles/story_medium/public/thumbnails/image/2015/07/05/16/7-7-met-pa.jpg
Much has been made of the huge number of coincidences and inconsistencies in this case that appear never appear to have been seriously addressed by Government bodies.
The fact that the Gleneagles conference was taking place the very next day, enabling the Prime Minister to be seen condemning Al Qaeda (AQ) terrorism with the full support of the 'G8'. (3)
The fact that only the day before it had been announced London would host the 2012 Olympic Games which Tony Blair also described as 'momentous news for Britain'. (4)
The fact that on the very same day as the explosions had taken place, a coordinated parallel counter-terrorist training exercise was taking place that almost exactly replicated the locations and circumstances of the real one! (5)
The fact that only seven days before the Met Police had carried out its own simulated tube bombing merely intended 'to see how officers would get to work'! (6)
The fact that on the very morning of the explosions Benjamin Netanyahu 'who just happened' to be in London on that day, was apparently warned by a Met Police source to remain in his hotel.

("

Mossad chief Meir Dagan, in an interview with the German newspaper

Bild am Sonntag

:

"The Mossad office in London received advance notice about the attacks, but only six minutes before the first blast, the paper reports, confirming an earlier AP report. As a result, it was impossible to take any action to prevent the blasts."")
(7)
The fact
that one of the trains was "
derailed"
that suggests the explosive was actually
beneath
the carriage, supported by the physical damage to the trains and many of the injuries.
(8)
The fact
that there has never been a full Public Inquiry into this one of the most serious terrorist incidents the country has ever known and that the inquest held in 2010/11 under Lady Justice Hallett was a shambles of a closed affair. Rather amazingly
t
he inquest did not confirm that Hussain, Khan, Lindsay, or Tanweer died and puts the number of dead at 52. Is this official and inadvertent recognition that no suicide bombers were present or indeed perished on 7 July, 2005?
(9)
The fact that none of those involved with policing or security or in the subsequent tragic and criminal events that followed, when the innocent Jean Charles de Menezes was shot dead fifteen days later, were ever convicted with offences or even disciplined. (10) Although in 2007 The Met as an organisation was found guilty under the provisions of the Health and Safety at Work Act! (13)
Indeed the police woman in charge,
Cressida Dick,
Gold Commander on the day of the operation, and therefore ultimately in charge, was subsequently promoted to Deputy Assistant Commissioner, later to become Director General of the Foreign Office! She is now being touted to replace the existing Commissioner, Sir Bernard Hogan-Howe, who is departing early. (11)
Taken in the round, all of this and many other features not listed, point to this being a government secret-agency-organised event rather than the four rather insignificant and incompetent individuals who were immediately blamed. Of course we saw a very similar modus operandi in the case of the blamed nineteen blamed hi-jackers on 9/11, who variously either turned up alive afterwards and were unable to fly even a Cessna!
All these issues have been addressed elsewhere, of which the references below are just a sample. I do not intend to revisit them in detail here. However there is just one feature that I wish to relate, that if correct must mean that these men COULD NOT have carried out the attacks as described. It turns on what I called 'the mystery of the missing train'.
As I have shown in the case of the Paris outrages, much turns on timings. If it is physically impossible for the perpetrators to be where they are said to be, the credibility of the whole narrative is undermined if not destroyed.

If
it was IMPOSSIBLE for the four accused to have been on those tube trains, because the stated connecting train did not run that day, and none of the others fit, I think you may
have to think twice about the whole story. Of course as usual the questions, "If they didn't do it, who did?" and "Why if they know it's a lie do the authorities keep sticking to it?" naturally follow, ones I'm afraid I can't answer.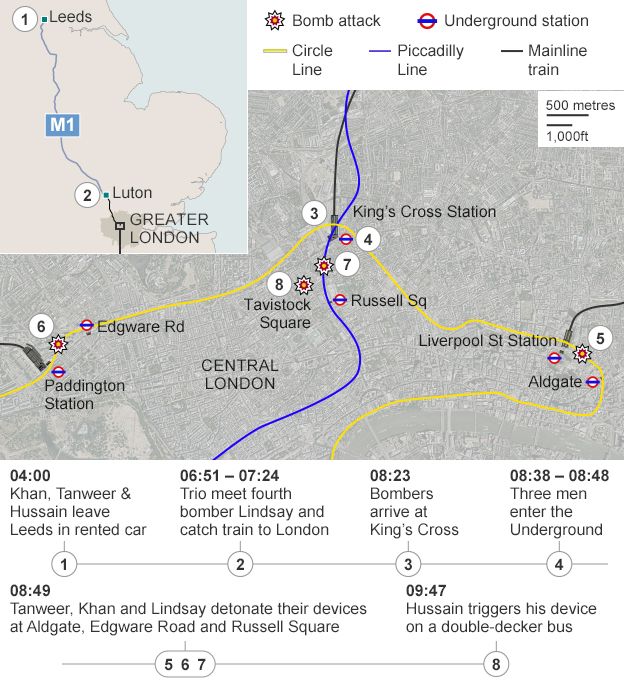 http://ichef.bbci.co.uk/news/624/cpsprodpb/D8F5/production/_84014555_7_7_624map.jpg
The official account was apparently as follows:
"08.23: The train arrives at King's Cross, slightly late due to a delay further up the line. The 4 are captured on CCTV at 08.26am on the concourse close to the Thameslink platform and heading in the direction of the London Underground system. At around 08.30am, 4 men fitting their descriptions are seen hugging. They appear happy, even euphoric. They then split up. Khan must have gone to board a westbound Circle Line train, Tanweer an eastbound Circle Line train and Lindsay a southbound Piccadilly Line train.
08.50: At Edgware Road, Mohammad Sidique Khan was also in the second carriage from the front, most likely near the standing area by the first set of double doors. He was probably also seated with the bomb next to him on the floor. Shortly before the explosion, Khan was seen fiddling with the top of the rucksack. The explosion killed 7 including Khan, and injured 163 people.
The 7 July bombers were identified as Mohammed Siddeque Khan (30), Hasib Hussein (18), Shazad Tanweer (22), and Jermaine Lindsay (19). All apart from Jermaine Lindsay were British nationals of Pakistani origin, born and brought up in the UK, and at the time of the bombings based in Leeds area of West Yorkshire. Lindsay was a British national of West Indian origin, born in Jamaica and based in Aylesbury prior to the attacks. He was a convert to Islam.

http://ichef.bbci.co.uk/news/660/cpsprodpb/1B14/production/_83823960_bombers_names_credit_976.jpg
https://static.standard.co.uk/s3fs-public/styles/story_medium/public/thumbnails/image/2015/07/07/08/77h.jpg
7/7 bombers, (L-R) Hasib Hussain, Shehzad Tanweer, Jermaine Lindsay and Mohammad Sidique Khan (PA)
The ISC Report states (para 43)
"We have been told in evidence that none of the individuals involved in the 7 July group had been identified (that is, named and listed) as potential terrorist threats prior to July. We have also been told that there was no warning from intelligence (including foreign intelligence) of the plans to attack the London transport network on 7 July 2005."
Clearly if the Mossad Chief can be believed, the ISC must have been misled on the latter point. As regards the former, it was later revealed
at the inquest in 2011 that both
Khan and Tanweer were
followed and photographed by
counter-terrorism officers
in early 2004
. They also

had on record a telephone number belonging to Jermaine Lindsay and

'Siddeque Khan'
.
(12)
So it is probably fair to say it was at least - in that famous phrase -
"economical with the actualité.
So as to the alleged movements of the four on the 7th July, 2016 they were said to have travelled by car to Luton station and from there catching the 7.40 train to London. In fact this train was cancelled. In a famous photo that has serious defects that suggests it might have been tampered with, they are recorded entering the station at 7.21.
http://img.dailymail.co.uk/i/pix/2008/04_02/7_7_BombTrialL_468x395.jpg
Note how the railings appear to pass through the body of the man with the white hat! There is a real question whether this image was interferred with and whether it was actually recorded on the date shown.
This is a much clearer longer view of ostensibly the same moment including the same defect. Why the better definition? This one contains the time (almost 7.22 not 7.15 notice) This might just have allowed them to catch the 7.24 that departed at 7.25 possibly but not if they had to obtain tickets and they don't appear to be rushing do they. And if they did catch this one, why did the report state it departed 7.40?
https://upload.wikimedia.org/wikipedia/en/f/f9/July_7,_2005_London_bombings_CCTV.JPG
For comparison purposes, the next one is of the
suspects (L-R) Shehzad Tanweer, Germaine Lindsay and Mohammed Sidique Khan at Luton train station,
taken the week before, apparently on a 'dry run'. Notice how much clearer it is. The respective head gear (or lack of) appears to be retained in the alleged 7/7 image above.
http://i.dailymail.co.uk/i/pix/2011/02/22/article-1359148-0332E9440000044D-712_634x466.jpg
WIKI has this: "The four bombers captured on CCTV at Luton station at 7:21 am on 7 July 2005. From left to right: Hasib Hussain, Germaine Lindsay, Mohammad Sidique Khan, and Shehzad Tanweer." The Independent 'timeline' has this: "7.15am: The men enter Luton station and go through the ticket barriers heading to the platform for the Thameslink train to London King's Cross.7.40am: The train sets off." Except it didn't!
The next one departed 24 minutes late. So the 7.40 train they reportedly caught didn't run and the next one didn't get to Kings Cross until 8.42 (it made up two minutes on the way) The east bound train that exploded departed 8.25. That is the crucial time the bombers had to be there.
The only possibility is if they caught an earlier but delayed train - but which one?
The scheduled 7.30 doesn't leave until 7.42 but is ruled out because it does not arrive until 8.39, 35 minutes late and well after the east bound tube had departed.
So the only possibility would have been if they had caught the delayed 7.24 which left at 7.25 and got in at 8.23 - 23 mins late.
However apart from the fact this was not the official story, it is unrealistic on two accounts: it allows less than three minutes for them to get from outside Luton station and they are seen not to be rushing, clearly thinking they had plenty of time until 7.40.
Even had they caught THIS particular train, it would provide only TWO minutes at the Kings Cross end to get from train to tube platform and onto the east bound train. I doubt you could do it even if you ran but it is also definitively ruled out as the state produced evidence that they were all recorded together apparently hugging, which would have used up the available two minutes on its own.
This is the official account from Report of the Official Account of the Bombings in London on 7th July 2005, printed 11th May 2006 located here: http://news.bbc.co.uk/1/shared/bsp/hi/pdfs/11_05_06_narrative.pdf
"07.40: The London King's Cross train leaves Luton station. There are conflicting accounts of their behaviour on the train. Some witnesses report noisy conversations, another believes he saw 2 of them standing silently by a set of train doors. The 4 stood out a bit from usual commuters due to their luggage and casual clothes, but not enough to cause suspicion. This was the beginning of the summer tourist period and Luton Station serves Luton Airport.
08.23: The train arrives at King's Cross, slightly late due to a delay further up the line. The 4 are captured on CCTV at 08.26am on the concourse close to the Thameslink platform and heading in the direction of the London Underground system. At around 08.30am, 4 men fitting their descriptions are seen hugging. They appear happy, even euphoric. They then split up. Khan must have gone to board a westbound Circle Line train, Tanweer an eastbound Circle Line train and Lindsay a southbound Piccadilly Line train. Hussain also appeared to walk towards the Piccadilly Line entrance."
It should be noted that it is impossible to reconcile this with the actual timetable below.
"NikK" summarised much better than me in this 2010 article:
"July 7th New 'Official Narrative' timings
Then the court showed similar CCTV sequence of July 7th with the Four carrying (alleged deadly-bomb) rucksacks.
Now they only took one and a half minutes to complete exactly the same movements:
IT IS ABSOLUTELY NECESSARY TO THE NEW OFFICIAL NARRATIVE, FOR THE FOUR TO HAVE BEEN ON THE BOMBED TUBE TRAINS, THAT THEY CAUGHT THIS EARLIER TRAIN THAT LEFT LUTON AT 7.25 .
What we see here is a crucial and necessary new reworking of the timeline.
……BUT THESE NEW TIMINGS FOR THE FOUR ENTERING, BUYING TICKETS AND CATCHING THIS TRAIN ARE UNREASONABLE AND TRULY UNBELIEVABLE."
So one must conclude that the first train they could have caught would have arrived too late for them to situate themselves on the tubes as described.
The table above and below is reproduced with thanks from: http://terroronthetube.co.uk/inquest-articles/77-inquest-government-offers-new-still-unbelievable-version-of-the-train-times-timeline/
Luton – King's Cross Thameslink timetable for the morning of July 7th, 7-8 am
Booked Actual Due in at Actual arrival Delay
Departure
Departure
King's Cross
Kings
Cross
(mins)
07.16 07.21 07.48 08.19 31
07.20 07.20 08.08 08.15 7
07.24 07.25 08.00 08.23 23
07.30 07.42 08.04 08.39 35
7.40 Cancelled Cancelled Cancelled Cancelled
07.48 07.56 08.20 08.42 22
08.35 : The Eastbound Circle line train that exploded, leaves King's Cross.
Muad'Dib, the maker of the
remarkable
film "Ripple Effect" (see below) also claims a 7.46 train (
not shown in the table above)
was also cancelled . Otherwise they concur.
Conclusion.
It is frankly incredible that despite its catastrophic nature, with all its implications for national security and the "war on terror", no one in the British Government or political community considers it appropriate or necessary to carry out a searching and independent enquiry into what actually happened on 7/7 and who in reality was responsible for it.
The parallels between how this and the events of 9/11 have been dealt with are stark. Rather like the 9/11 Commission, the only Parliamentary scrutiny appears more akin to a meeting of old friends at the club. It fails to ask any searching questions and is limited to a very select circle of those with a common interest in supporting the establishment and with it the official line. Similarly the Inquest that took place five years later and might have been expected to discover the truth, was ham strung by secrecy on the grounds of 'national security'. This catch-all phrase can equally be used of course to protect interested parties and cover up malfeasance - even treason!
1.
http://veaterecosan.blogspot.co.uk/search?q=7/7.
2.
https://www.gov.uk/government/uploads/system/uploads/attachment_data/file/224690/isc_terrorist_attacks_7july_report.pdf
3. https://en.wikipedia.org/wiki/31st_G8_summit
4. http://news.bbc.co.uk/onthisday/hi/dates/stories/july/6/newsid_4940000/4940112.stm
5. https://www.youtube.com/watch?v=pPhO-ghltVQ
6. http://www.dailymail.co.uk/news/article-1355639/Counter-terrorist-training-exercise-days-7-7-entirely-coincidence.html
7. https://www.antiwar.com/blog/2005/07/18/mossad-chief-confirms-netanyahus-warning-of-london-bombing/
8. http://london.southeastasianews.org/plantedevidence091108.html; http://www.julyseventh.co.uk/7-7-edgware-road-paddington.html
9. http://www.pipr.co.uk/all/the-77-conspiracy-ten-years-later-still-no-justice/
10. http://www.independent.co.uk/news/uk/crime/seven-mistakes-that-cost-de-menezes-his-life-1064466.html
11. http://www.independent.co.uk/news/uk/home-news/sir-bernard-hogan-howe-to-retire-as-commissioner-of-met-police-a7336766.html
13. https://www.theguardian.com/uk/2007/nov/01/menezes.jamessturcke2
Committee Report into the London Terrorist Attacks on 7 July 2005 (Published May 2006)
8. This Report sets out a number of conclusions and recommendations. These points should not overshadow the essential and excellent work the Agencies have undertaken against the terrorist threat in the UK. We record that *** terrorist plots in the UK have been thwarted by the intelligence and security Agencies since 11 September 2001, three of them since July 2005. Despite their successes disrupting these other plots, they did not manage to prevent the attacks that took place in London on 7 July 2005.
EVIDENCE In addition to examining a number of intelligence assessments and other written documents, the Committee took evidence from the following witnesses, some of whom gave evidence on more than one occasion: Ministers The Rt. Hon. Jack Straw, MP – Foreign Secretary The Rt. Hon. Charles Clarke, MP – Home Secretary Officials GOVERNMENT COMMUNICATIONS HEADQUARTERS Sir David Pepper KCMG – Director, GCHQ Other officials SECRET INTELLIGENCE SERVICE Mr John Scarlett CMG – Chief, SIS Other officials SECURITY SERVICE Dame Eliza Manningham-Buller DCB – Director General, Security Service Head of the Joint Terrorism Analysis Centre CABINET OFFICE Sir Gus O'Donnell KCB – Cabinet Secretary Sir Richard Mottram GCB – Security and Intelligence Co-ordinator Mr Tim Dowse – Chief of the Assessments Staff Other officials FOREIGN AND COMMONWEALTH OFFICE Mr David Richmond CMG – Director General (Defence and Intelligence) POLICE Chief Constable Ken Jones QPM – Chair of ACPO TAM/ACPO President designate Assistant Commissioner Andy Hayman QPM MA– Head of Specialist Operations, Metropolitan Police Service Deputy Chief Constable Bryan Bell – National Co-ordinator, Special Branch
See also:
http://terroronthetube.co.uk/tag/77-inquest/
https://www.youtube.com/watch?v=RUZ3Ezi9QhQ -
7/7 Ripple Effect 2 (Full Length) HD. "
Published on 23 Jun 2013
Muad'Dib's latest film about the July 7 2005 London bombings.

After being unlawfully jailed for 157 days based on trumped-up charges, and the BBC making a dedicated hit-piece on the original 7/7 Ripple
Effect, the film-maker Muad'Dib expands upon the original film and has added over 60 minutes of new material connecting the dots of what most
likely really did happen in London on July 7th 2005, when 3 tube-trains and a double-decker bus were exploded.

Watching this film should leave the viewer no doubt that the crimes and murder committed in London were done by other organizations than by
claimed by the official and corporate media."